In addition to history, culture and beautiful landscapes, one of the greatest riches of the Brazilian state of Minas Gerais are in the kitchen, in its clay pots, on the woodstove, and everything that relates to typical Minas Gerais food.
It is almost impossible to visit the state and not return with a suitcase full of cheeses and sweets.
The reason for this is the diversity of cultures, ingredients, recipes and flavours that only food made with love has. It is no wonder that the cuisine of Minas Gerais has been synonymous with hospitality and warmth.
Typical Dishes: What to eat in Minas Gerais
Feijão Tropeiro
Feijão means beans and Tropeiro is the name given to Brazilian muleteers during colonial times. The dish carries this name because it was the most common food for the tropeiros during their travels.
The tropeiro bean recipe is traditionally made with cooked beans, cassava flour, sausage and pork rinds.
The tropeiros used these ingredients due to their practicality and durability in their long journeys, going from the Midwest region, Southeast to South of Brazil.
Tip: To understand the Minas Gerais Menu, you should learn at least three words: (1) Arroz means rice, (2) Feijão, which is beans and (3) Torresmo are pork rinds.
Frango com Quiabo (Chicken with Okra)
This Chicken with Okra recipe usually takes the chicken drumsticks which are browned in the pan and then cooked together with the okra, making a delicious stew.
The dish became popular in the 19th century when Minas Gerais was having difficulty transporting food from other states, but free-range chicken and okra were easily available.
Tutu de Feijão
Also known as Tutu à Mineira, this dish is very simple and super nutritious. Its preparation basically takes beans beaten with manioc flour, an accompaniment that goes very well with rice, cabbage and pork.
In more "enhanced" versions, the Tutu de Feijão also has green onions, pork rinds, bacon or boiled egg.
Galinhada
This dish is one of those that bring comfort and abundance to a Sunday family lunch. The main ingredients for a beautiful galinhada recipe include chicken, rice, all seasoned with spices and love. With regional variations, the essence of this dish remains the same: prepare everything together in a single pan with lots of seasoning!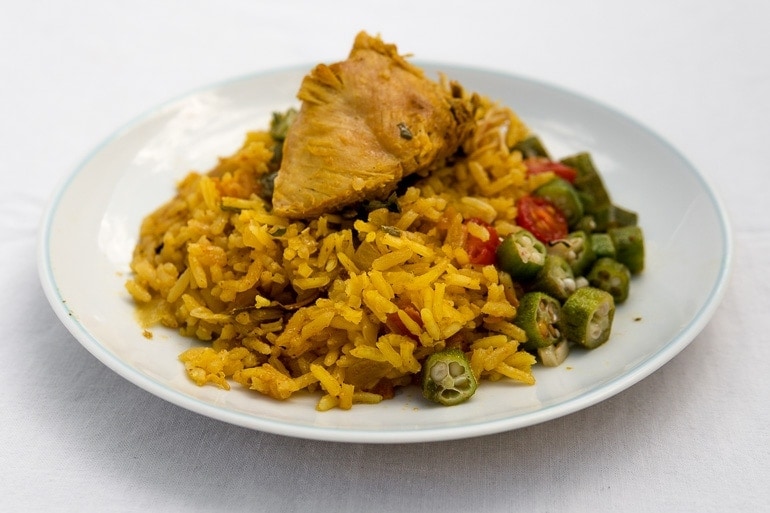 Frango ao Molho Pardo
Frango ao Molho Pardo, can be translated as Chicken in Brown Sauce, because the sauce is made with the chicken's own blood mixed with vinegar. This dish, despite being super typical of Minas Gerais originated in Portugal, where it is called Galinha de Cabidela.
Currently, there are versions of this recipe that take red wine instead of chicken blood.
Leitão à Pururuca
Also of Portuguese influence, Leitão à Pururuca's recipe became very popular in the region of Minas Gerais.
In it, the piglet (leitão) is well seasoned and roasted with the skin, then receives an extremely hot oil bath that leaves the skin crackling.
So the inside is soft and it gets delicious crunchy crusts! By the way, pururuca is the term given to the crunchy fried skin.
Costelinha com Ora-pro-nobis
For the preparation of this recipe, the pork ribs are braised and then cooked together with leaves of ora-pro-nobis, a clambering plant common in the region.
The story goes that in the city of Sabará the plant was used as a hedge around churches, but the priests did not let the leaves be harvested.
So the population used the time of the mass to pick them up, that's why the name ora-pro-nobis, which comes from Latin and means "pray for us".
In addition to the dish with ribs, it is also very common to consume ora-pro-nobis with chicken, in dumplings and salads.
Bambá de Couve
A traditional dish from the city of Ouro Preto, it is a cornmeal broth with kale and pork. The dish was originally consumed by the slaves who took advantage of what was left of the cornmeal porridge in the big house and added torn kale and pork.
Also known as Kale Porridge, Bambá de Couve is a great choice for cold days.
Read more: The 20 soups that conquered the world of gastronomy
Bolinho de feijão
If you want a simple but tasty snack, this bean dumpling is an excellent choice.
The traditional recipe takes peeled black-eyed beans, seasoned with salt and pepper. Some versions also include green onions, parsley and ora-pro-nóbis or even cheese filling.
Pastel de Angu
Pastel de Angu is made with cornmeal (angu) and the most common fillings are meat, chicken, cheese and heart of palm.
The story of this authentic Minas Gerais delicacy begins in the city of Itabira do Campo, now Itabirito, where two slaves developed the recipe with leftover angu and a banana blossom filling.
Pão de Queijo (Cheese Bread)
Undoubtedly, Pão de Queijo is one of Brazil's passions, being found in any bakery and cafeterias around the country.
However, the tradition is credited to Minas Gerais. What cannot be missing in a traditional Minas Gerais cheese bread recipe is the starch, regular or sour, and a lot of cheese.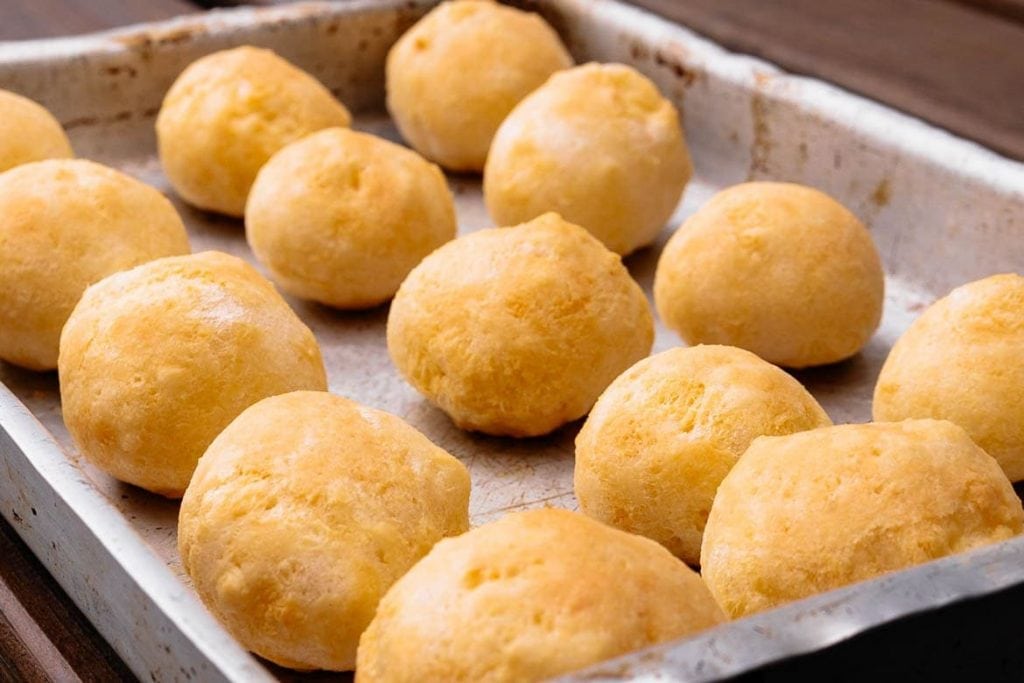 Quitandas Mineiras
The term kitanda has an African origin and refers to 'the plater on which the various goods of street vendors are displayed'.
It is currently used to designate traditional delicacies from Minas Gerais. Some examples are biscuits and cornmeal bread, essentially everything you can eat along with a warm cup of coffee.
Cheeses
This basic ingredient of Minas Gerais cuisine could not be left out of the list. Each region of Minas Gerais produces a different cheese due to its geographical characteristics, rennet and curing time. Among the most famous are the cheeses from Serro, Canastra, Araxá and Cerrado.
By local custom, cheeses from Minas Gerais are eaten fresh or half-cured but recently several producers in the region have started experimenting with different styles of maturation and curing. This boldness made the cheese from Minas Gerais occupy the podium of several international competitions, including superseding renowned European cheeses.
Goiabada Cascão
Goiabada is a type of sweet made from guava. Goiabada Cascão bears that name because guava peels ('cascas' in portuguese) are used in its composition.
In the traditional preparation mode, guavas are cooked in large copper pots for up to 3 hours. This process, in fact, is an intangible heritage of the city Barão de Cocais, in the center of Minas Gerais.
One of the most common recipes that take this sweet is Romeu & Julieta (cheese with guava sweet), a duo that represents the state of Minas Gerais very well.
Doce de Leite
Doce de Leite is famous not only in Brazilian gastronomy but also in neighbouring countries like Argentina and Uruguay, called dulce de leche.
The preparation of Doce de Leite is basically done in a single step: cooking milk with sugar until it reaches a creamy but firm texture.
Because it is very versatile, it can be consumed pure in a solid format as bite-sized pieces, or in a creamier version used as an ingredient in recipes, filling for cakes or combined with cheeses and fruits.
Café
If you visit a local from Minas Gerais, fresh coffee and cheese bread will not be missing in his house. After all, Minas Gerais is the largest coffee producer in the country, having its quality recognized internationally.
Therefore, when visiting a local friend, never refuse a cup of coffee in Minas Gerais.
Cachaça
Cachaça is a typical Brazilian sugar cane distillate. The exact origin of cachaça in Brazil is still a matter of debate, however, cachaça from Minas Gerais has a curious history.
According to the food historian Câmara Cascudo, the tropeiros, known for the transportation of goods in colonial times, took in barrels the cachaça produced in Paraty – RJ to Diamantina – MG through the Royal Road (today, the biggest tourist route in Brazil).
When cachaça arrived in Minas Gerais, it was already aged, and as it is easier to drink this way, it fell into the popular taste.
Today there are several types of cachaça in the state, however, the ideal is always to look for artisanal, which are usually of good quality and have that homemade taste of the countryside.
Travel through Minas Gerais: A Guide to Estrada Real – The Diamond Path