Portuguese food best represents how a country's gastronomy can take advantage of its geographic location and diversity. With access to the Atlantic and Mediterranean, Portuguese cuisine diversifies itself with elements from both the sea and its interiors. A country with a vast range of recipes filled with influences and inspirations from all over the world.
This article highlights a series of traditional Portuguese foods for you to discover and try.
Portuguese Food – The main dishes of Portugal
Cod Dishes
Cod in Portugal is called Bacalhau, an ingredient full of stories which even coming from far, much of Norway, has become a symbol of Portuguese food.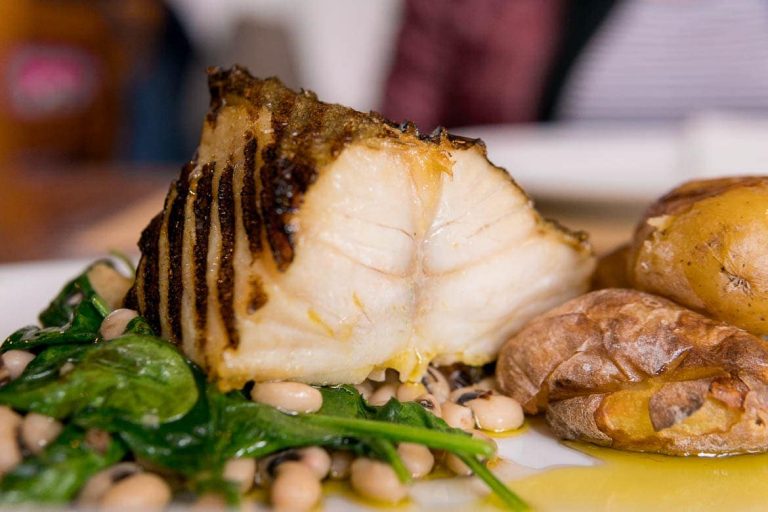 In Portugal, there are many dishes and recipes with cod, among which we highlight:
Bacalhau à Brás
A famous cod dish made with shredded codfish, crispy sticky potatoes, olive oil, and eggs. All mixed with onion, parsley, and garlic.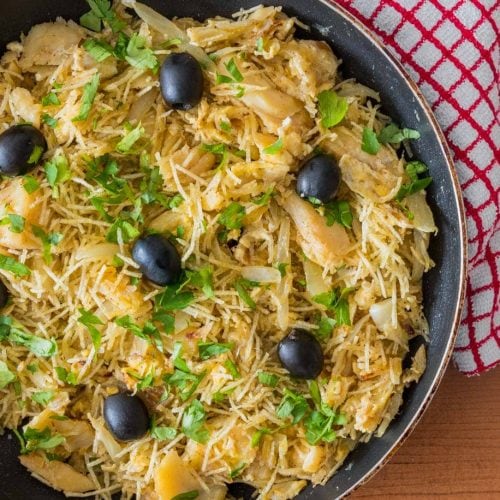 Bacalhau à Brás – Authentic and Easy
Bacalhau à Brás (Cod à Brás) is a simple recipe from the Portuguese cuisine, but it explores all the flavours of its ingredients, resulting in a classic dish full of personality.
Read Recipe
Bacalhau Gomes de Sá
A traditional recipe that adds milk, onion, garlic, olive oil, and potatoes, seasoned with salt and pepper. In the end, add parsley, pieces of boiled eggs, and black olives.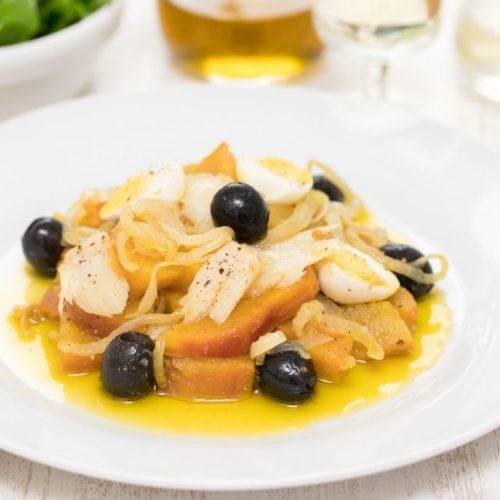 Cod Fish: Bacalhau à Gomes de Sá
Bacalhau à Gomes de Sá is one of the most traditional codfish dishes in Portuguese cuisine. With simple ingredients and preparation, this dish demonstrates the harmony of Portuguese cuisine's flavors.
Read Recipe
Bacalhau com Natas
A cod dish that is creamy inside and gratin on the outside. It is made with potatoes, onion, cheese, bechamel sauce, and heavy cream (Natas).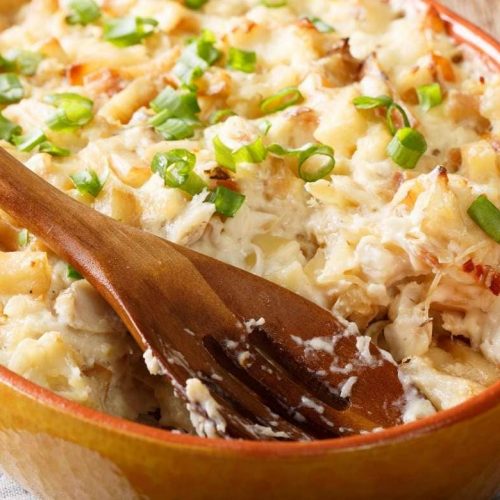 Cod with Cream – Bacalhau com Natas
Bacalhau com Natas (Cod with cream) is one of the most classic cod dishes in Portugal. A simple and delicious recipe, perfect for family lunch.
Read Recipe
Codfish Appetizers
Cod is also used to prepare snacks, perfect with a good glass of wine.
The best known are the pastel or bolinho de bacalhau, fried dumplings with cod and potatoes. There are also the pataniscas and iscas de bacalhau, which are made with shredded and seasoned cod, and fried breaded.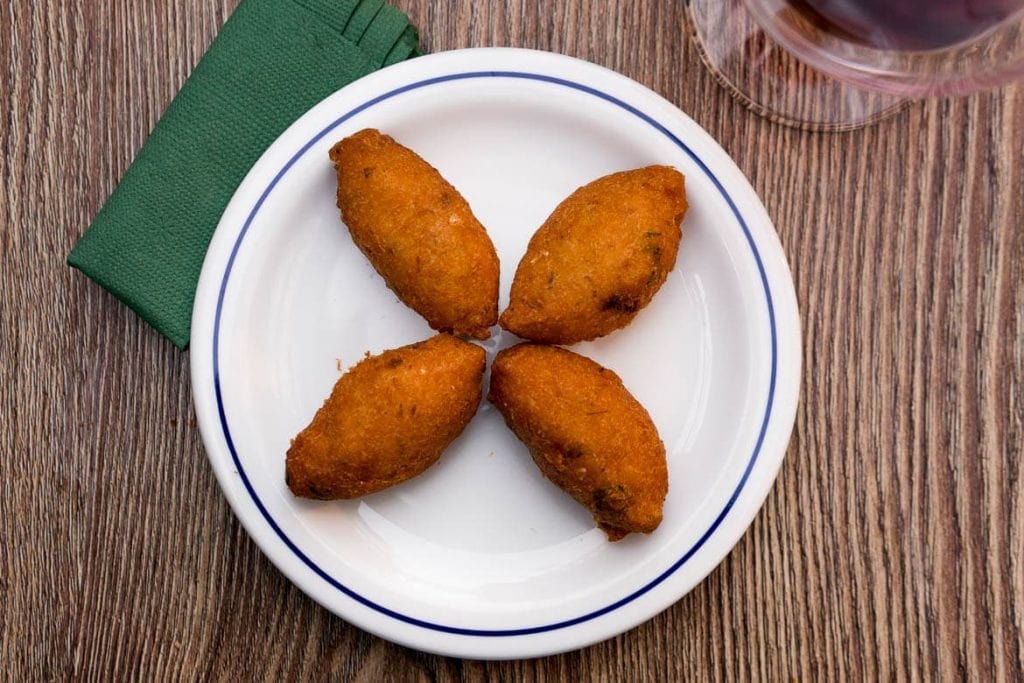 Polvo à Lagareiro
Polvo à Lagareiro is undoubtedly one of the most typical dishes in Portuguese cuisine. The term lagareiro represents the olive oil mill workers from the producing areas. Hence the name of the dish that uses olive oil in large quantities.
The recipe consists of boiled octopus baked in the oven, drizzled with a lot of olive oil, accompanied by garlic, onion, and potatoes.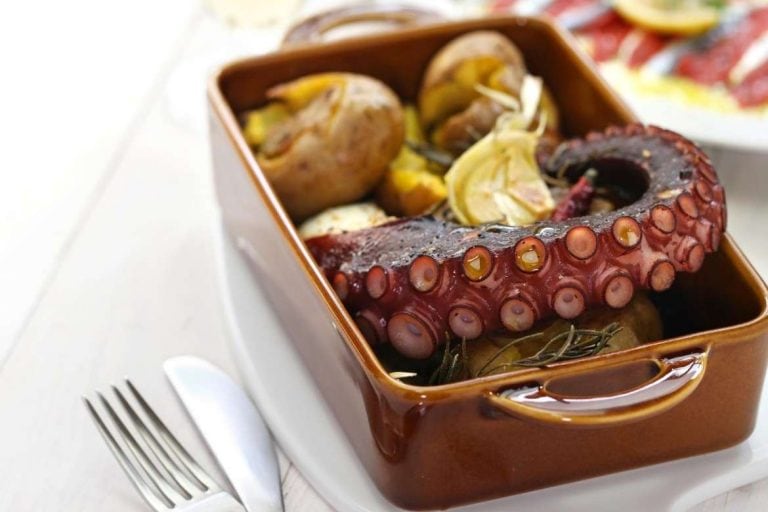 Alheira
Few Portuguese foods carry a history as impressive as the Alheira. A Portuguese sausage made mainly with chicken meat and bread was created to deceive those who persecuted and killed Jewish people during the Spanish Inquisition. The Alheira looked like traditional pork sausages, an ingredient prohibited by the Jewish religion. In this way, the Jews in Portugal managed to pass themselves off as Christians and escape death.
The Alheira de Mirandela, which has an ETG protection seal (Traditional Specialty Guaranteed), is considered one of the seven wonders of Portuguese gastronomy. Currently, it is made with different types of meat and usually served with boiled potatoes, rice, and a fried egg.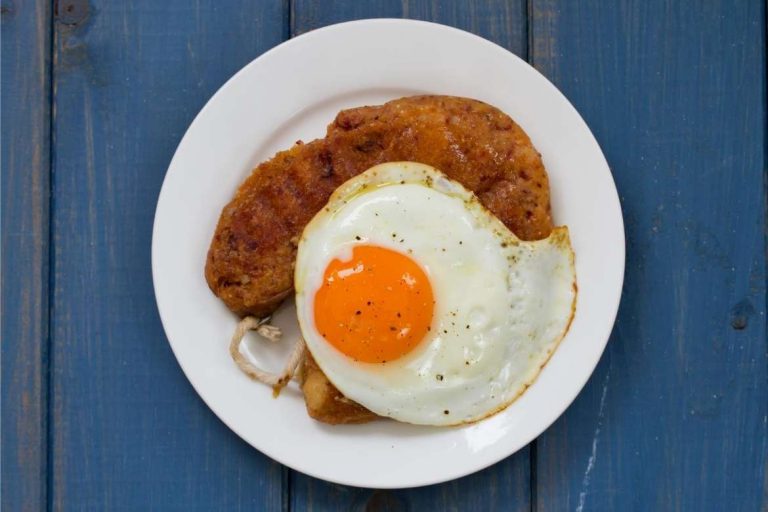 Caldeirada de Peixe
The Portuguese relationship with the sea is evident in this typical fish stew known as Caldeirada de Peixe. Different sea fishes are used according to the region, such as cod, monkfish, conger, ray, eels, sardines, squid, and shellfish. The Portuguese fish stew is prepared in layers and cooked together with potatoes, garlic, onions, tomatoes, peppers, and herbs.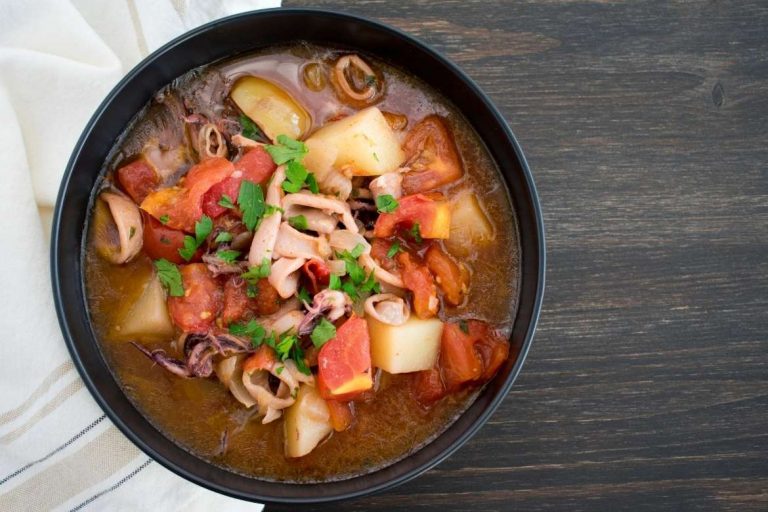 Açorda Alentejana
Açorda is a typical Portuguese soup from the Alentejo region that can be served as a starter or main dish. This Alentejo soup is usually made with bread, eggs, salt, garlic, coriander, olive oil, and water.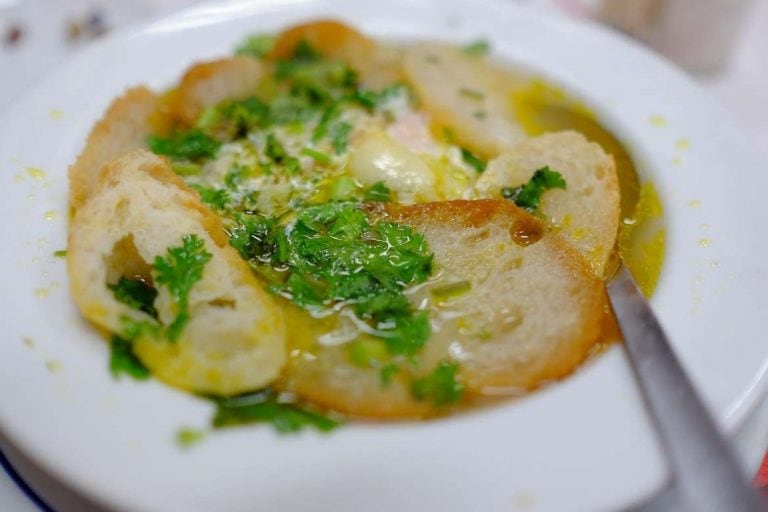 Tripas à Moda do Porto
Portuguese food does not like wasting ingredients. Typical of Porto, this dish carries many stories that go back to the 15th century. Tripas à Moda do Porto means Porto-style guts. It became so famous that local people came to be called 'tripeiros' (something like guts' men).
Among many stories, it is common to hear that this dish originated when the local population supplied the ships with meat for military expeditions, leaving only the tripe for themselves. Initially served with tripe and bread, the recipe gained new ingredients over time. In addition to tripe, belly, and sausage, it now includes white beans, onions, carrots, garlic, and other seasonings, all well cooked and served with rice.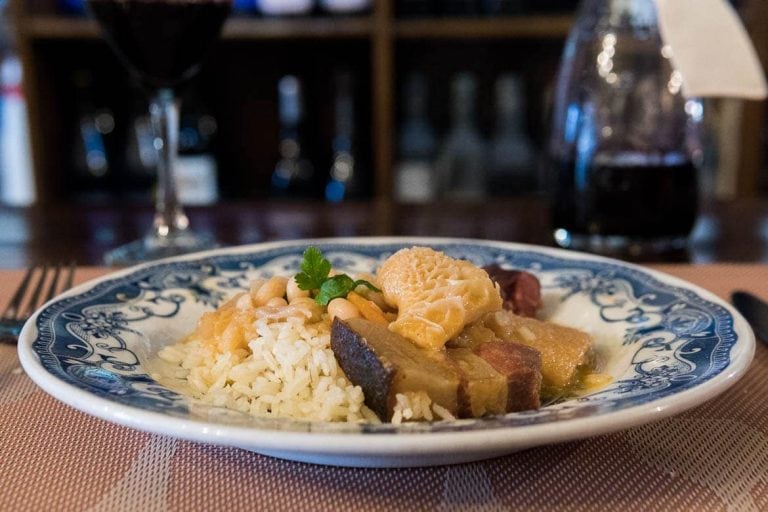 Feijoada
Feijoada is a stew made with pork and beans. Very popular in Portugal, it has also influenced the cuisine of its former colonies, such as the Brazilian feijoada, one of the most famous foods in Brazil.
The traditional recipe uses white beans and red beans, depending on the region. However, there are variations of the Portuguese feijoada worth mentioning:
Feijoada à Transmontana
The feijoada à transmontana is very popular in Valpaços, a region of Trás-os-Montes, northern Portugal. It is a traditional dish at Domingo Gordo's lunch (Fat Sunday), the Sunday before Carnival, and usually prepared with red beans and various parts of the pig such as foot, ear, snout, belly, sausages, and others, served with white rice.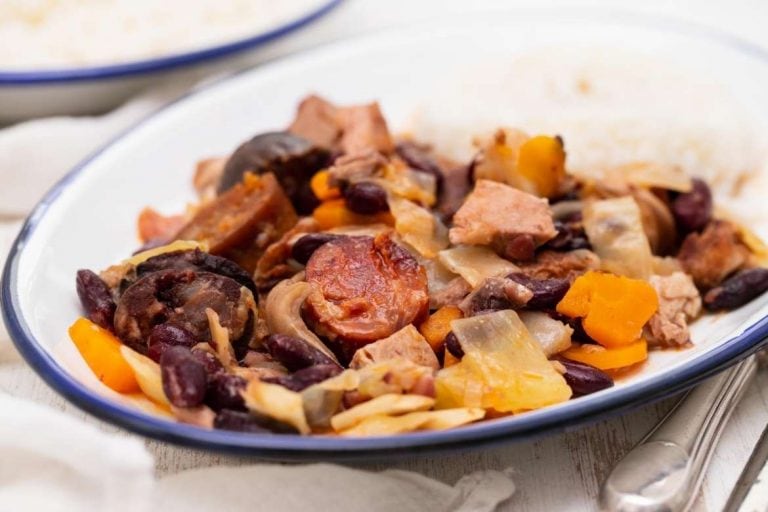 Feijoada de Mariscos
A typical Portuguese coast dish, made with white beans and seafood, usually includes fish, shrimp, mussels, and shellfish. To season, it takes white wine, onion, tomato, coriander, and more. A delight!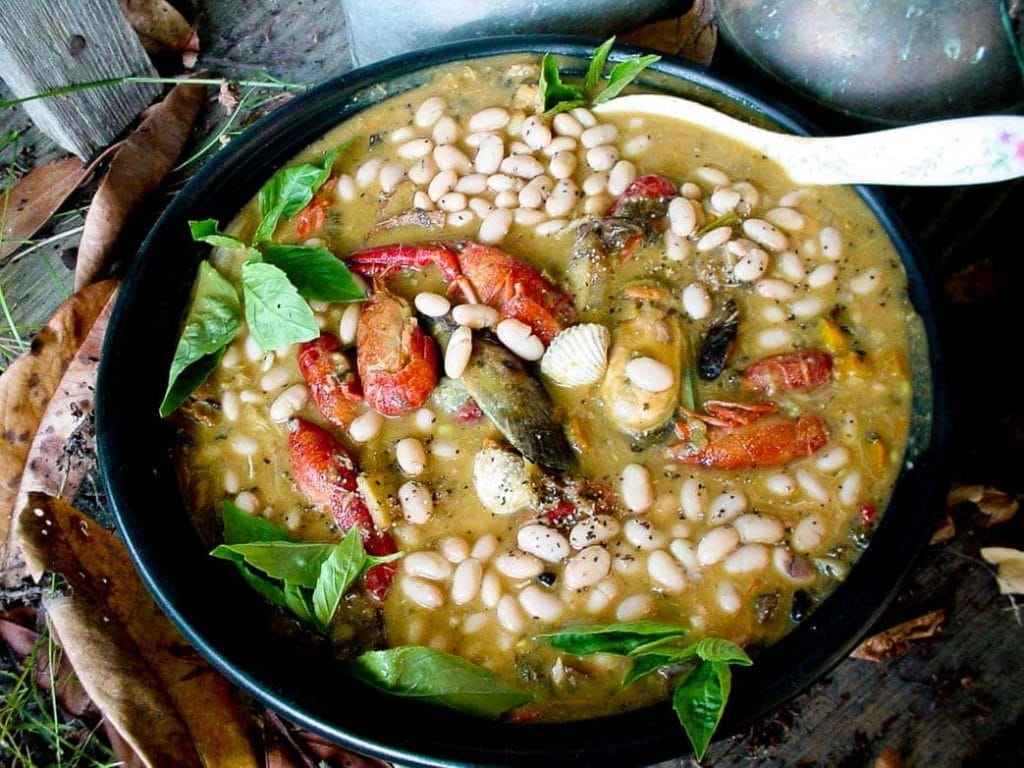 Arroz de Pato
Arroz de Pato (Duck Rice) is amongst the most popular foods in Portuguese cuisine and is also known as Arroz de Braga due to its supposed homeland. The secret of this dish is in the broth used to cook the rice, the same in which the duck, sausage, ham, and spices were previously cooked. Duck meat is shredded, mixed with cooked rice, and then finished in the oven. Striking and delicious!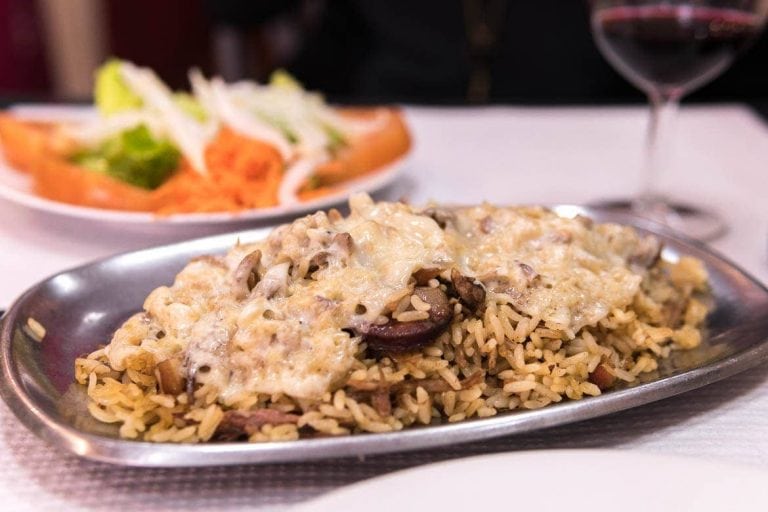 Arroz de Polvo
Arroz de Polvo (Octopus Rice) is another well-known dish among popular Portuguese foods. It is made with Carolino-type rice (long grain), widely used in the malandrinhos type of preparations, a Portuguese term for the more brothy dishes.
In this recipe, rice is cooked in the same broth that cooked the octopus, enhancing the flavor. It also takes olive oil, tomatoes, white wine, and various spices such as onions, garlic, bay leaves, black pepper, and coriander.
Also read: The most famous rice dishes in the world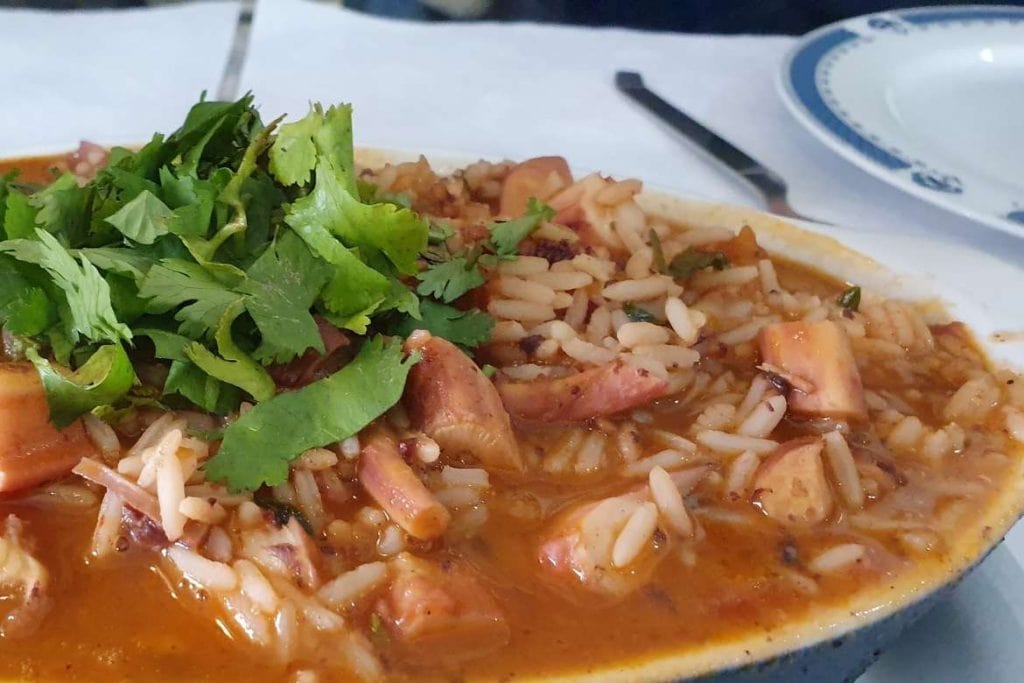 Cabidela
Cabidela is a traditional dish from northern Portugal, usually associated with the Minho region. The key ingredient of Cabidela is the sauce made with chicken blood mixed with vinegar and red wine. When the rice is almost cooked and already mixed with the chicken meat, the sauce is added, giving more color, texture, and flavor to the dish.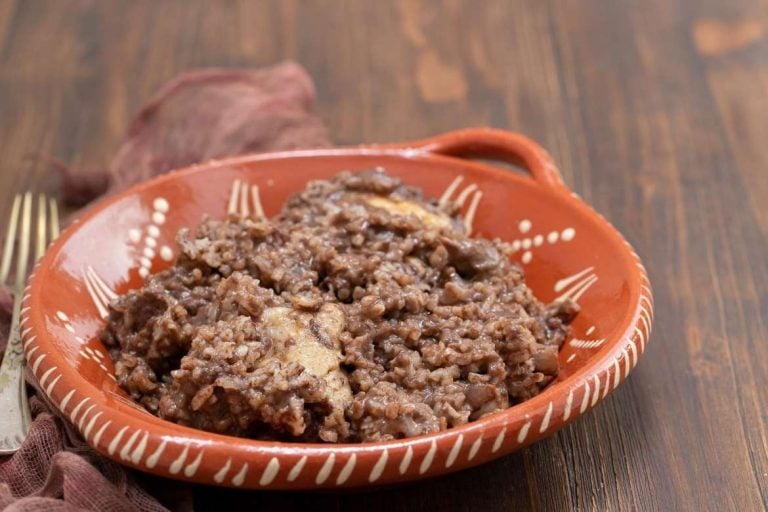 Amêijoas à Bulhão Pato
A probable tribute to the Portuguese writer and poet Raimundo António de Bulhão Pato. The Amêijoas à Bulhão Pato is a dish with clams sautéed in olive oil, garlic, coriander, white wine and finished with lemon juice. An excellent choice for snacking!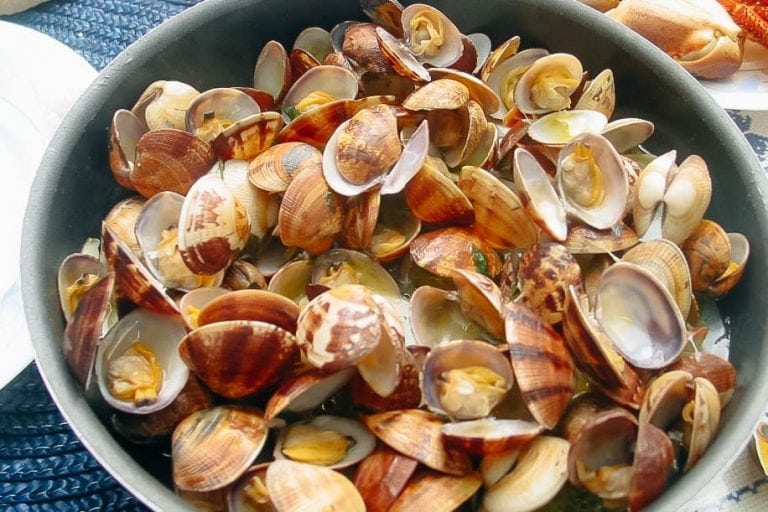 Caldo Verde
Considered one of the seven wonders of Portuguese cuisine in the soup category, Caldo Verde is pure warmth. A slightly thick soup, the Caldo Verde recipe is made with potatoes, cabbage, sausage, garlic, and onion. It goes very well with bread and a glass of good Portuguese wine.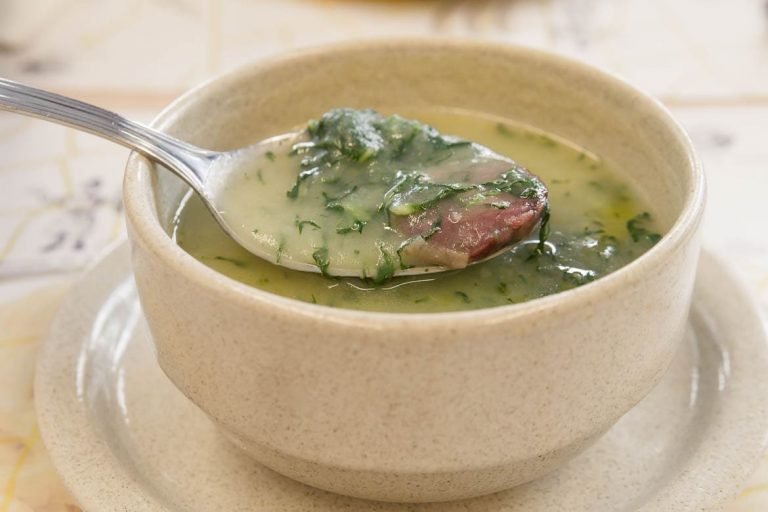 Canja
Canja is a Portuguese soup traditionally seen as therapeutic and medicinal. The most famous variation is called Canja de Galinha (Chicken Soup). This traditional Portuguese soup takes chicken, onion, sausage, salt, and ham. Chicken and vegetables are cooked in the same pan. The broth is then used for cooking either rice or pasta that will serve as a base for the soup. In the end, just mix everything and enjoy!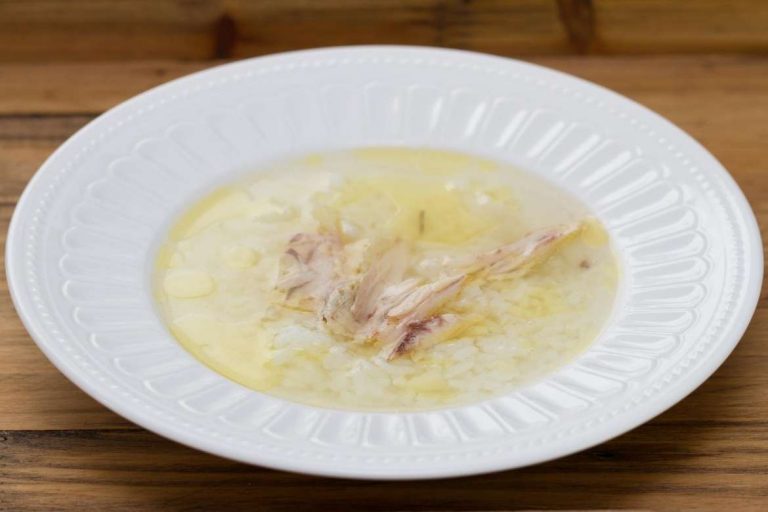 Rojões
The Minho region gains prominence with another Portuguese food that we really like, the Rojões. Most enthusiasts prefer to call them Rojões à Minhota, which means Minho style. Rojões are pork meat pieces, boneless and with fat (usually a cut of the leg).
The meat receives a long marinade in green wine, bay leaf, pepper, and salt. Then, sear the meat in the lard and cook in the marinade sauce until it softens. Like Cabidela, it could also include the animal's blood during cooking. Rojões are often served with potatoes.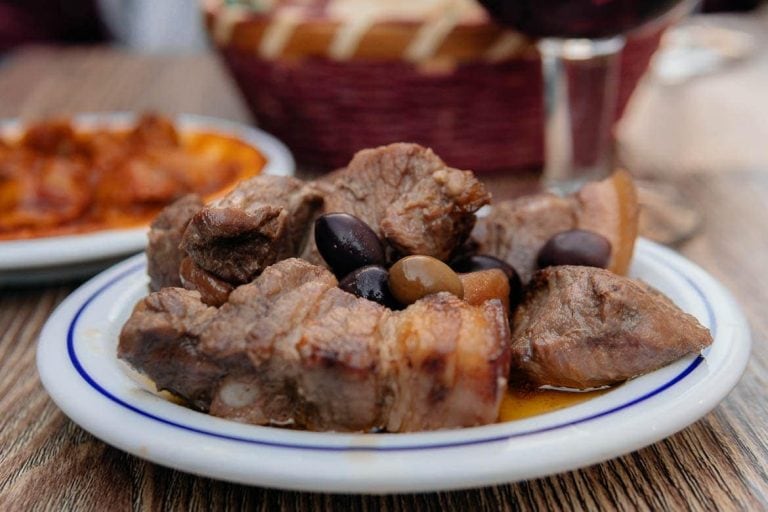 Grilled Sardines
Delicious grilled sardines, preferably only with coarse salt. More than a traditional delicacy at popular parties and family lunches, a portion of grilled sardines is synonymous with health and good nutrients. Perfect with plenty of olive oil on a slice of bread or accompanied by potatoes, peppers, and salad.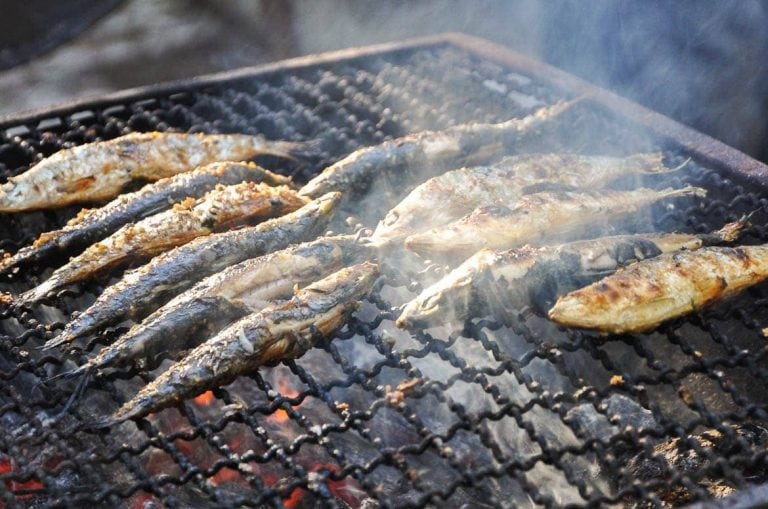 Portugal Sandwiches
Sandwiches in Portugal are called Sandes. We highlight two of our favorite Portuguese sandwiches that you must try:
Bifana
The Bifana sandwiches are much more than bread with slices of pork meat. The meat is cooked in a lightly spicy sauce containing various spices and secret ingredients that vary from chef to chef. By far, one of the most popular sandwiches in Portuguese cuisine.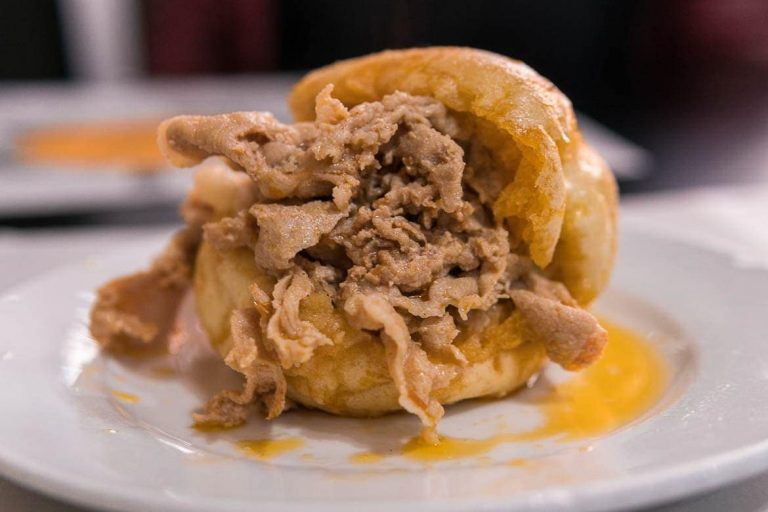 Leitão
Leitão or Pernil sandwich is a delicious sandwich prepared with oven-roasted pork shank that simply melts in your mouth. Like other sandwiches, it is served inside bread with spices and flavored sauces.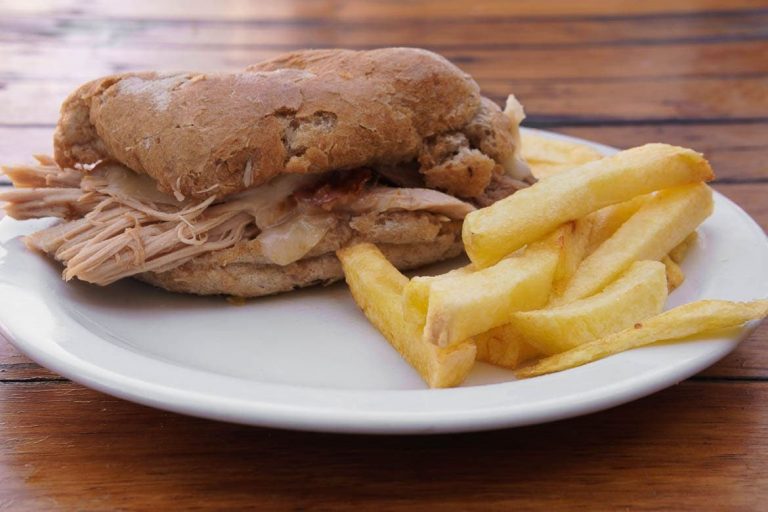 Francesinha
Francesinha is another beloved Portuguese food that originated in Porto and became an icon of local cuisine. The most traditional recipe is made with slices of bread, ham, sausage, steak and covered with a lot of cheese, all of which is taken to the oven and bathed in a lightly spicy sauce. The sauce is what sets each recipe apart!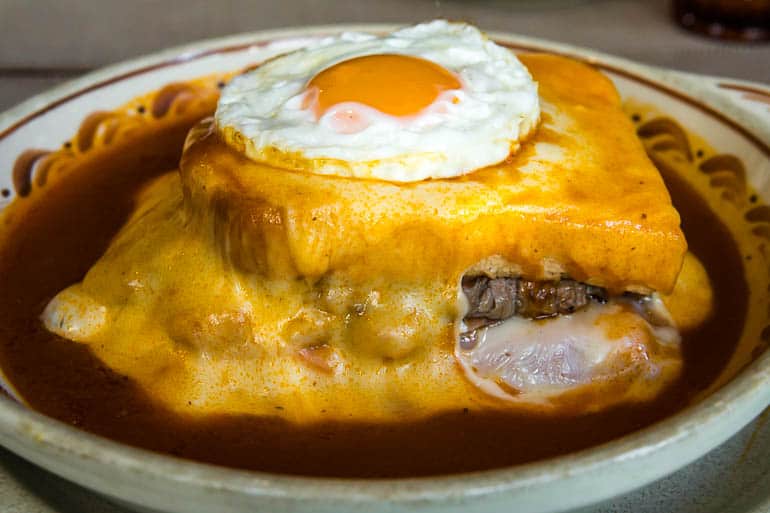 Tempura
Many think that this dish is of Asian origin, but the concept of Tempura is of Portuguese origin! In the XVI century, Portuguese Jesuits settled in Japan as missionaries and introduced the Tempura. It consists of frying vegetables or seafood breaded by a thin layer of wheat flour with eggs.
According to Christian belief, the Portuguese did not consume red meat during the lent, so Tempura was widely consumed at this time. A while later, the Portuguese community was expelled from Japan, but the consumption of Tempura remained. It was then adapted and popularized by Japanese communities around the world.
Cataplana de Mariscos
Cataplana de mariscos (seafood cataplana) is a Portuguese dish that incorporates various types of seafood cooked in a cataplana pan. In addition to vegetables and herbs, it includes shrimp, cockles, mussels, squid, and fishes such as monkfish. All ingredients are cooked in the Cataplana, with heat and steam, leaving everything very colorful, full of flavors, aroma, and textures.
But, what is Cataplana? The cataplana (see at amazon) is a utensil of Portuguese cuisine and most probable of African origin. It has two concave parts with hinges and clasps to hold the two halves and prevent the heat from dissipating. Hence the name of the dish, Cataplana de Mariscos.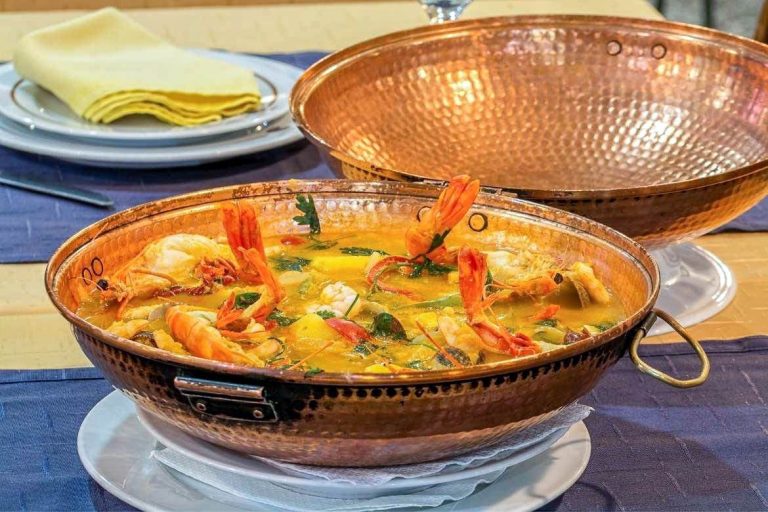 Frango Piripiri
The Frango Piripiri (Piripiri Chicken) is a grilled chicken. Some call it barbecue chicken dish or Portuguese chicken. The chicken is marinated in a chili sauce called piripiri before being grilled or roasted and usually served with rice, potatoes, and salad. By the way, if you want to order chili sauce in Portugal, ask for a Piripiri sauce. That's how they call it.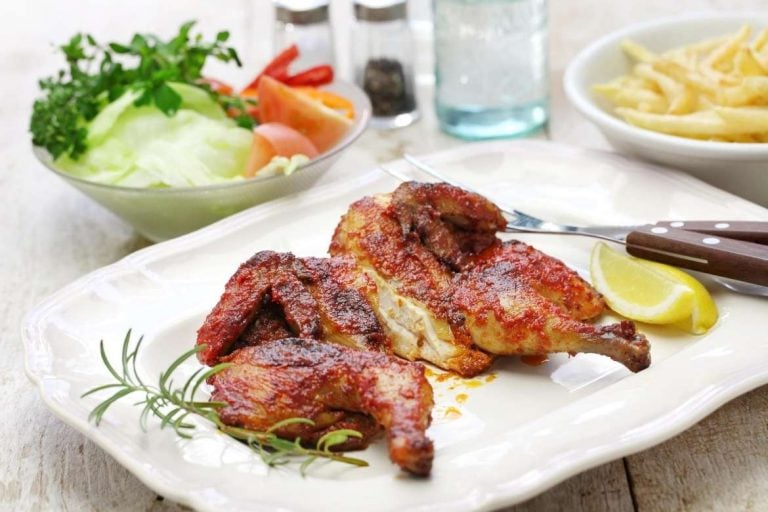 Leitão à Bairrada
Typical in the Bairrada region, Central Portugal. Leitão à Bairrada is one of those Portuguese dishes in which the recipe remained practically unchanged over time. It is also on the list of the seven wonders of Portuguese food.
Very popular in the Mealhada municipality and with minor regional differences, Leitão à Bairrada obeys strict preparation rules, ranging from the pig's choice to the slaughter and preparation method. It is seasoned with salt, pepper, garlic, etc., and roasted for hours until golden brown. It is served with potatoes and salad.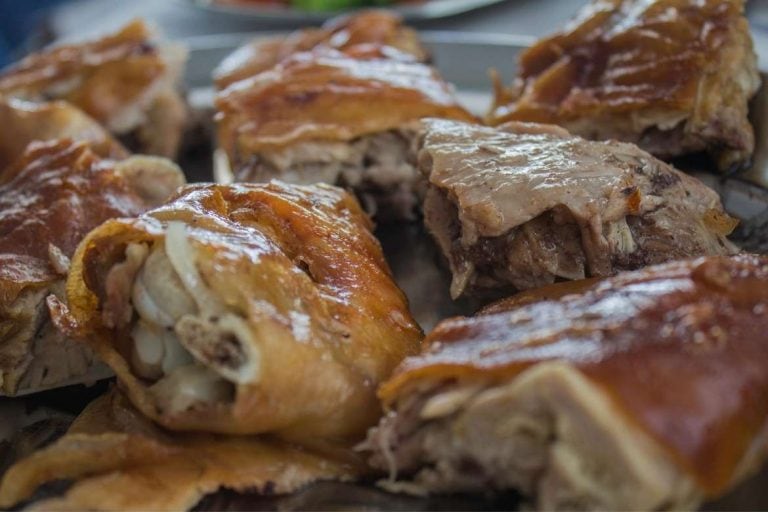 Chanfana
Famous for using meat from old female goats, Chanfana is very popular in the Centro and Trás-Os-Montes regions. A roasted dish made with old goat meat bathed in red wine, bay leaf, garlic, and other spices like salt and pepper. To soften the meat and make it tasty, Chanfana is traditionally roasted for long hours in a wooden oven using a black clay tray called caçoila. The oven must be sealed during its preparation.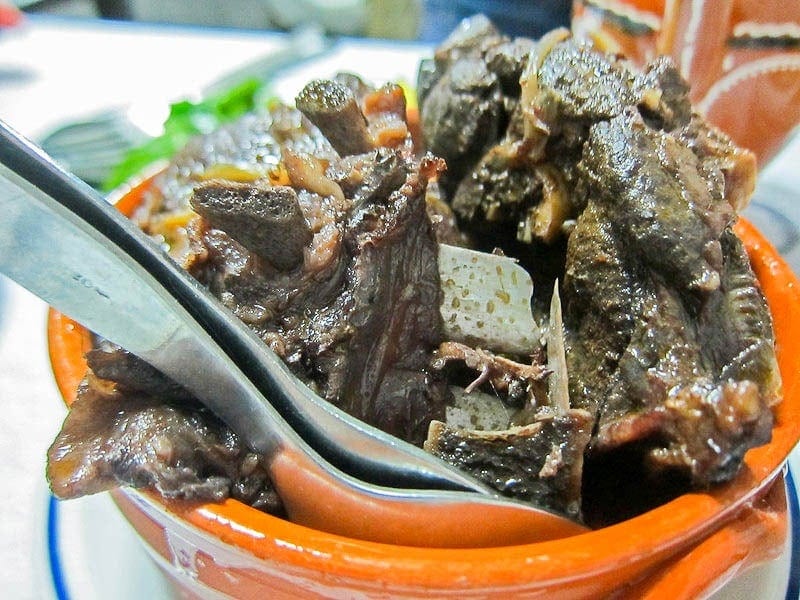 Queijo Serra da Estrela
The cheese origin is in its name, the Serra da Estrela mountain range. It is produced with the milk of Bordaleira Serra da Estrela or Churra Mondegueira sheeps. This famous cheese has a thin shell on the outside that protects the creamy and buttery interior.
Many people don't like the smell, but those who don't mind will savor a cheese with striking characteristics that quickly melt in the mouth. It goes very well with bread and toast.
Learn more: The Main Portuguese Cheeses (DOP)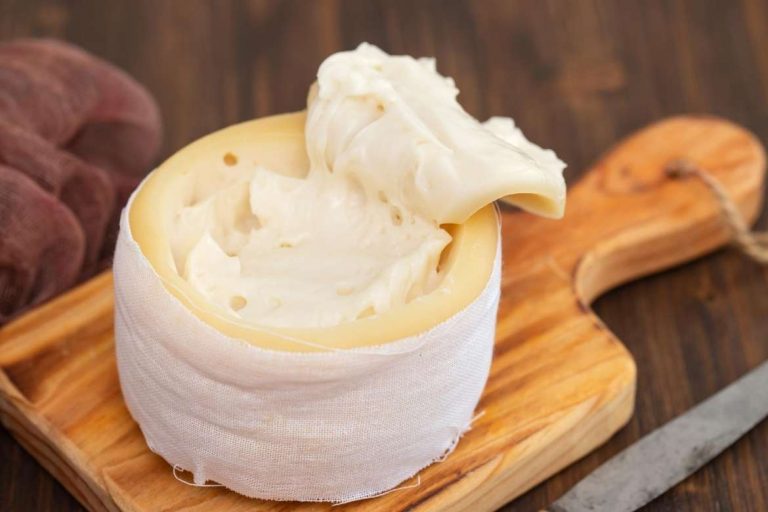 Portuguese Canned Fish
The Portuguese canned fish, which gained prominence by feeding armies, became a great ally of convenience in Portuguese cuisine.
You can find tuna, sardines, cod, mackerel, eels, sardine roe, fish, seafood pâté, and much more! Matosinhos, a city very close to Porto, is the best reference for this delicacy. There, you can take a tour inside the canning factories and see how it is made. It is said that Portuguese canned sardines are like a good wine, it improves over time.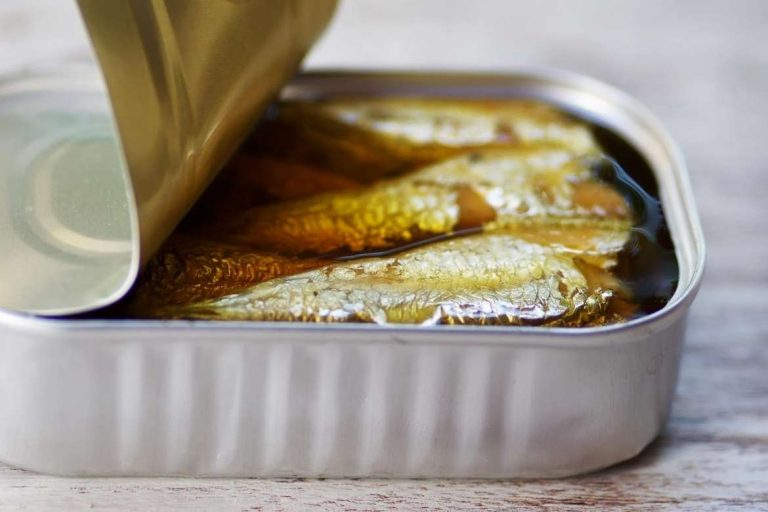 Pastel de Nata (Pastel de Belém)
This one cannot be left out. Pastel de nata or Pastel de Belém (when produced in Belém) is one of the most coveted items to accompany an afternoon coffee. Pastel de Belém's original recipe is secret and has remained intact since its origins in the 19th century.
In general, the pastel de nata is made with a crunchy and thin puff pastry filled with a cream that takes egg yolks, sugar, and milk. Then, sprinkle with sugar and cinnamon. This Portuguese pastry is a true delight you must try.
Read also: Portuguese sweets to have with your afternoon coffee