Have you ever stopped to think that typical Easter foods say a lot about how the festivity is celebrated around the world? The ingredients that are used, how to prepare, how to serve, when and how to eat, represent much more than just a recipe. They are symbolisms and traditions of the most varied cultures and religions.
Embark on this journey through the flavours of Easter in 20 countries and discover the stories and customs behind each of these delights.
List: Main traditional Easter food around the world
Zurek – Poland
On Holy Saturday, families go to church carrying food that will be blessed and consumed the next day. Among them, the ingredients of Zurek, a soup based on rye flour, sausage, carrot, basil, and other spices. It is served with boiled eggs and, often, inside the bread. Although the soup can taste a bit sour, it is very much appreciated and considered one of the most typical Easter foods in Poland.
Fanesca – Ecuador
More than a soup, Fanesca is a cultural heritage of Ecuador. Its ingredients come from all regions of the country and for this reason, the dish represents the diversity of food and the unity of the Ecuadorian people. In its recipe, fish, milk, cheese, beans, wheat flour, garlic and 12 types of grains, which symbolize the 12 apostles of Jesus Christ.
Read more: Travel the world in 20 famous soups
Le Gigot d ́Agneau Pascal – France
The French Easter menu is based on red meat, unlike many countries that favour fish. The lamb reigns absolute and the reason is in the religion itself. It symbolizes Christ, the lamb of God who sacrificed his own life to save the world. On Easter Sunday, it is common to prepare Le Gigot d'Agneau Pascal, a lamb shank roasted and served with beans and potatoes.
Cod Dishes – Brazil
In Brazil, it's common to eat Cod Recipes, a delicacy introduced to the country by the Portuguese. One of the most common recipes is Bacalhoada, where the fish is cooked with vegetables. Also, many families are inspired by traditional Portuguese recipes to vary the Easter lunch menu.
Read more: The most famous Portuguese cod dishes
Roasted Ham – USA
American Easter is very different. The main meal is not lunch, but Sunday dinner. And the typical food is not cod, but a roast ham with a sweet taste. To achieve this effect, it is necessary to "glaze" it after roasting it with brown sugar or honey, sometimes it is covered with slices of pineapple.
Pizza Chiena – Italy
Pizza Chiena is a typical Easter food from Naples, a region in southern Italy. According to tradition, it is prepared on Good Friday and consumed on Holy Saturday. Despite the name, the appearance and taste differ from traditional pizza. Although it is round, it resembles a savoury pie. Its dough contains lard and the filling varies, it may contain cured meats, cheeses and eggs.
Pashka – Russia
Pashka is a Russian dessert full of symbolism. Its pyramidal shape refers to the tomb of Christ. The cookie is decorated with religious symbols, such as the Cyrillic letters "XB", which means "Christ is risen". It is made with cheese, butter, sugar, egg yolks and dried fruits. According to tradition, Pashka is consumed on Easter Sunday with Kulich, another typical food.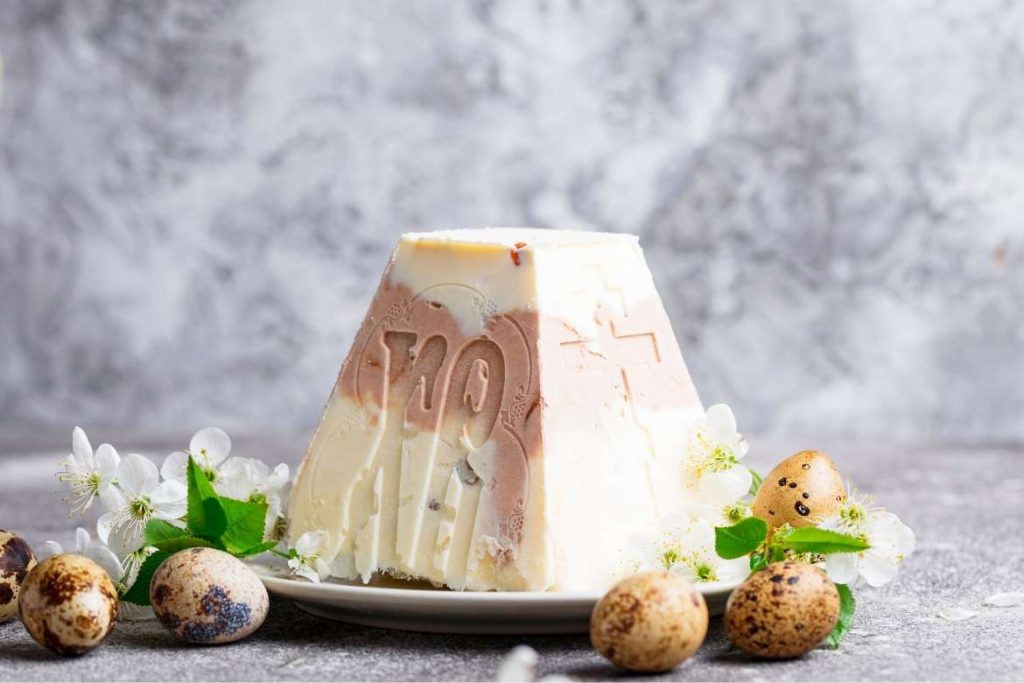 Pasca – Romania
One of Romania's most popular Easter foods has a pagan influence. Pasca is a sweet bread made with cheese and raisins with a round shape, golden colour, representing the sun, which symbolizes life. On Holy Saturday, Romanians prepare bread at home to bless it at Easter Sunday Mass. Following this tradition, the person will have prosperity in the year.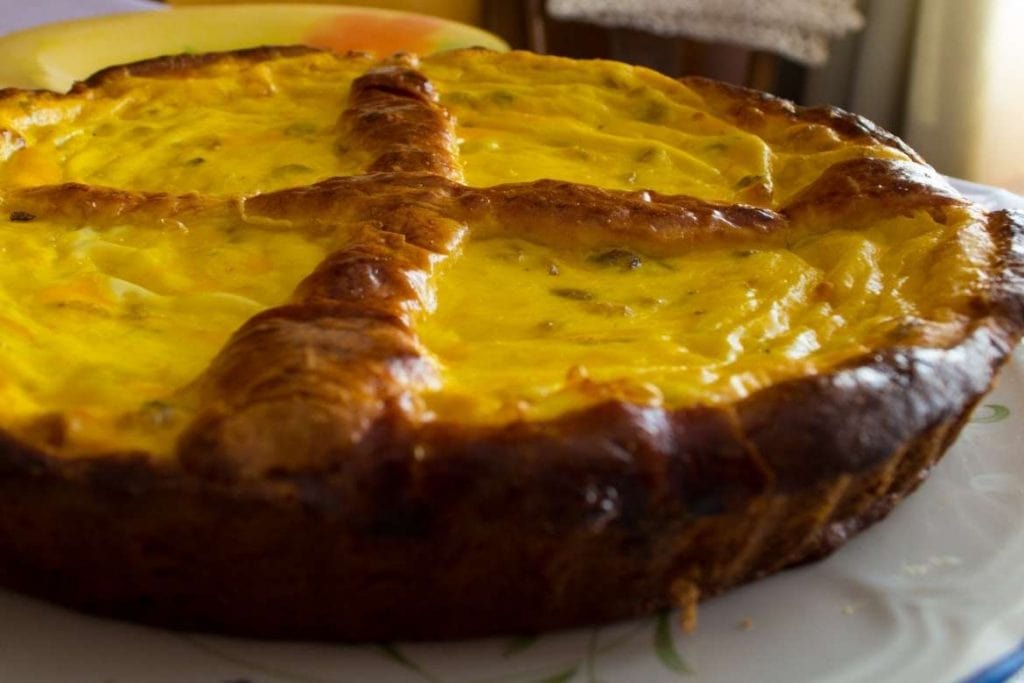 Capirotada – Mexico
A typical Easter food from Mexico that begins to be consumed in Lent. Capirotada is a bread pudding with fruit, whose recipe changes depending on the region. But some ingredients cannot be missing, such as bread, fruits, cloves and cinnamon. This dessert symbolizes the crucifixion of Jesus: bread is the body; the cinnamon sticks, the cross; and the cloves, the nails.
Pascualina Pie – Argentina
The Easter table in Argentina has European inspiration. Pascualina Pie is of Ligurian origin, in northern Italy. It is a savoury dish filled with spinach, artichokes, parsley, ricotta and whole boiled eggs. The latter represents the resurrection of Christ. The 33 layers that make up the dough symbolize Jesus' years of life.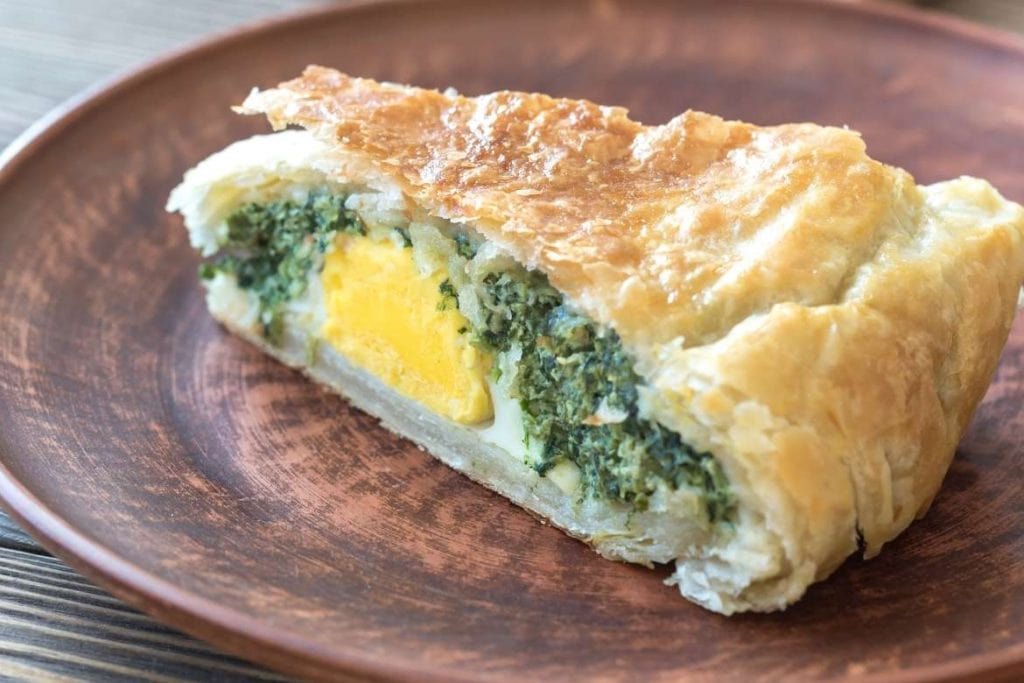 Tsoureki – Greece
Tsoureki is a braided sweet bread, with strong symbolism in the pagan and Christian cultures. For both, bread represents life, while braided bread has different meanings. In pagan culture, it drives away evil spirits while for Christians, the three-strand braid symbolizes the Holy Trinity. After baking, eggs dyed red that represents the blood of Christ are placed on the bread.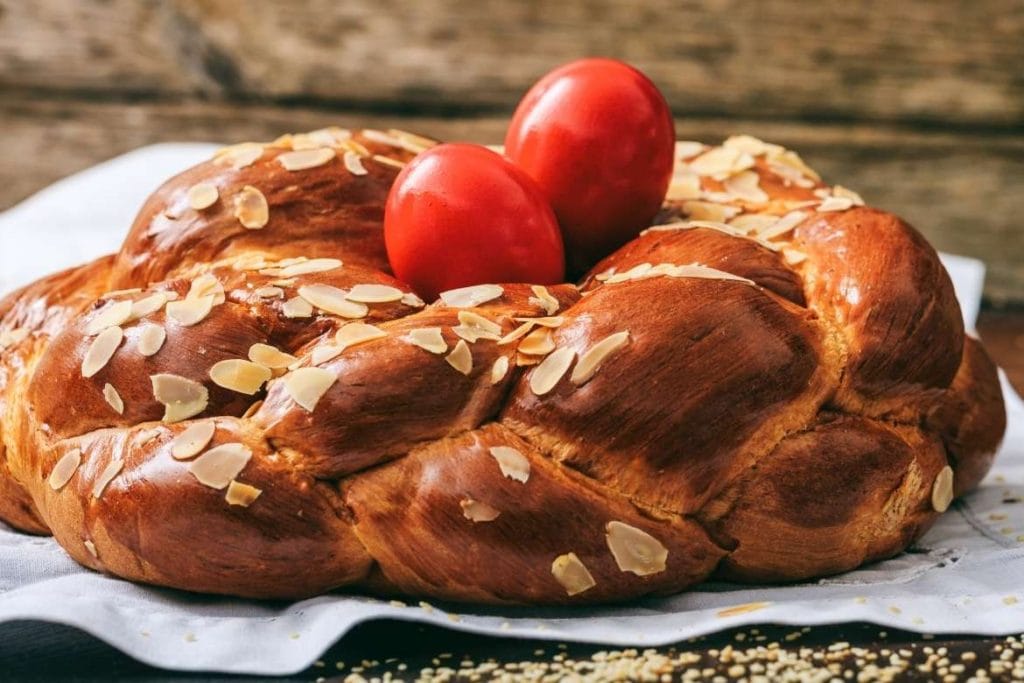 Mona de Páscoa – Spain
In some regions of Spain, more specifically in Catalonia, children look forward to Monday to get Easter Monas from their godparents. In their original format, monas are simple brioches decorated with boiled eggs. However, the ones that are most successful with the kids are more elaborate and look like a themed birthday cake.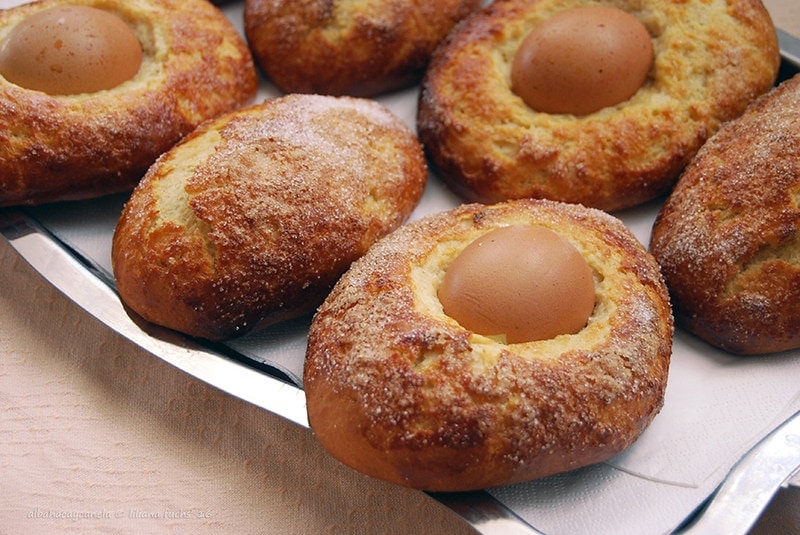 Colomba Pascal – Italy
Anyone who thinks that food cannot seal the peace between peoples is because they don't know the history of Colomba Pascal. Legend has it that a baker from the city of Pavia, in northern Italy, presented the king who was at war with his city with a dove-shaped candy. The king liked the orange-flavoured cake so much that he left his war intentions behind.
Hot Cross Buns – England
Originally, these rolls were stuffed with dried fruit and consumed on Good Friday. Nowadays, it is easy to find them filled with chocolate and nuts all year round. The cross drawn on the rolls refers to the crucifixion of Christ and ward off evil spirits. Still according to tradition, offering Hot Cross Buns to friends strengthens the relationship.
Mämmi – Finland
One of Finland's typical Easter foods is Mämmi, a dessert based on rye flour, malt, molasses, water, salt and orange zest. It takes time to prepare and can take 3 to 4 days to be ready. For the hurried, it is easy to find it in supermarkets, serving it with some cream on Good Friday, the day you should avoid household chores and eat simple, cold meals.
Pinca – Slovenia and Croatia
It is a sweet bread made with wheat flour, eggs, sugar, milk, raisins, lemon or orange zest and finished with prošek, a local wine. Originally, it was created to celebrate the arrival of spring, but it ended up being incorporated into the Christian tradition. As in other cultures, Pinca must be blessed on Holy Saturday to be consumed on Easter Sunday.
Chakapuli – Georgia
Chakapuli is the typical Georgian Easter food and consists of a lamb stew based on white wine, tarragon leaves, tkemali (green plums), chives and green peppers. It is served hot and accompanied with bread. Although it can be consumed throughout the year, the greatest demand is in the spring when the plums are not yet ripe.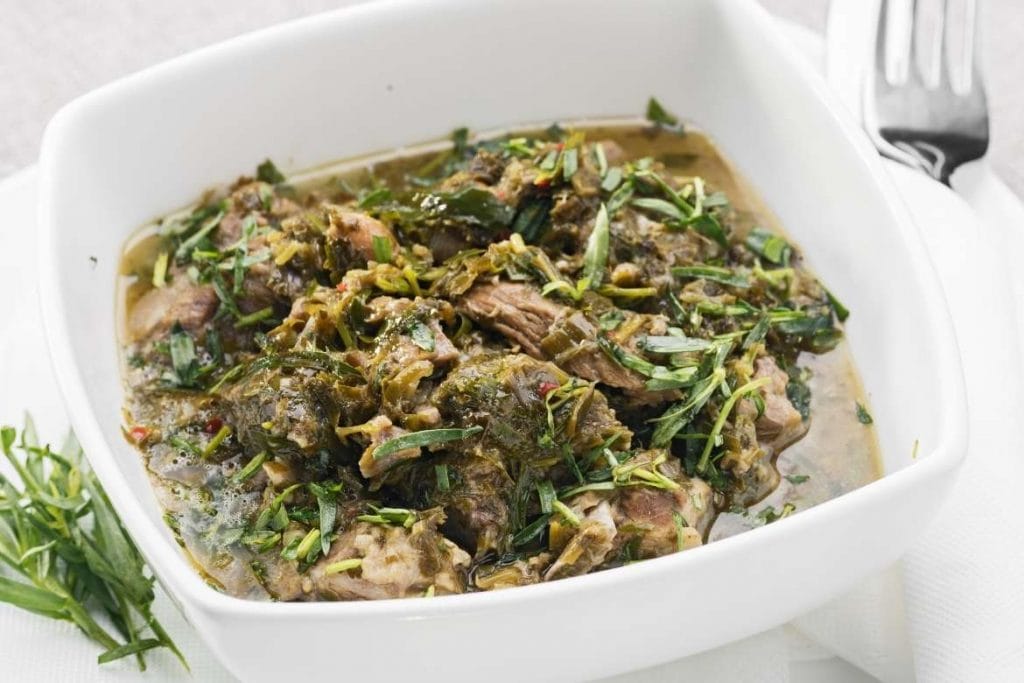 Souvla – Cyprus
How about eating a barbecue in Holy Week? Souvla is a lamb meat skewer that Cypriots have for lunch on Easter Sunday. As in other cultures with a European influence, eating this type of meat in Cyprus is a way of honouring the sacrifice of the Lamb of God.
Escovitch – Jamaica
As a Caribbean country, Jamaica's typical Easter food is fish-based. After fried, it is marinated in a spicy sauce, made of white onions, strips of carrot and peppers. Escovitch is served on Good Friday with white rice or bammy, a traditional manioc bread.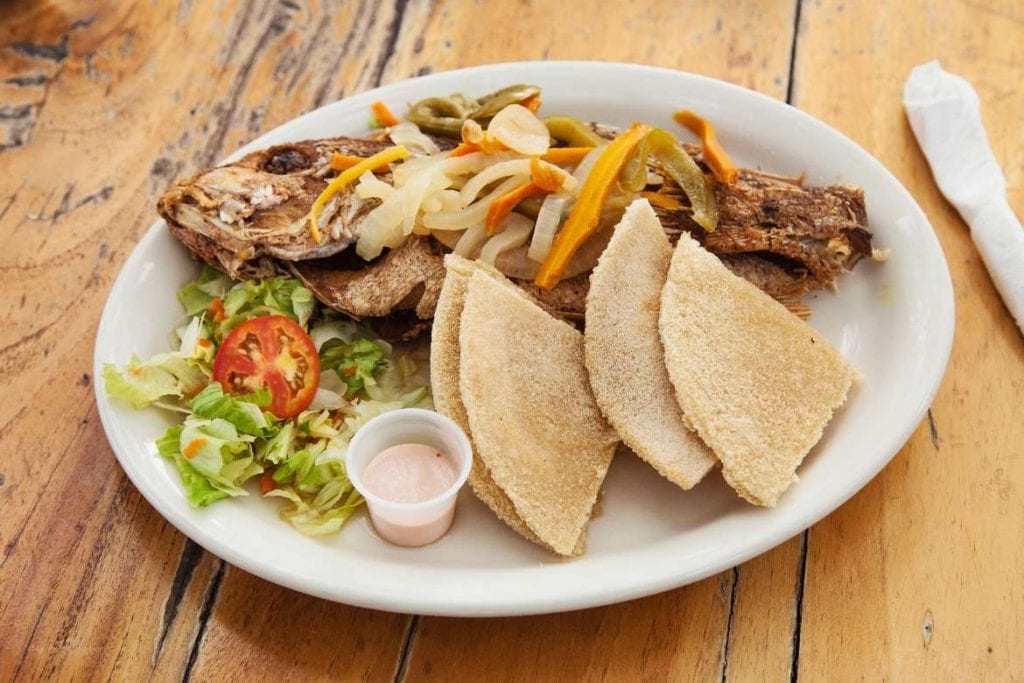 Påskmus – Sweden
Påskmus is a Swedish soft drink made with extract of hops, malt and spices, produced especially for Easter. It was created in 1910 as a non-alcoholic alternative to beer. The figures show how Swedes love påskmus. On Holy Week holidays alone, they consume 10 million litres of the drink. For the rest of the year, it is called Julmust.