Spain is the healthiest country in the world, according to the Bloomberg Healthiest Country Index (2019) that evaluates 169 nations on a variety of indicators related to well-being. Much can be attributed to the Spanish cuisine, based on the Mediterranean diet, synonymous with health, longevity, and even classified as Intangible Cultural Heritage by Unesco.
History and Influences
The Gastronomy of Spain is renowned for its flavors, colors, and vibrant mixtures, influenced by the geographical location and the peoples who settled on the Iberian Peninsula. Bathed by the Atlantic and the Mediterranean, the Spanish diet is rich in seafood. In the countryside, vegetables and meats are valued in broths, soups, and stews.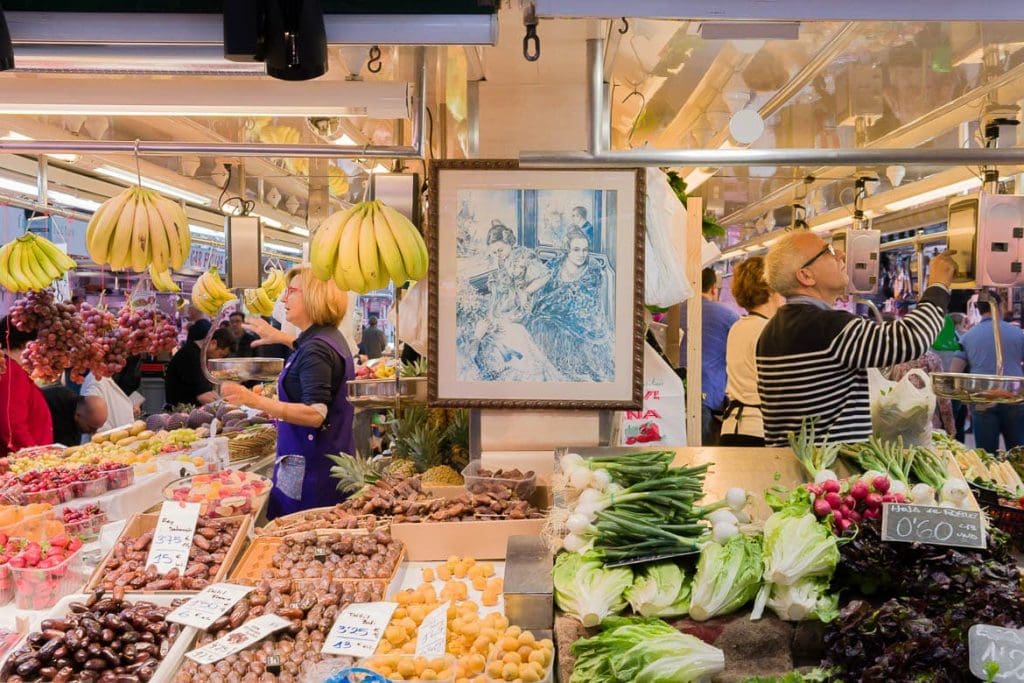 Over the centuries, Spanish food has gained elements from different cultures: Phoenicians, Greeks, Romans, and Arabs, who contributed to the cultivation of olive trees, giving origin to the word aceite ("Az-zait" means olive juice). One of the strongest influences is the Moorish, who conquered the Iberian Peninsula in the 8th century and spent almost 800 years there. From the Moorish influence came rice cultivation, combinations of fruits and nuts with meat and fish, as well as saffron, cinnamon, and nutmeg.
During the Age of Discoveries, Christopher Columbus is known for enhancing the local cuisine with paprika, which was introduced to the king and, for centuries, produced exclusively by monks from the Monastery of Yuste (Extremadura) until it was popularized.
The Spanish tapas are another important "institution" of the local gastronomic culture. In fact, tapas have become a trademark of the Spanish way of life and social habits.
Main ingredients and flavors of Spanish Cuisine
The extra virgin olive oil, a big star of the Mediterranean diet, is an icon of Spanish cuisine and the basis of the country's diet. Each Spaniard consumes, on average, 12 liters of olive oil per year. In comparison, Brazilians consume less than half a liter annually.
The jamón ibérico, the famous Pata Negra, is the world's finest cured ham, a luxurious and exclusive ingredient. The Iberian black pig is raised in southern and southwestern Spain under strict feeding methods that guarantee high levels of "good" fat. The curing process for Iberian ham takes up to 36 months, and there are only four Protected Designations of Origin (PDO): Guijuelo, Dehesa de Extremadura, Jabugo, and Los Pedroche. The cheeses also please the most demanding palates, especially the Manchego from Castilla-La Mancha (yes, the land of Don Quixote!).
One of the world's most famous spices, saffron brings refinement to Spanish cuisine. Its weight is worth gold because each flower of Crocus sativus contains only 0.03 g of saffron. Used in the preparation of poultry, pasta, and even sweets, it is one of the essential ingredients in paella.
Spain's most popular recipe takes another house specialty: bomba rice, one of the best rice varieties in the world, called the "King of Paella Rices.
Paprika is also indispensable, the most traditional being the pimentón de La Vera. Popular spices stand out in Spanish cuisine, such as Las Pedroñeras purple garlic, La Cañada tomatoes, and Fuentes de Ebro onions.
Fish and seafood are another passion of the Spaniards, who always expect everything to be very fresh, no matter how far they are from the coast. In addition to fried, grilled, or baked fish, there is an abundant supply of seafood such as clams, shrimp, lobster, squid, octopus, and much more. It is so famous that paella marinera is often more popular with tourists than the traditional Valencian paella. Fish and seafood also gain fame in soups, as well as in tapas and pintxos, such as Pulpo a la Gallega (octopus with paprika, olive oil, and salt).
Other Spanish regional products are also delightful such as:
fabes, the white bean from Asturias;
potatoes from Galicia;
canned anchovies from Cantabria;
olives from Jaén;
asparagus from Navarra;
piquillo pepper from Lodosa and;
eggplants from Almagro.
In addition, of course, to the wines, the Rioja being the most emblematic, and the liqueurs Pacharán de Navarra and Orujo de Galicia.
Traditional Spanish Dishes and Beverages: What not to miss at the table
Paella, gazpacho, jamón ibérico, and various tapas: Spanish food is colorful and diverse, designed for large meals, and enjoyed in small portions.
Among the many recipes known both in Spain and abroad are paella, a dish made from rice and lots of meat; gazpacho, a cold tomato soup and very well seasoned; and jamón ibérico. As an appetizer, Patatas Bravas, thick fried potatoes served with hot sauce or alioli.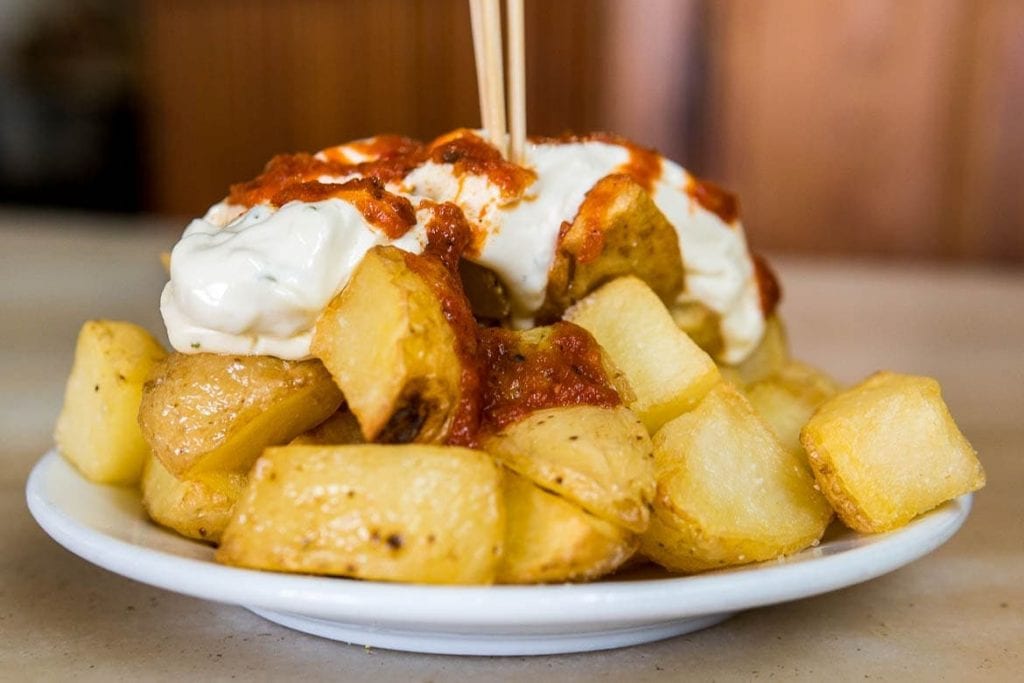 Another popular dish in the country is Cocido Madrileño, made with sausage, chicken, potatoes, chickpeas, cabbage, and other vegetables. An everyday classic is Tortilla de Patata, a Spanish omelette with potatoes that can also be topped with chorizo, a typical pork sausage.
Dessert is also not skipped, the most popular being the turrón, a candy made of almonds and honey, and the fried churros, usually served with a cup of chocolate to dip them in. A delight!
For drinking, wines dominate the scene, either pure, in particular the acclaimed Rioja labels, or as a base for other drinks. These include red wine sangria; the Madrid vermouth made with herbs and spices; and the refreshing tinto de verano, which takes soda, ice, and lemon.
Another option to beat the heat is horchata, a non-alcoholic drink served chilled and made with chufas, a traditional tuber from the Valencian region. And, of course, we can't forget Sidra, a fermented apple drink with a low alcohol content appreciated mainly in the Asturias region.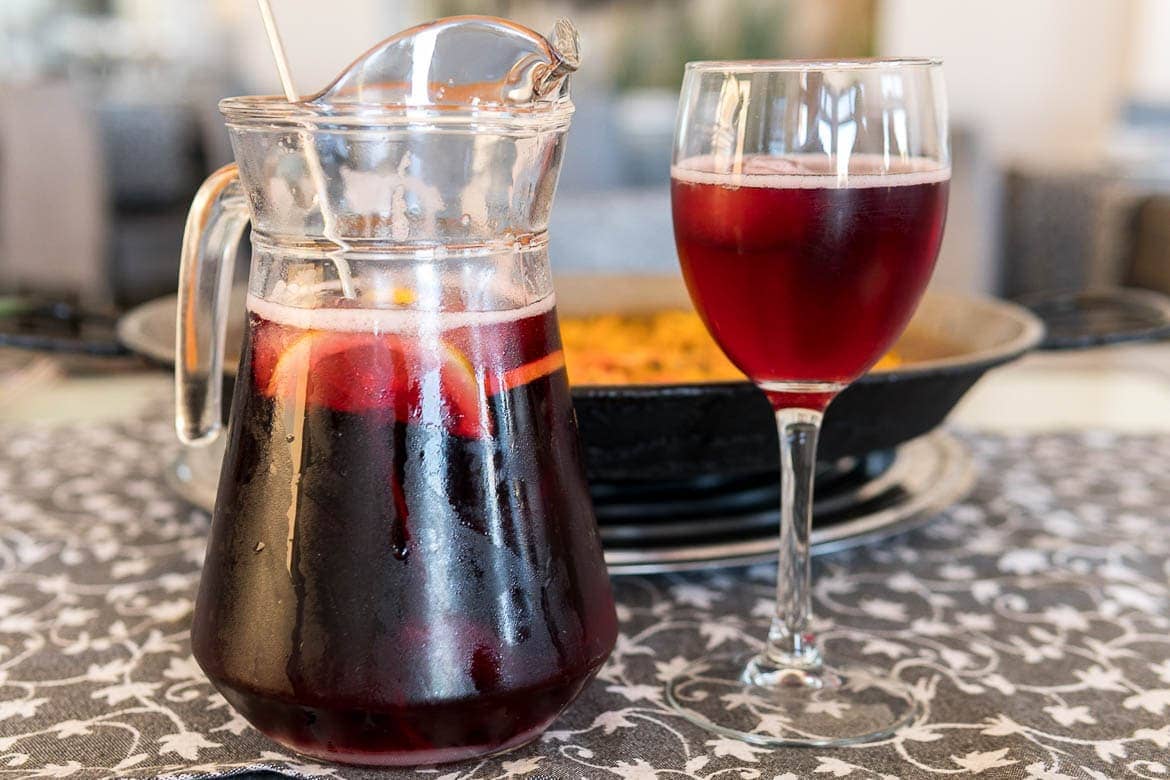 Spanish Culinary Traditions
The Spanish like to gather around the table to celebrate the art of eating well. Breakfast is simple: coffee with milk, bread, toast, cheese, jam, and some sweets. Later, they eat a bocadillo.
Lunch or la comida is a chapter apart. At home, it is usual to have soup, salad, meat and/or fish and dessert (fruit or cheese). In restaurants, there is a long sequence of dishes. The starter can include cheese or cured ham, for example, then followed by soup or grilled vegetables. This is followed by fish and meat, or game birds, such as partridge, in the more sophisticated menus. In winter, the menu includes a stew, such as a fabada. In the end, dessert and espresso coffee.
Traditionally, Spaniards take a break of up to three hours, from 1:30 to 4:30 pm, to enjoy the pleasures of the table and have a siesta (rest after lunch). A snack helps to wait for dinner in the late afternoon, usually fish or an omelette and salad, plus fruit or flan for dessert.
As Spaniards usually sleep very late, it is common salir de tapas, that is, to go out for drinking and eat tapas with friends. Compared to regular snacks, tapas are a traditional accompaniment to drinks and are often eaten with cutlery, as opposed to pintxos, which are foods attached with toothpicks, eaten in one or two bites and originated in the Basque Country.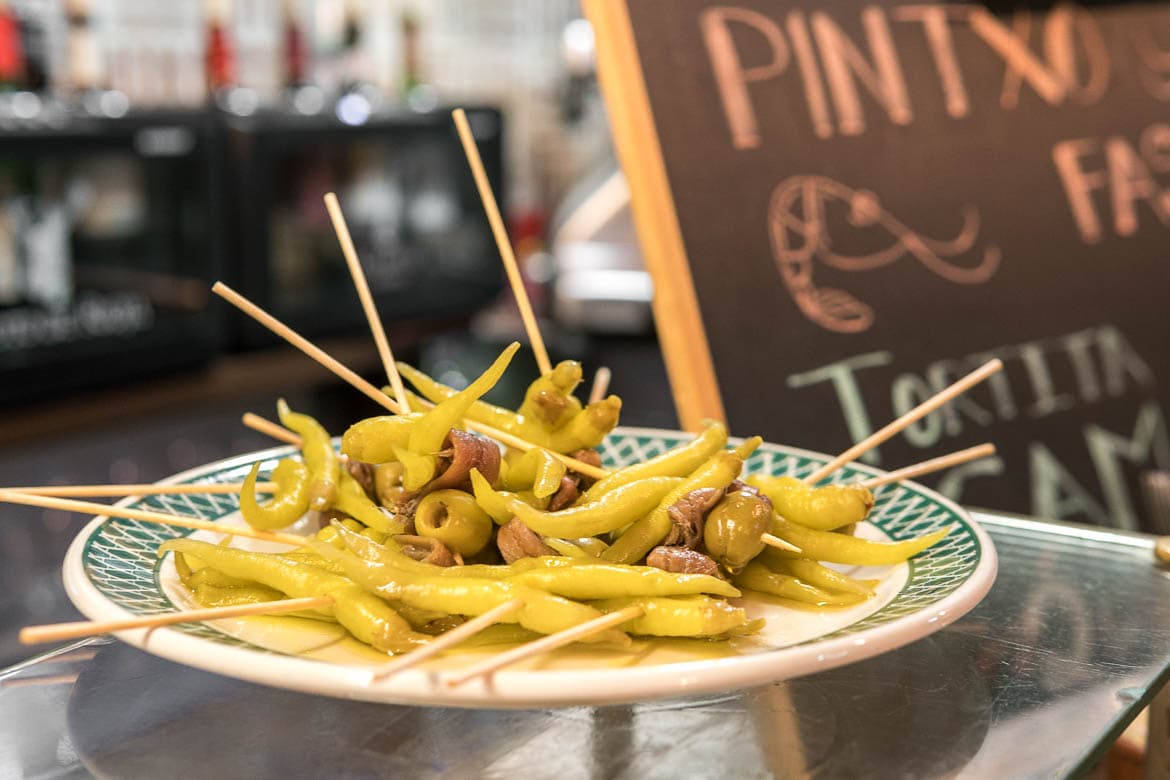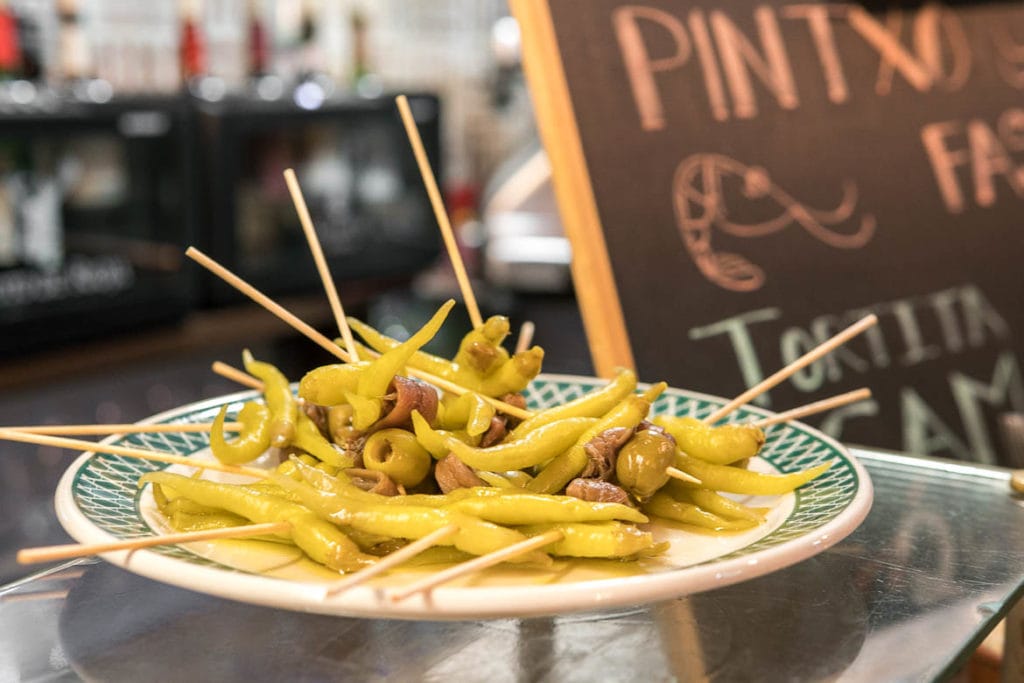 How to explore Spanish cuisine as a Food Traveler
From award-winning restaurants to tapas bars, Spanish cuisine has flavors for all styles and budgets. To enjoy the night like a true Spaniard, the tip is not to stay in one place. It is common to try a small appetizer in each place and change bars along the night. In some places, especially in the Andalusia region, you can order a drink and get a free tapa.
Fans of fine gastronomy will find the ideal paradise in the seaside town of San Sebastián. Chefs Martín Berasategui (with the restaurant of the same name), Pedro Subijana (Akelarre) and Juan Mari Arzak (Arzak) form the region's starred trio. As a matter of fact, the capital of the Basque Country has a surprising number of restaurants indicated by the Michelin Guide and the largest number of starred restaurants per square meter. Mugaritz, owned by chef Andoni Aduriz, is constantly cited in different lists as one of the best in the world. For those who prefer a more casual dining experience, the pintxos bars in the region are surprising.
In Barcelona, some options of tapas bars are La Cova Fumada, Gata Mala and Blai 9. In Madrid, Casa Labra, Bodega de la Ardosa and Taberna La Dolores are some places to put on the agenda. The gastronomic market of San Miguel, with several bars at a single address, is also a point of snacks in the Spanish capital. Some restaurants even have a separate tapas area from the rest of the hall, called barra.
Spanish people usually dine late, after 9 pm, and in restaurants tipping is not mandatory. In Barcelona, the restaurant La Barca del Salamanca is a hot spot. If you are looking for a more upscale dinner, the Botafumeiro is the most famous. New chefs are gaining rock star status, as is the case of Jordi Cruz, at the head of ABaC, which has three Michelin stars.
In Madrid, renowned chef David Muñoz runs DiverXO, the only restaurant with three stars in the Michelin Guide 2021. Other chefs to keep an eye on when you go to Spain are Albert Adrià, Joan Roca, Quique Dacosta, and Paco Roncero.