Spanish cuisine is full of flavors, aromas, and colors. It results from the geographic, cultural, and climatic diversity of the country, which is the largest European producer of fish and vegetables. The variety and freshness of the products, combined with the Spaniards' talent and creativity, result in a culinary tradition that is constantly renewed without giving up its origins.
Getting to know the traditional dishes and foods of Spain goes far beyond tasting them. It is an immersion in the knowledge and practices of a culture that deserves to be experienced up close – a mandatory experience for every traveler who intends one day to visit Spain.
List: Spanish food and its main typical dishes
Paella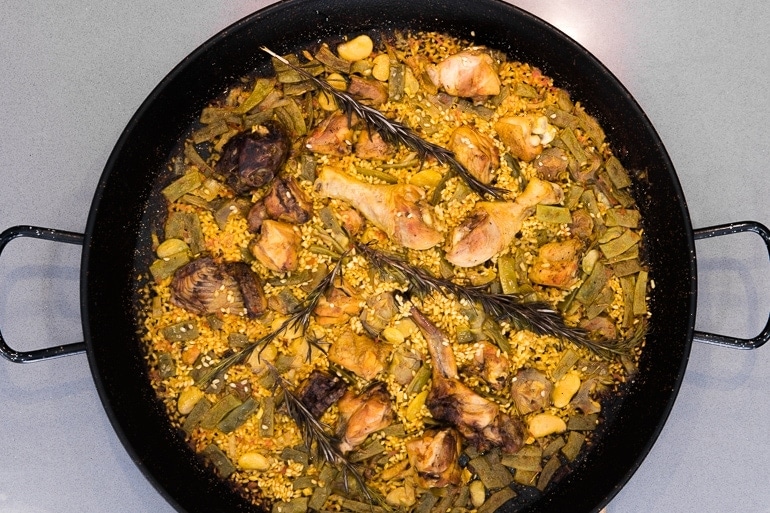 Practical and versatile. These are the adjectives that define Paella, one of Spain's most traditional foods. Easy to prepare, it is made with rice and has many versions.
The original version is the Valencian Paella, with chicken and rabbit meats traditionally made over a wood fire. But the recipe that has gained fame outside Spain is the Paella Marinera, which takes seafood such as shrimp, octopus, squid, and mussels.
Regardless of the type, it is prepared and served in a shallow, wide pan with a handle on each side called Paella, giving rise to the dish's name.
Also read: Horchata De Chufas – The Tigernut Milk From Valencia
Fideuà
Spanish food is full of stories. Just as Paella emerged from the nutritional needs of Valencian peasants, so did Fideuà. The dish was created by fishermen who, lacking the rice to make Paella, replaced it with a thin noodle. Another difference is that Fideuà is always made with seafood, while Paella can be made with red meat, poultry, and seafood.
Patatas Bravas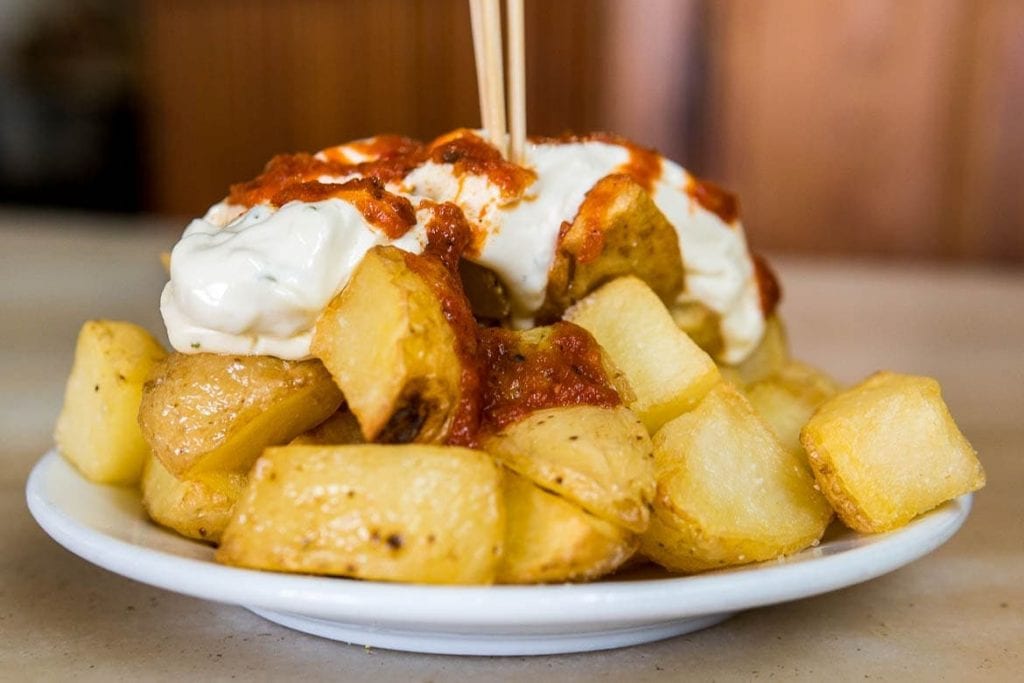 These are potatoes fried in olive oil, cut in irregular shapes, and usually accompanied by salsa brava, a hot sauce. In some regions of Spain, this sauce is replaced by alioli, a type of mayonnaise made with garlic and olive oil. It is common to serve Patatas Bravas as tapas, which are the Spanish appetizers.
Gazpacho e Salmorejo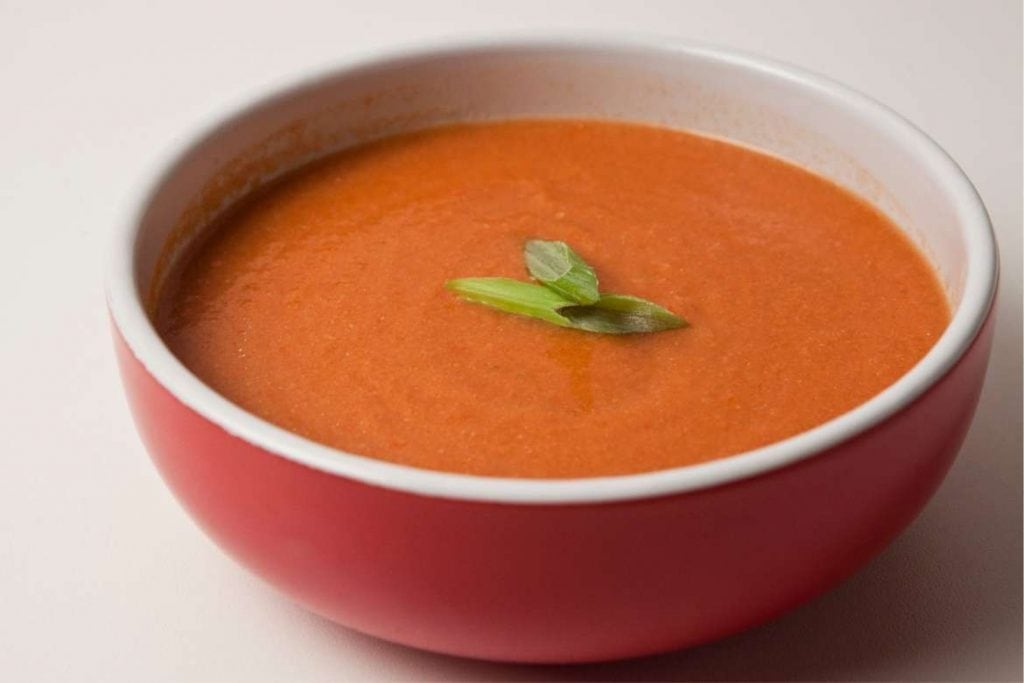 These are two tomato soups, served cold, easily found in various regions of Spain, and very popular in Andalusia. Because of their lightness and temperature, they are very popular in the summer. The difference between them is that Salmorejo adds stale bread in its recipe and finishes with pieces of hard-boiled eggs and serrano ham. At the same time, Gazpacho has a more liquid texture because it (usually) does not add bread and has more vegetable ingredients like cucumber and peppers.
Also read: A complete list with the most famous soups in the world
Tortilla
Tortilla is a traditional Spanish food rooted in every corner of the country. It is eaten anytime and anywhere, whether at home, in bars, or in restaurants. The tortilla recipe is made with eggs and potatoes and resembles an omelet. The versions with fillings vary according to region, the most common being cheese, ham, pepperoni, and sausage.
Huevos Rotos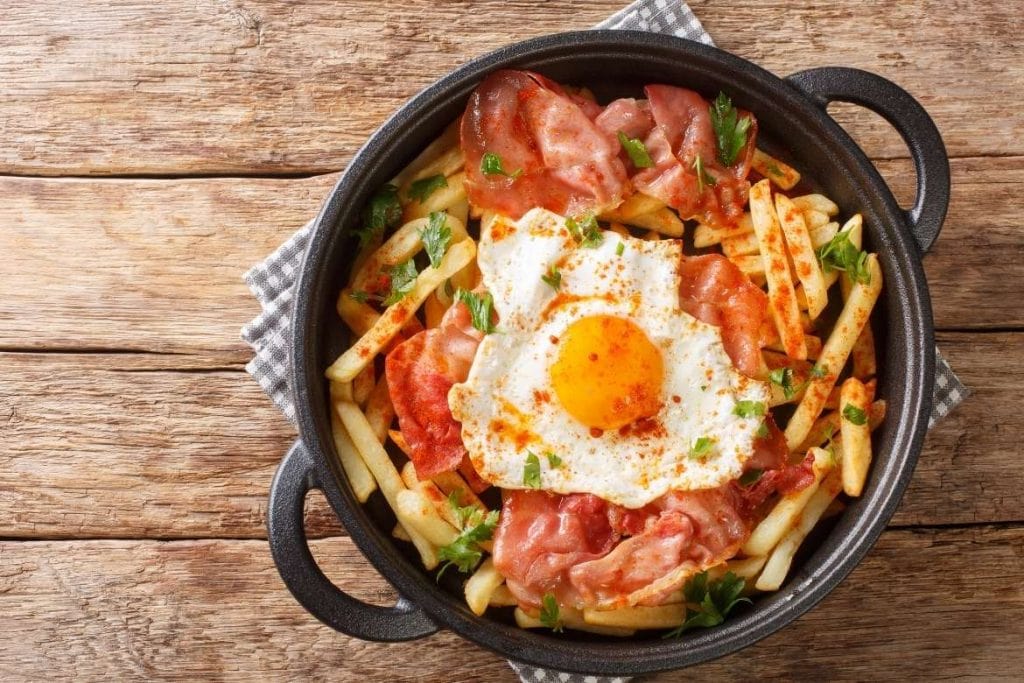 Anyone who thinks that eggs are just a side dish is not familiar with Huevos Rotos, a Spanish food of Madrid origin. The eggs are fried in olive oil and put on top of fried potatoes and cured ham. The tip to enjoy this dish is to eat it while still warm, spreading the yolk over the other ingredients in the company of a bread roll.
Jamón Iberico
Jamón Iberico is another classic of Spanish cuisine. This cured ham refers to the species of pig (Iberian) from which the product originates. The species' particularities added to how it is raised and fed with bellotas – a type of nut – give the Jamón Iberico a sweet and slightly salty flavor.
Pulpo à Galega
It is a Spanish dish with more than 400 years of tradition, super traditional in Galicia but with origins in the province of León. Locally called Polbo á Feira, the octopus is cooked whole and served in small pieces, seasoned with olive oil, paprika, and salt. Usually served on a wooden plate and accompanied by boiled potatoes.
Cozidos Espanhóis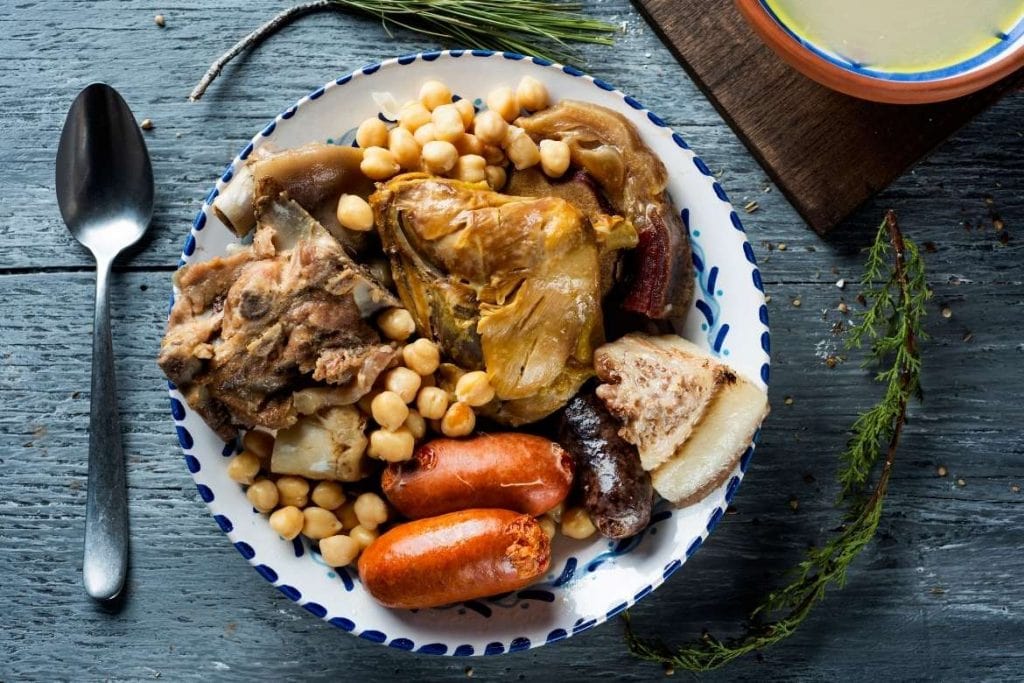 The Spanish cozidos are dishes with a strong affective memory, those with the taste of grandma's food. The recipe may vary according to the country's region, but the basics are always present: vegetables, greens, meats, and sausages. The best-known versions are the Madrileño, served in three sub-dishes; the Andaluz, served in two; the Montañes served in a single dish.
Fabadas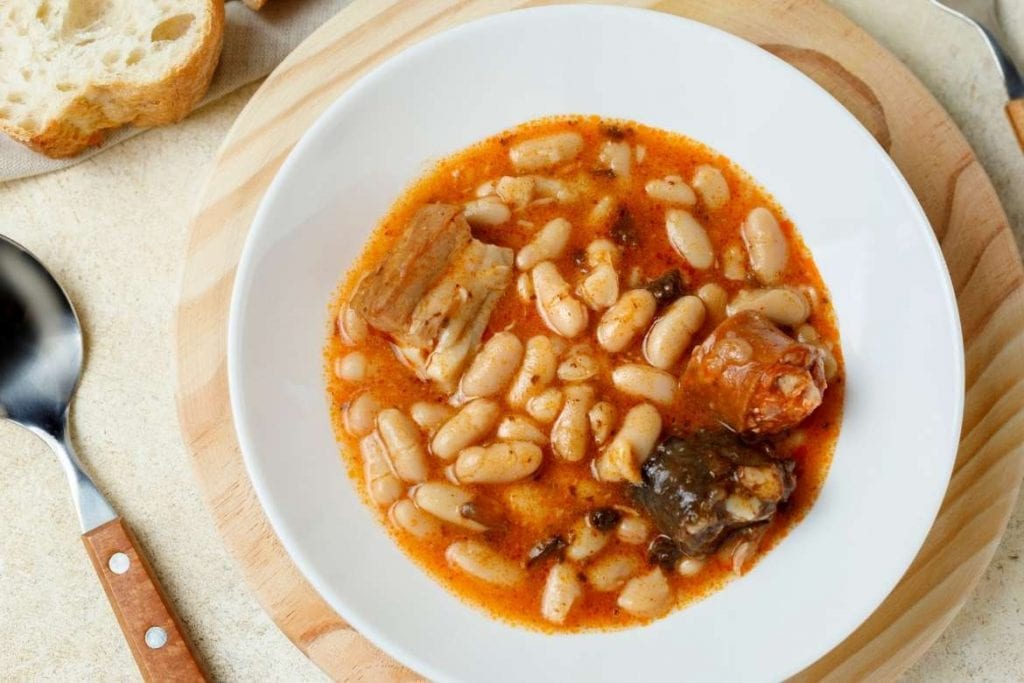 Fabadas are an excellent source of calories, much appreciated on cold days and after physical activity. Typical of the Asturias region, Fabadas is usually white beans cooked with various sausages and pork pieces. The dish takes some time to prepare, and its flavor becomes more refined the next day.
Croquetas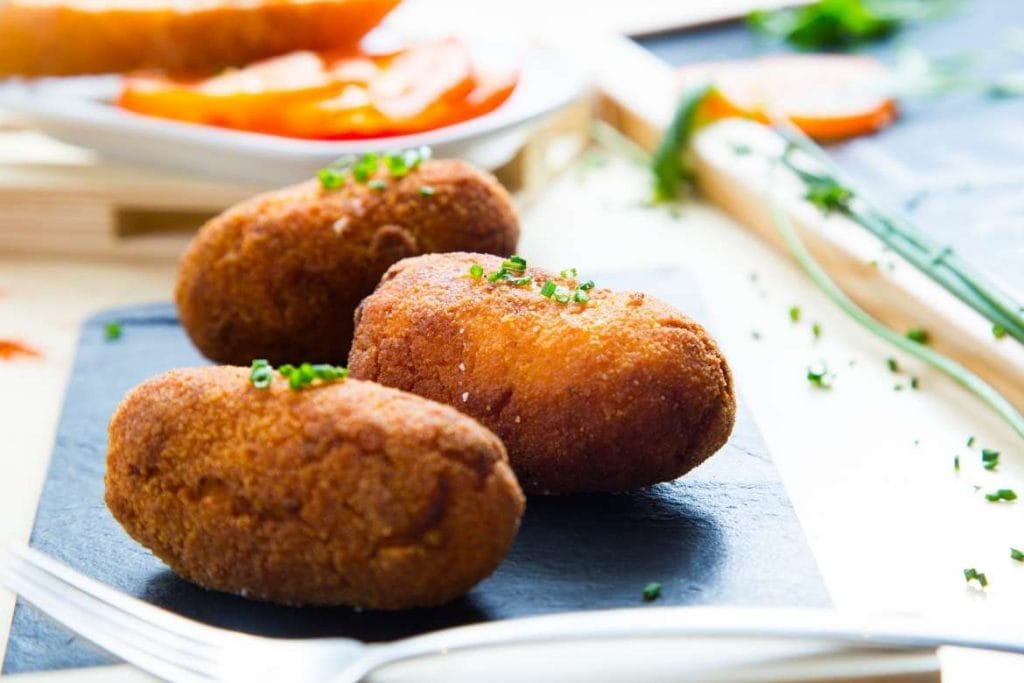 Spanish croquetas are fried dumplings with béchamel sauce and various fillings: cheese, cured ham, chicken, codfish, tuna, etc. There are many variations from sweet to vegetarian versions. Croquetas can be sold in portions or individually and are generally eaten as tapas.
Pan con Tomate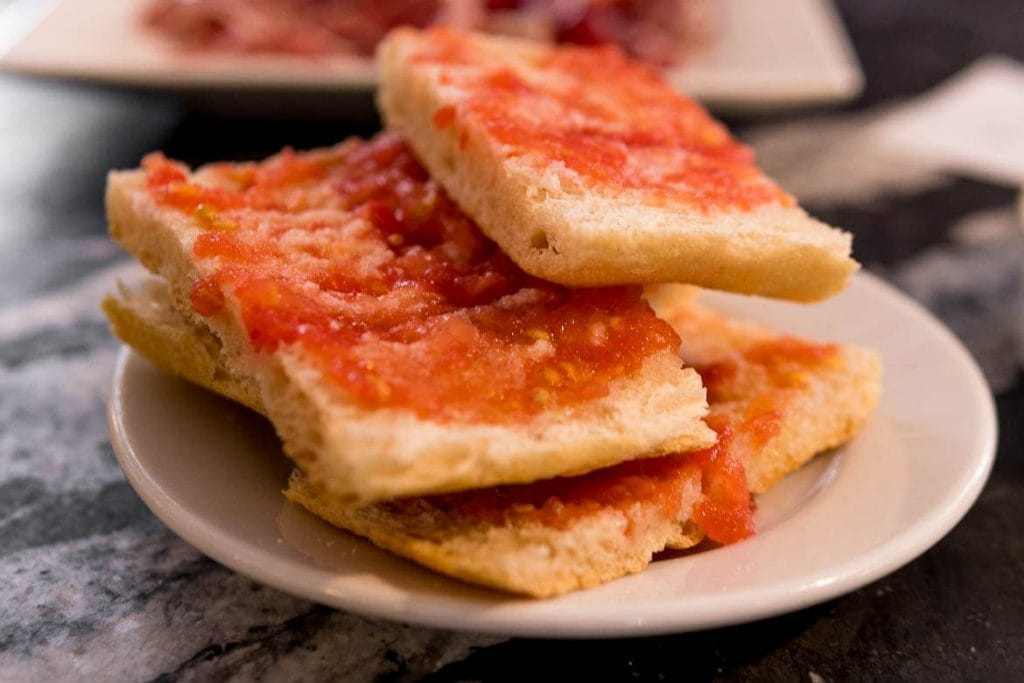 Besides being healthy, Pan con Tomate is a typical food of Barcelona and easy to prepare. All you need is a slice of bread, a ripe tomato, garlic, olive oil, and salt. In the Catalan version (pa amb tomàquet), rub the garlic on the bread, then cut the tomato in half and rub it again. Lastly, add olive oil and salt to taste. Legend has it that the peasants used the tomato to soften the bread from the day before.
Boquerones en vinagre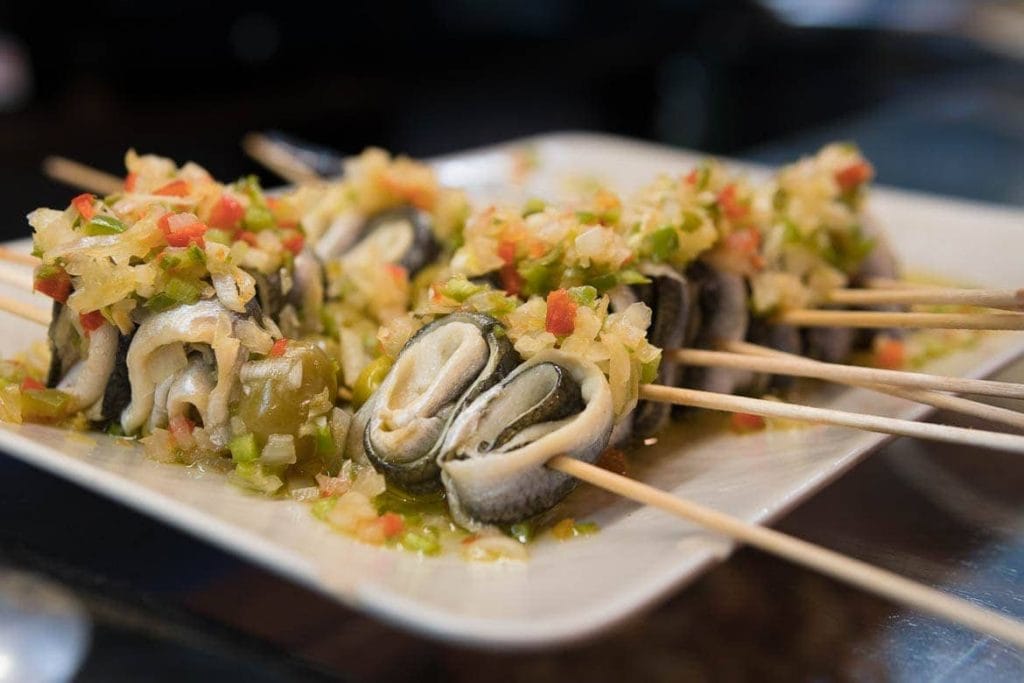 It is a Spanish tapa made with fresh anchovies. In this dish, the ingredients' quality and the fish's correct cleaning are critical to the final result. The anchovies are marinated in vinegar, olive oil, and garlic. They are served with bread, olives, and also as banderillas.
Mojama
It is a typical Spanish delicacy made from tuna, more specifically from the central part of the fish. It is salted, washed several times, and exposed to the sun for up to a month until it completely dehydrates. Mojama is served in thin slices, drizzled with olive oil, and accompanied by almonds and toast. Spanish food of the highest quality!
Cochinillo
The Cochinillo de Segovia is the most famous roast suckling pig in Spanish gastronomy. Its reputation is so great that it has a quality seal issued by the Spanish Agriculture Ministry. The suckling pig is baked in clay roasters and takes about 3 hours to be ready. According to tradition, the Cochinillo is served whole, such a feast.
Chorizo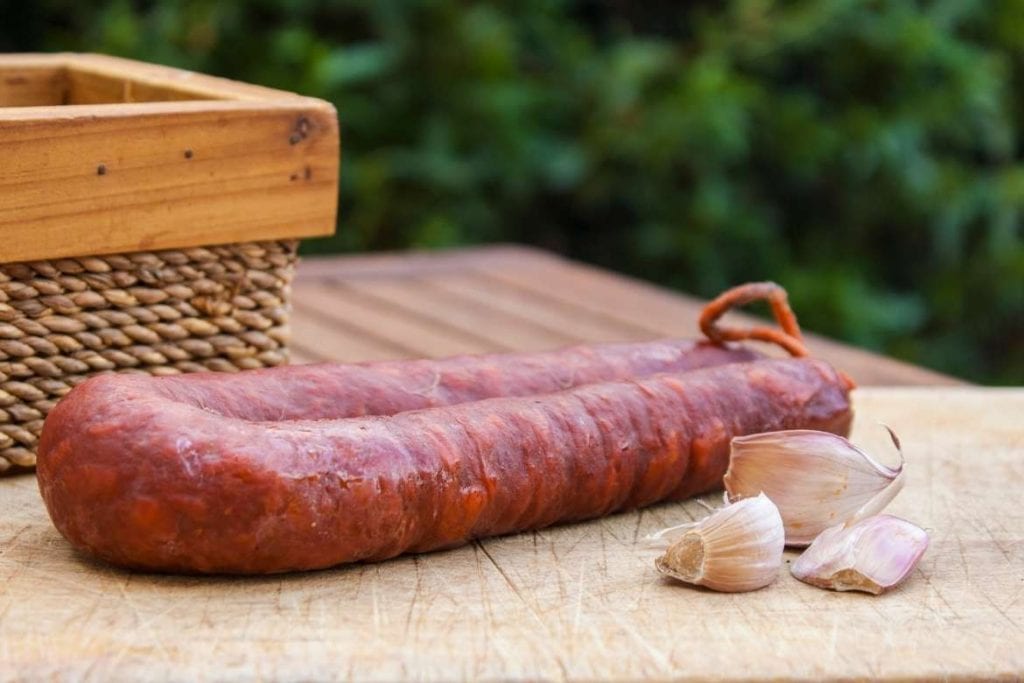 It is a pork sausage seasoned with paprika, garlic, and salt. It then goes through a smoking process, which accentuates its flavor and aroma, and is used to enhance recipes and accompany many Spanish dishes. It is common to confuse Chorizo with Morcilla, also made from pork. The difference between them is that the latter is stuffed with clotted blood.
Bocadillos
Bocadillos are the most popular sandwiches in Spanish cuisine, made with baguette-type bread. The filling options are so many that it is hard to resist this delicacy present in practically every market in Spain. You can find with jamón, tortilla, squid, chorizo, cheese, and also vegetarian bocadillos.
Puchero
It is a typical stew from Andalusia, a southern region of Spain, consumed in winter. This dish's name refers to the utensil that prepares the stew: the puchero (pan in Spanish). There are several recipes for this dish (with cuts of beef, pork, and chicken), but there is one ingredient that cannot be missing: chickpeas.
Gambas al ajillo
In Spain's gastronomy, there is no shortage of options for prawn-based dishes. The most popular of these is Gambas al ajillo, which takes shrimp with olive oil, butter, garlic, and white wine. The shrimp are seasoned with salt and black pepper, fried with olive oil, butter, and white wine. They are served with bread or boiled potatoes.
Pimientos de Padrón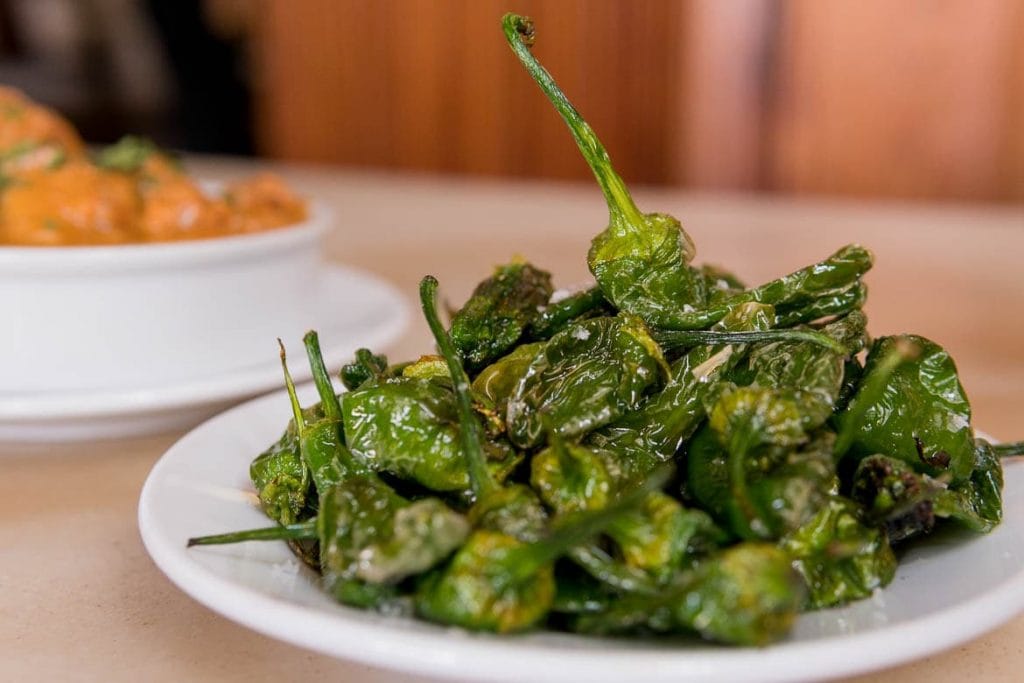 Originally from South America, the Padrón Peppers are grown in Galicia, where they have adapted well to the milder climate. A curiosity is that they are harvested unripe, a phase in which they have a greater variety of flavors than when ripe. This famous Spanish tapa is easy to prepare, just fry in very hot olive oil and serve with salt. It's delicious!
Extra! Sangria
Sangria is a wine-based drink, very light and cold, widely consumed on hot days and at the end of year parties. Besides red wine, which is the drink base, it also contains brandy, fruit, sugar, ice, and others. Preparation tip: If you make it at home, let it rest for 1 hour, time enough for the ingredients to mix, resulting in a more characteristic flavor.