Perfect drink for a meeting with friends. Learn how to make a refreshing spanish sangria with red wine and fresh fruit.
About Sangria
Sangria is one of those versatile, delicious and dangerous drinks. After all, it is so easy to drink that we even forget that it is an alcoholic beverage. It is a cocktail made with red wine flavoured with fruit and fortified with a dose of distillate. Although Sangria brings red wine, the end result is surprisingly refreshing.
Now, the most surprising thing is not its freshness, but its fame. Sangria is one of the most famous Spanish drinks, but on a daily basis, Spaniards do not consume it as often as we think, so Sangria ends up being a drink most requested by tourists. In general, Spanish locals prefer other beverages to keep cool – such as red summer or a simple dose of vermouth.
So typical that it is protected by law
Regardless of local consumption, Sangría is a drink known to have originated not only in Spain but also in Portugal. By the way, there is a European Union law stating that, commercially, a drink can only be called Sangria if it is produced in Spain or Portugal.
The components of a good Sangria and its possible variations:
There is no single way to prepare a traditional red wine Sangria recipe, but it is important that the final recipe considers the following elements:
Essential citrus fruits – orange juice and orange and lemon slices;
Fruits to flavour it – the most commons are peaches, apples, nectarines, pears, etc. You can also add red fruits, kiwi, pineapple, strawberries, etc.
Sugar – you can also substitute for demerara, honey, brown, etc.
Spices – the cinnamon stick is the most widely used spice. If you want to add a different touch, how about replacing cinnamon with ginger?
A dose of Distillate – usually brandy or cognac is used, but it can be prepared with rum, gin, triple sec, etc.
Dry red wine – give preference to a strong and fruity red wine, like Garnacha, Tempranillo, etc. It doesn't have to be the best wine, but it does have to be a wine you would normally drink.
Ice – to serve.
For an extra refresh: you can add some carbonated drink, such as tonic water, soda, sparkling water, etc.
Difference between Sangria vs. Tinto de Verano
Sangria is made with red wine, fruits and a dose of dry distillate, such as cognac, rum, vermouth, etc. The Tinto de Verano, which is translated to red summer, is simpler, does not take a distilled drink and not so many fruits, only orange peel and lemon.
How to drink sangria
Sangria is a wine cocktail made to be shared and consumed in social moments. The recipe yields a lot, which makes it the perfect drink for a party accompanied by Spanish tapas, appetizers, and good friends.
Check out our red wine sangria recipe: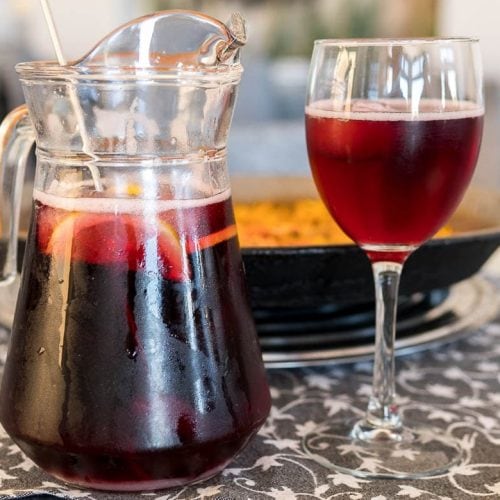 Spanish red wine sangria with fruits
Perfect drink for a meeting with friends. Learn how to make a refreshing spanish sangria with red wine and fresh fruit.
Adjust servings
Ingredients
1

bottle

red wine

-

dry

⅓

cup

brandy

-

cognac, rum, vermouth, etc

3

oranges

-

1 sliced, 2 juice

1

apple

-

cut into cubes

2

peaches

-

cut into cubes

1

lemon

-

sliced

1

lime

-

sliced

1

cinnamon

-

stick

2

tbsp

sugar
For serving
tonic water, soda, sparkling water

-

optional

ice cubes
Instructions
Cut the apple and peach into cubes

Cut 1 orange and lemon into slices;

Squeeze the juice of 2 oranges;

In a large jar, add half of each cut fruit (separate the rest). Add sugar and the amount of distilled drink;

Using a wooden spoon, muddle the mixture into the bottom of the jar for a few seconds;

Add red wine, cinnamon sticks and the rest of the cut fruit.

Leave the jar in the refrigerator for at least 30 min to flavour well and freeze;

At the time of serving, add ice, pour the sangria in each glass and. If you want, add some tonic water to make it more refreshing.
Menu Suggestion
Cold cuts and cheese platter + mix of Spanish tapas.