The idea of blending herbs and spices for cooking has something magical! The combinations are endless and some mixes of spices have worked so well that they became a representation of many cultures around the world. With typical flavors and aromas, each seasoning has its own personality and results in delicious dishes.
Garam Masala
Garam Masala is one of the best known spice mixes in India. Its main feature is to add aroma and heat to Indian dishes. In Hindi, Garam means hot. Masala, on the other hand, means mixture of spices.
In India, you'll find the word 'Masala' in the name of many dishes and beverages such as the Masala Chai which is tea with milk and Indian spices.
In addition to intensifying the flavour of the dish, the Garam Masala helps to keep the body warm and aids digestion. Garam Masala is widely used in two versions: whole spices (Whole Garam Masala) and powder (Ground Garam Masala).
However, there are regional variations, for example, in the South of India it is common to add coconut to the mixture and use it in the form of a paste.
Also read: Biryani, everything about the most famous Indian dish
Most used ingredients for Garam Masala
Cumin seed
Coriander seed
Black cardamom
Green cardamom
Cinnamon
Clove
Bay leaf
Mace – dried nutmeg aril
Nutmeg
Star anise
Black pepper
Fennel seed
How to use Garam Masala
To intensify the aroma of the dish, it is recommended to use Ground Garam Masala at the end of the preparation. You can use it in curries, lentils, vegetables and stew dishes.
Butter Chicken Masala (Murgh Makhani)
Roasted chicken pieces cooked in a delicious buttered tomato sauce with a lot of spices. This Indian curry recipe is a true explosion of flavour.
Read Recipe
5 Chinese Spices
The spice blend known as 5 Chinese Spices is the result of searching for the balance of five flavours: sweet, sour, bitter, salty and umami (pungent).
Widely consumed in China, these blend of exotic spices is also very popular in countries like Vietnam and Malaysia, where there is a strong influence of Chinese cuisine.
Main ingredients of the 5 Chinese spices
Star anise
Fennel
Sichuan pepper
Cinnamon
Clove
The base of this mix does not change, but there are variations that add ginger, galangal and nutmeg.
Sichuan pepper is one of the most exotic spices in the mix, adding aroma, freshness, bitterness and a slight tingling sensation on the tongue.
How to use the 5 Chinese spices
Use the 5 Chinese spices in fatty meats such as duck, pork and stews. If you can't find Sichuan pepper, try replacing it with black pepper.
Herbes de Provence
Herbs de Provence, as the name implies, is a classic dried herbs mix from the southeastern region of France, called Provence. Like many French products and foods, there is a Herbs de Provence recipe protected by the Label Rouge quality mark.
The original recipe for Herbs de Provence, as well as all the original recipes for many spice mixes in the world, began with what was locally available, in this case, the summer herbs found in the gardens of Provence. These Provence herb mixtures varied from family to family until gaining popularity with a commercial version in the 70s.
Herbs de Provence recipe according to Label Rouge:
Rosemary (27%)
Savory (27%)
Oregano (27%)
Thyme (19%
In the United States and other markets, it is common to find Herbs de Provence with lavender, basil, marjoram and other herbs.
How to use Herbs de Provence
In French and Mediterranean cuisine, Herbs de Provence are widely used to season and flavour dishes with chicken, fish, vegetables whether as a stew, grilled or roasted.
To add more flavour to the dish, you can make an infusion of olive oil with Herbs de Provence before cooking. To make your own seasoning, use dried herbs and do not roast them, just mix it well and store in a sealed glass jar.
Baharat
Baharat is a spice mix widely used in Levantine cuisine, a region that currently includes countries such as Lebanon, Syria, Jordan, Israel, Palestine and Turkey. Like Masala in Hindi, Baharat means spices in Arabic and recipes vary at each corner.
Most used ingredients in Baharat
Black pepper
Coriander seed
Paprika
Cardamom
Nutmeg
Cumin seed
Cloves
Cinnamon
These spices are known to add aroma, warmth, and sweetness to dishes.
In some versions, Baharat may include other ingredients. For example, in Turkey, it is common to add mint leaves. In Syria, the Baharat can take allspice and ginger. It is also common to find Baharat with saffron.
How to use Baharat
To marinate, mix with olive oil and lemon juice. Baharat is great for seasoning lamb, chicken, and stews.
Menemen – Turkish Scrambled Eggs
This Turkish scrambled eggs (Menemen) recipe is made with simple ingredients. The mixed flavours of onion, tomato, eggs and spices combine perfectly with weekend brunch.
Read Recipe
Lebanese 7 Spices
The Lebanese Baharat, known as Lebanese 7 Spices, is another classic from the Levantine and Middle East region.
Classic ingredients for the Lebanese 7 Spices blend
Black pepper
White pepper
Allspice
Cinnamon
Clove
Nutmeg
Mahleb (St Lucie cherry)
There are also versions that include coriander seeds, ginger powder, cumin seed and cardamom.
How to use the Lebanese 7 spices
You can use it to season kibbeh, kafta, meatball as well as vegetarian dishes like babaganoush and tabbouleh.
Zaatar
Zaatar is another mix typical of Levantine cuisine. The most characteristic ingredient in Zaatar is Sumac, a spice found in the Mediterranean that refers to a sour taste similar to lemon, but milder.
Zaatar seasoning uses only 4 basic ingredients
Thyme
Sumac
Sesame seeds
Salt
In addition to the basic ingredients, it is possible to find Zaatar with:
Oregano
Cumin seeds
Black pepper
Marjoram
Savory
How to season with Zaatar
Zaatar can be used in various dishes. It is common to mix Zaatar with olive oil to marinate fish and other white meat. You can also use Zaatar to season salad and babaganoush. I really like to sprinkle Zaatar on hummus and on pita bread with olive oil.
If you don't find Sumac, try lemon zest instead, but don't overdo it.
Harissa
Harissa is a red chilli pepper condiment originated in North-West Africa, the region of Morocco, Algeria and Tunisia. The highlight of Harissa is the spicy and smoked flavour characterised by chillis and bell peppers that are previously smoked or dried in the sun. Harissa can be used in paste form or dried powder.
Most used ingredients in Harissa
Red chilli pepper
Smoked red bell pepper or paprika
Garlic
Coriander seed
Cumin seed
Caraway seed
Salt
Olive oil
Lemon juice
Harissa is one of the most versatile seasonings in this list, especially for those who like a touch of chilli. You can use it to marinate and season grilled meats, spice up stews, Moroccan couscous, or to add a special touch to hummus and scrambled eggs.
Tips to make Harissa
If you want to make Harissa at home, first prepare the chilli paste (soak the red chillies first and remove the seeds), add the garlic and blend in the microprocessor, then add the olive oil, spices and other ingredients.
Ras El Hanout
Ras El Hanout is a classic spice blend from North Africa and very popular in Morocco. A mixture of dried spices that brings heat, aroma and complexity to the dishes.
Ras El Hanout means 'head of the shop' to indicate it is the best spice mix in the house. As the recipe is 'chef-style', the amount of spices varies a lot. Ras El Hanout made with 12 spices is quite common, but we've already seen versions made with more than 30 spices.
Most used spices to make Ras El Hanout
Black pepper
Allspice
Paprika
Coriander seed
Cumin seed
Clove
Cinnamon
Cardamom
Mace
Nutmeg
Turmeric
Ginger powder
How to use Ras El Hanout
Try seasoning mutton, chicken, couscous, lentil soup and roasted vegetables.
Berbere
Berbere seasoning is typical of Ethiopia, a hot mix made with chillies and spices native to the region, such as long pepper and korarima (Ethiopian cardamom). Other lesser-known spices are also used, such as nigella seeds (black cumin), ajwain seeds (bishop's herb) and rue (ruta berry). For this reason, Berbere brings a lot of authenticity to the typical dishes of the Ethiopian and Eritrean cuisine such as chicken, vegetable and lentil dishes.
Just like Baharat and other blends that we describe here, Berbere is usually made with whole spices and dried herbs, which after being toasted or sun-dried, are ground and mixed.
Most used spices to make Berbere seasoning
Red chilli
Long pepper
Nigella seed (black cumin)
Rue (ruta berry)
Bishop's herb (ajwain)
Fenugreek seed
Allspice
Black pepper
Clove
Sweet paprika
Cinnamon
Cardamom
Coriander seed
Cumin seed
Nutmeg
Ginger powder
Garlic powder
Onion powder
Salt
To make your own Berbere at home, adjust the amount and type of chilli according to your taste, but give preference to red hot chillies, as the main characteristic of Berbere is the spiciness that hits your mouth with citrus and sweet notes.
Jamaican Jerk
Jamaican Jerk is the name of a Jamaican spice blend widely used to season and to preserve meat (ex. jerky beef).
Jamaican Jerk seasoning can also be used to marinate meats before grilling, smoking or roasting. To keep its originality, make sure to use allspice pepper and Scotch bonnet pepper, known as Caribbean red pepper and is similar to Habanero pepper.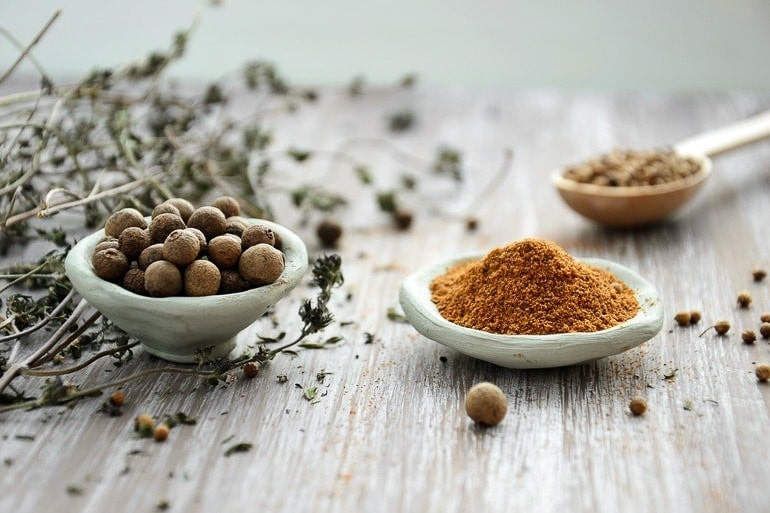 Main ingredients to make Jamaican Jerk
Scotch Bonnet Pepper (can be substituted for ground red chilli)
Allspice pepper
Black pepper
Thyme
Garlic powder
Ginger powder
Cinnamon
Clove
Nutmeg
Brown sugar
Salt
Tips for seasoning
Try this mixture to season the meat in your next barbecue, it will be amazing on any meat!
Cajun
Cajun seasoning is typical of Louisiana in the United States and represents an essential part of Cajun cuisine.
Cajun cuisine originated with the migration of the Acadian peoples, descended from French colonists, who settled in the southern United States after being expelled from Canada. These immigrants had a strong influence of French rural cuisine, and over the years their practices have adapted with local ingredients and traditions, becoming a unique cuisine.
Main ingredients for making Cajun seasoning
Cayenne Pepper
Paprika
Salt
Garlic powder
Onion powder
Thyme
You can also use oregano, black pepper and red chilli flakes (for those looking to spice up).
How to use Cajun seasoning
Use Cajun seasoning in stews and stir-fried with seafood, rice, and vegetables like corn, okra, and others you like.
Chimichurri
Chimichurri is a herb sauce generally prepared with fresh or dried herbs, and is typical of South America, more specifically Argentina, Uruguay, Paraguay and Chile. Widely used to season barbecue, either before or after grilling.
Most used ingredients to make Chimichurri
Parsley
Oregano
Chive
Garlic
Black pepper
Salt
Vinegar
Olive oil
Tips for Chimichurri
For those who like spicy chimichurri, just add some red chilli flakes. Other versions also include onion and thyme. Also try the grilled sausage sandwich, known as choripán.
Tips to make homemade spice blends
You don't need to necessarily buy seasonings ready for use. It is more interesting to buy the spices and dried herbs separately and make the mixes, respecting the proportion of each recipe and personal tastes. In this way, you can prepare small portions of spice blends to have more variety on a daily basis.
Ground seasoning from whole spices
Dried whole spices last longer and are ideal for keeping in the pantry, but a grinder (ex. coffee grinder) is required. To make a powder seasoning, heat the spices in a skillet before grinding. After grinding, pass the ground spices through a sieve to remove the larger pieces and make your blend more uniform. Store the seasoning powder in a glass jar.
Seasoning from ground spices
If you already have the powder spices, just mix the spices according to the recipe. Remember that powder spices lose essential oils and aromas more quickly, so storage is important.
How to store powder spices
Preferably, store your spice mix in a sealed glass jar at room temperature.
How about creating your own spice mix?
The variety of spices around the world is endless. Once you understand the characteristic of each spice and how it adds to the mixes and seasonings, you can easily prepare your own mix.
Take a chance! Get inspired by these seasonings from around the world, grab your favourite spices and herbs, and go have fun in the kitchen!