Where tradition meets modernity
Valencia is an amazing city, beautiful, lively, rich in art, architecture, culture, and good cuisine. It is the 3rd largest city in Spain. Despite being super modern and reinventing itself at a fast pace, it still preserves the provincial vibe and a strong sense of community. More to it, Valencia is a seaside town with a Mediterranean climate, beautiful landscapes, beaches, lakes and lots of orange plantations.
For many, the city may not be the first option to visit in Spain, but I assure you that if you travel to Valencia, the city will be forever in your memory. In this Valencia Travel Guide, you will find the best tips for planning your trip and many suggestions on where to eat, things to do, places to stay and much more.
How to plan a trip to Valencia
Essential information
General
Information
Capital of Valencia Province and the autonomous Valencian Community.
Language: Valencian and Spanish.
Distances: Madrid (357km), Barcelona (351km).
Valencia means strength or bravery.
Curiosity: Paella was born here.
Transportation
How to get there
The city has an airport (8km from the city center) for domestic and a few international flights. A train station (approx. 3 hours from Barcelona or Madrid). You can also reach by bus, car, and ride (BlaBlaCar is used a lot in Spain).
In the city
Getting around
Walking through the historic center and renting a bike for city sightseeing is the best way to explore Valencia. For people with motor disabilities, it is possible to rent an adapted scooter. The city is flat and super accessible. Public transportation is great with metro, buses, taxis and driver apps (Uber, Cabify, etc.). Also, with this app (Valenbisi), you can rent a city bike.
Agenda
Best time to go
Valencia's Mediterranean climate is pleasant all year round. The season begins in March, early spring, the month of the city's main festival, Las Fallas. The city gets crowded again in July (early summer) and is still buzzing until the end of October.
Valencia map
Best areas and regions
Ciutat Vella (El Carmen): Historic Location
The old town of Valencia is the heart and soul of the city, and of course, the most touristy neighborhood. The former walled district consists of 5 regions. El Carmen is a good choice within the historic center, close to the city's main attractions and restaurants.
Ruzafa: Modern and Nightlife
Ruzafa is the hipster neighborhood of the city. With cafes for digital nomads, vegan restaurants and concept stores, new trends are here. It is cheaper to stay in Ruzafa than El Carmen and still very close to downtown.
El Cabanyal and La Malva-Rosa: Beach and Tranquility
Unlike many coastal cities, Valencia has more accommodation options near downtown than by the beaches. But, for those who seek tranquillity and wish to wake up feeling the sea breeze, I suggest staying in La Malva-Rosa and El Cabanyal. Transportation to the city center is easy via metro, tram or bus.
Benimaclet: See local life
This neighborhood was once an independent village of Valencia, the old streets give the impression of a quiet place, but in fact, Benimaclet is a lively, multicultural area, home to traditional families, students and foreigners. The region is full of restaurants and bars. Public transport is also very accessible.
Best hotels and accommodation
Where to stay in Valencia
Things to see
Valencia in frames
If you travel to Valencia, pay attention to the contrast between tradition and modernity, the practice with urban sustainability, concern for mobility and inclusion, the importance of fresh and local ingredients, the symmetry of buildings. Oh, and the tiles! Valencia teaches you by the details!
Gastronomy
What to eat in Valencia
Valencia's traditional cuisine is the result of a mix of factors that worked very well. Fertile land, Mediterranean climate, the coast, the peasants with their vegetable gardens, foreign civilizations that lived there, neighboring Spanish communities, appreciation for the quality of ingredients and respect for seasonality. The contrast between tradition and modernity already part of Valencia has been clearly reflected in the local cuisine. The city has gained relevance along with renowned chefs and award-winning restaurants.
Be aware! Mealtimes in Spain can be confusing.
5 Must-try Foods & Drinks
Valencian Paella
One of Spain's most iconic dishes was born in Valencia, and of course, you need to taste the original version of Paella.
Where to eat?
At Barraca de Toni Montoliu in Alboraya, Casa Carmela at the beach or Bon Aire in Albufera.
Horchata with Fartón
Made for each other: Tiger nuts with sweet bread. Warning: Horchata is deliciously addictive!
Where to eat?
In Horchatería Santa Catalina or Horchatería Daniel.
Esgarret
Typical Valencian tapa – roasted red peppers, salted cod, garlic and lots of olive oil.
Where to eat?
Esgarret Montaditos at Tasca Angel.
Valencian Clóchinas
A type of mussel typical of Valencian waters. It's delicious. The clochinas season goes from the end of April to the beginning of September.
Where to eat?
At La Pilareta Bar.
Turrón
Original Jijona candy in Alicante, made of almonds, egg whites and sugar. It is a traditional Christmas candy. There are two versions, the soft and the hard.
Where to eat?
Turrones Ramos or Turrones Galiana.
Places to visit
Things to do in Valencia
If you're planning a trip to Valencia, you'll find programs for many traveler profiles. Adventurers can explore the outskirts of the city by bike. Passionate couples can enjoy the sunset in Albufera. At the same time, children will love to visit the oceanographic museum. Solo travelers or with friends can enjoy the busy Valencian nights, while food travelers will love learning how to cook the paella and be enchanted by the variety of local ingredients.
Now, regardless of your type of trip, some attractions are a must.
Historic City
More than 2.000 years of history to explore in a walk through Valencia's historic center. Memories of the civilizations that lived there await to be seen between an alley and another.
City Museums and Cultural Complexes
The City of Arts and Science is one of the main attractions of the city. But the city has more than 30 museums, such as the Fallero Museum, the Fine Arts Museum and the Ceramics Museum, and many galleries and cultural centers.
Gardens and Parks
The city's main park was once a river, and today it became the Garden of Túria. Cycling around El Rio is a must. Túria Park connects the City of Arts and Science to Cabezera Park and Bioparc. Also, be sure to check out the Botanical Garden.
Markets
Valencia has many markets, and we recommend visiting at least the Central Market and the Colón Market. At the Central Market, you can find fresh ingredients, sweets and snacks, the paradise of food travelers. The Colón Market is housed in an iconic building, with good restaurants, cafes and cool shops.
Beaches
Malva Rosa and Las Arenas are Valencia's busiest and most structured beaches, including many restaurants and clubs by the sea. If you're looking for something more isolated, go to the southernmost beaches of the city. It even has nude beaches for those looking for a more uniform tan.
Video: Las Fallas in Valencia via Comunitat Valencia channel
Las Fallas
The party is UNESCO Intangible Heritage, a mix of colors, tradition, fun, music, fire, satire and art. The great symbol of the party is the wood carvings (Ninots), burned at the end. It celebrates the beginning of spring and attracts thousands of people to Valencia. Click on the image to watch the video.
When? Every March, main dates March 15-19.
La Huerta de Valencia​
The Vegetable Garden of Valencia (L'Horta) is something unique. A cultivation area surrounding the whole city in a radius of 10 to 15 km with 10,500 hectares of agricultural production. The garden is divided by regions, Horta Sul (where Albufera is), Horta Norte (where Alboraya is) and Horta Oeste. There are several tourist routes, typical restaurants, experiences and tours to explore the small villages that make up the garden.
Activities and tours
Book tours in Valencia
Explore the region
Day trips from Valencia
Before your trip
Get Inspired
Tomorrowland (2015)
The futuristic film, which features George Clooney, Britt Robertson and Hugh Laurie, was shot in Valencia.
The Perfume Garden de Kate Lord Brown
A story of lost love and family secrets that takes place between the modern days of Valencia and the Spanish Civil War.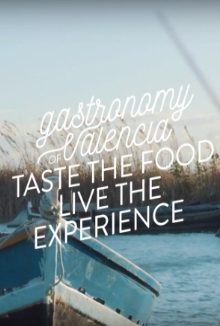 Enjoy Valencian Cuisine
Promotional video produced by the official organization of Tourism of Valencia about the gastronomic experiences of the city.
Additional resources
More Spain