The 'Mineiro' way of being will make you feel at home
The state capital of Minas Gerais, Belo Horizonte, affectionately called BH (Beagá), is a showcase of the spirit of Minas Gerais: hospitable, full of good stories, foods and traditions. Some say that Belo Horizonte is a big gathering of rural towns. Others say that it is the world capital of pubs. At the same time, UNESCO recognizes Belo Horizonte as a creative city of gastronomy. The truth is, BH is all that and more. A trip to Belo Horizonte will make you fall in love with the creativity and plurality of Minas Gerais state.
This Belo Horizonte travel guide will tell you everything about the city that won our hearts in the first batch of cheese bread.
How to plan a trip to Belo Horizonte
Essential information
General
Information
Capital of the state of Minas Gerais in southeastern Brazil.
Language: Portuguese.
Distances: São Paulo (602km), Rio de Janeiro (444km).
Belo Horizonte means Beautiful Horizon and refers to the mountain's view around the city.
Curiosities: A popular saying goes: "Since Minas has no sea ( in Portuguese: mar), I'm going to the bar." This is easy in BH, the city has approx. 28 bars per km².
Transportation
How to get there
Confins Airport (domestic and international flights) is 45km from the city center. A transfer from the airport to downtown can be done by taxi, driver apps, rental car or bus from the Airport Connection. The bus terminal is in the city center, from there you can go anywhere with driver apps.
In the city
Getting around
If you don't have a car, the best option is to use driver apps. Public Bus lines cover the city very well, but the apps can make up for the price, security and convenience, especially if you're in two people. Although there is a subway, the line does not cover most attractions.
Agenda
Best time to go
The weather is good all year round. Summer is the wet season (December to February). It is worth planning your trip to Belo Horizonte during one of the many festivals in the city, such as "Comida Di Buteco". Additionally, BH is a great city to enjoy the street carnival.
Belo Horizonte map
Best areas and regions
Understanding the map
BH's central neighborhoods such as Centro, Barro Preto, Savassi and Lourdes are bounded within a circle drawn by Av. Do Contorno, but the city extends beyond the central region. To the north of Belo Horizonte is Pampulha, and to the south is the Serra do Curral.
Savassi and Lourdes: Lively and well located
Near Liberty Square and the city center. The two regions Savassi and Lourdes, are neighbors. The area is full of restaurants, bars, shops and trees. It is the best area to stay in as it houses the largest concentration of hotels is in this region.
Sion and Cidade Jardim: Tranquility
Not many hotels, but there are good options for residential accommodation and private apartments. These regions are great, have everything around, and with a bit of motivation, you can walk to Savassi and Lourdes. Located near the city exit towards the cities of Brumadinho (Inhotim), Ouro Preto, Tiradentes, etc.
Santa Tereza: Nightlife and also cheaper
An interesting mix between calm and bohemian. Santa Tereza is close to downtown, but off Av. Do Contorno, a good option for those looking for a hostel or residential stays and pubs.
Pampulha: Depending on your interest
A good option if you want to spend a lot of time in the Pampulha complex or plan to watch a football game in Mineirão Stadium, but overall it's better to stay further south of the city. The region of Pampulha is huge, give preference to lodgings near the edge of the lagoon.
Attention! If you stay in the City Center, avoid the area around the bus station and Praça Sete. Very crowded during the day and not so safe at night.
Best hotels and accommodation
Where to stay in BH
Things to see
BH in frames
During your trip to Belo Horizonte, pay attention to the Mineiro (people from Minas Gerais) way of being. Everyone has time for a quick chat and is always willing to help, even in a big city.
Belo Horizonte is creative, collaborative, and full of pampering.
Gastronomy
What to eat in BH
Think of homemade food, the one that warms the heart, combined with the culture of pubs, seasoned with passion, a hint of creativity, and cooked for a long time. This is the base recipe of the Belo Horizonte kitchen. Then, each cook adds their own special flavor on top of it!
Whether in a bar with a snack menu or an award-winning restaurant with contemporary cuisine. The cuisine of Belo Horizonte pleases all palates and reinvents itself every day in a constant dialogue between the past and the future.
Expect to find lots of beans, pork, chicken, cheese, corn, dumplings, cassava, sweets and delicacies. Good fried foods and a good cachaça to accompany. Be sure to taste the local craft beers and get to know the specialized coffee houses of the city that serve the best locally produced coffee beans with great technique and affection.
5 Must-try Foods & Drinks
KAOL
"Kachaça", Arroz (rice), Ovo (eggs), Linguiça (sausage) accompanied with cabbage, farofa, fried pork skin (torresminho) and tomato sauce. If you don't want to order the cachaça, go for a cold beer.
Where to eat?
At Café Palhares in the city centre.
Pork Belly
Classic appetizer, perfect to open your appetite in the bar accompanied by a shot of cachaça.
Where to eat?
Rei do Torresmo at the Central Market, Bar Patorroco in Prado or Bitaca da Leste in Santa Tereza.
Pão de Queijo
A staple of the regional food and a Brazilian national passion. There is no way you can travel to BH and not eat at least one freshly baked cheese puff.
Where to eat?
Comercial Sabiá in the Central Market or Pão de Queijaria in Savassi.
Tropeiro Beans
Inheritance from the colonial period. The dish came with the local muleteers called 'tropeiros', who mixed flour, meat, eggs and beans to take on their long journeys.
Where to eat?
At Mineirão stadium food stalls, tropeiro beans are the best choice before watching a game.
Mexidão
A dish that evokes emotional memories for all locals: rice, beans, kale, shredded meat, pork rinds and egg – all mixed.
Where to eat?
At Chopp de Fábrica or Mineirinho 1 (very local experience!)
Places to visit
Things to do in BH
Belo Horizonte is often seen as a gateway city to other historical destinations in Minas Gerais, but it is worth staying at least three days in the city. If you plan a trip to Belo Horizonte, be sure to check out the city's events calendar and concert halls. In addition to tourist attractions, the local events and festivals bring a lot of life to the city.
Tip! Search for local events on Sympla or SouBH website.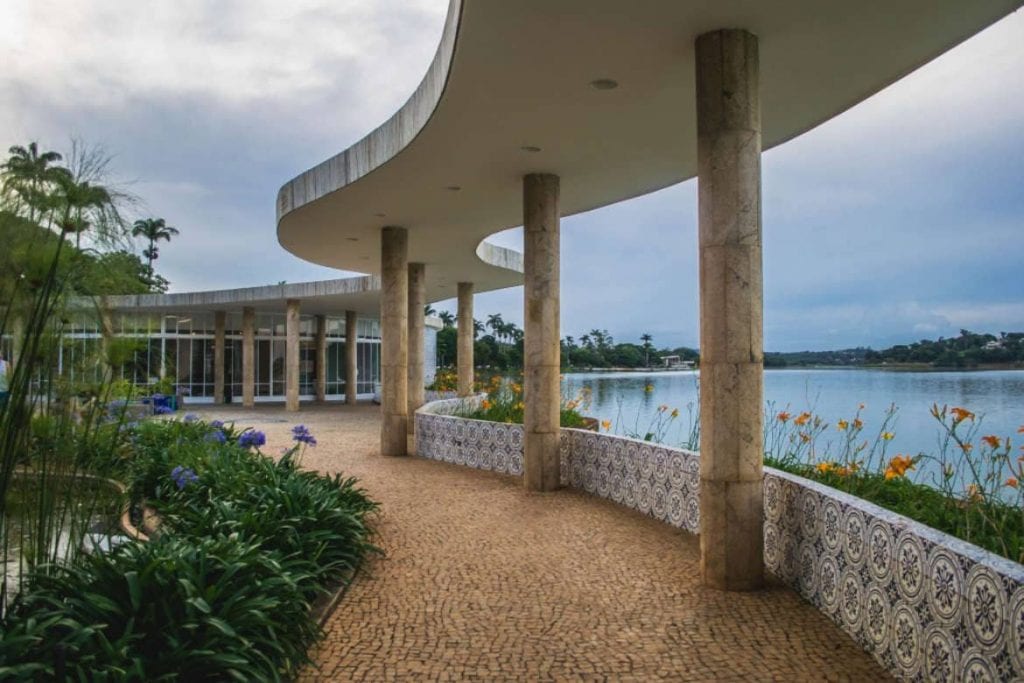 BH's bars
Ask a resident what to do in BH, and I'm sure someone will suggest a bar. The bohemian culture is so strong that going to a boteco (local bar) is always an attraction, an opportunity to drink, eat and talk with friends. The best regions are Santa Tereza neighborhood, the second floor of the Maletta Building, Savassi region, Pium-Í Street in Sion.
Liberdade Square and Cultural Circuit
BH has many public squares. One of the most beautiful is Praça da Liberdade (Liberty Square). Around the square, the old buildings were turned into museums, libraries, and interactive spaces that make up the Liberdade Cultural Circuit, the largest cultural complex in Brazil. Check out the 17 attractions of the circuit.
Pampulha Lagoon and the Architectural Complex
Unesco Cultural Heritage of Humanity. There is an 18km long lagoon in the center. On the waterfront, you find several imposing projects by the illustrious Brazilian architect Oscar Niemeyer – from museum to church. Near other attractions, such as the Mineirão stadium, the Zoo and Botanical Garden.
Mangabeiras Park and surroundings
Located at the foot of Serra do Curral, the Mangabeiras Park was designed by the landscape artist Burle Max. On top of the park is the Mirante das Mangabeiras. A little further down the park is Praça do Papa (Pope's Square), with incredible city views. It is the best area of ​​the city to see the sunset and the beautiful horizon.
Artisan and Flea Markets
The so-called "Hippie fair" is the most famous handicraft fair in BH, but it seems that handicrafts have been replaced by stalls selling cheap imported products. It is still worth visiting the "Feira Hippie" because of its food court, featuring skewer barbecue stalls and delicious Acarajé. Another interesting artisan market is the "Feira do Mineirinho" in the parking lot of Mineirinho stadium and showcases local artisans, food stalls, and live music.
Video: 3rd Best Market in the World via Mercado Central de BH Channel.
Central Market
A must-see if you travel to Belo Horizonte, the central market has been a meeting point for residents and tourists for over 80 years. There you will find a mix of popular culture, typical products and ingredients (from medicinal herbs to cheeses and cachaça), as well as bars and cafés with traditional dishes. It's already been considered the 3rd best market in the world. The best way to explore the market is to get lost among the aisles and get confused with over 400 stores while tasting some of its great food. If you want, you can schedule a free guided tour. Click on the image to watch the beautiful video that tells us a little bit about Belo Horizonte Central Market (activate the English subs).
Inhotim
Amazing experience! An open-air museum of contemporary art in the middle of a botanical garden. A visit to Inhotim will change your concept of museums. It is in the municipality of Brumadinho, just over 60km from Belo Horizonte. It can take up to 2 days to see everything in peace, but a round trip from BH is enough for you to see the main works. Tip 1: Go wearing a comfortable outfit, as you will walk all day. Tip 2: If it is hot, bring a bathing suit to swim in a work of art.
Tickets and times: R$ 44,00 (whole), free admission on Wednesdays. Note: Monday does not open.
To get there: Car: View Map|Saritur bus departs at 8:15 am from BH bus station – Platform F2 / Belvitur transfer (requires an appointment).
Activities and tours
Book tours in BH
Explore the region
Day trips from Belo Horizonte
Before your trip
Get Inspired
O Homem das Multidões (2013)​
The award-winning movie was shot entirely in BH. A reflection on different forms of loneliness and friendship in the Brazilian urban universe.
Cozinha Mineira
Delicacies, garnishes and menu staples. Great chefs from Brazil choose their favorite recipes from Minas Gerais and teach you how to prepare typical delights at home in a simple and easy way.
Parts Unknown in Belo Horizonte
Delightful memories of the day Anthony Bourdain discovered Belo Horizonte. Season 8 Episode 7.
Additional resources
More Brazil