Feijão Tropeiro means Muleteer's Bean, let's call it Tropeiro Beans, and is a typical Brazilian dish made with beans, dried meat, bacon and cassava flour.
A very popular dish in the states of São Paulo, Minas Gerais and Goiás, the Tropeiro Beans represents the miscegenation of Brazilian gastronomic culture. It brings references to Indigenous, African and Portuguese cuisine within a nomadic context known as Tropeirismo, a historical movement linked to the Brazilian muleteers' way of living.
What is the origin of the Brazilian Tropeiro Beans?
It can be said it is a dish that originated from a movement rather than from a specific region. This movement is called Tropeirismo and represents the commercial activity carried out by the Brazilian 'Tropeiros', who were carriers of mules, cattle, horses and traders, that worked exploring and integrating inland territories, mainly across the central-west and southeast regions of Brazil during the 17th and 20th centuries.
In the Colonial period between the 17th and 18th centuries, Brazilian cuisine was strongly influenced by three cultures: indigenous, Portuguese and African. That's where the combination of cassava flour and beans came from.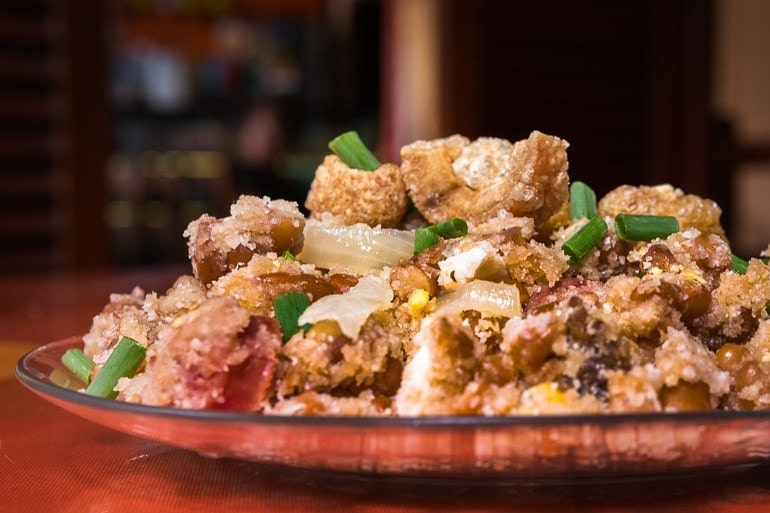 To facilitate food transportation, the muleteers used to carry dry and non-perishable ingredients, such as manioc flour, cornmeal, beans, bacon, jerky beef, salt and coffee. These ingredients were the basis of the tropeiros' diet. The supplies and preparation utensils were carried inside the 'bruacas' which were leather boxes trapped in something similar to a yoke attached to the animals.
That's how the Tropeiro Beans emerged. It is a practical and nutritious way to prepare dry and durable food with local ingredients able to withstand the long journeys of muleteers. The tropeiros used to stop in different villages to eat their meals, trade their products, and land to spend the night and rest.
The dish gained more popularity in the states of São Paulo, Minas Gerais and Goiás, nowadays it is considered a typical dish in many cities in those regions.
Main Ingredients of Brazilian Tropeiro Beans (Feijão Tropeiro)
Traditionally, the main ingredients of Tropeiro Beans are:
beans;
jerky beef;
bacon;
cassava flour;
salt.
Beans, flour and bacon are the basic ingredients of Tropeiro Beans. These ingredients were rarely left out, but the type of meat, flour and accompaniments could vary depending on local availability. Occasionally, cassava flour was replaced by cornmeal, while the meat varied between pork and cattle, and sausage. When available, chopped kale, eggs, garlic, onion and other spices were also added.
Want to learn how to make a traditional Brazilian Tropeiro Beans? Then check out the recipe below!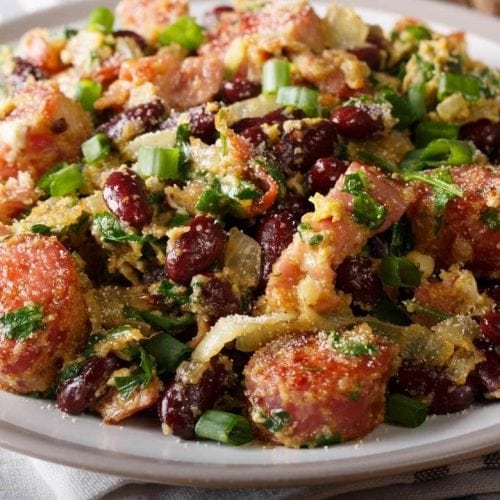 Tropeiro Beans – A Brazilian staple dish
A classic of traditional Brazilian cuisine, Tropeiro Beans (Feijão Tropeiro), is a tasty, nutritious, and easy dish to make. In this recipe, we will teach you how to make the Brazilian Tropeiro Beans.
Read Recipe