If we think of Portuguese cuisine, we immediately associate it with Cod. From small cafeterias to fancy restaurants you can find dishes with Bacalhau all over Portugal. 
An interesting fact about Portuguese cuisine is that cod is not a local fish, however, it has been present in Portugal since the Middle Ages. Actually, the term Bacalhau means salted cod, which originates from the time when Portugal was a major salt exporter, and among its trade agreements and marine routes, it used the salt itself to bring preserved codfish, a practice that became very efficient in the face of long journeys.
Cod continues to be widely consumed daily in Portugal, it is also a typical dish in Christian celebrations such as Holy Week and Christmas. In numbers, the country consumes approximately 20% of the world's volume of cod.
Now that we've killed your hunger for wisdom, kill your hunger itself with the best typical cod dishes in Portugal
Main Cod Dishes in Portugal
Bacalhau à Gomes de Sá
Bacalhau à Gomes de Sá is one of the most famous Portuguese cod recipes. The recipe was created by chef Jose Luis Gomes de Sa Junior in the late 19th century. The dish is made with slivers of cod and milk (to soften the cod) and baked in the oven with onion, garlic, lots of olive oil, and potatoes. To finish the dish, you can add a few pieces of boiled eggs, black olives, and parsley.
Bacalhau com Natas
Bacalhau com Natas is undoubtedly one of the most coveted dishes on this list, after all, it is practically impossible to resist a cod gratin that takes cream (called natas in Portugal) and cheese on top. In the recipe for Cod with Cream, the cod is cooked, then sautéed with onion and cubes of fried potatoes, then baked in the oven with sour cream, cheese and bechamel sauce.
Bacalhau à Brás
Every Portuguese recipe "à Brás" takes onions, eggs and straw potato. One of the most famous recipes of this style is Bacalhau à Brás. They say the dish was created by a cook named Brás, owner of a restaurant in Lisbon.
Bacalhau à Brás is made with shredded cod (can also be made with leftover cod) sautéed with onion, garlic, bay leaves and olive oil. Then the straw potatoes (preferably homemade, fried on the spot) and eggs are added. Black olives and parsley are used for garnish.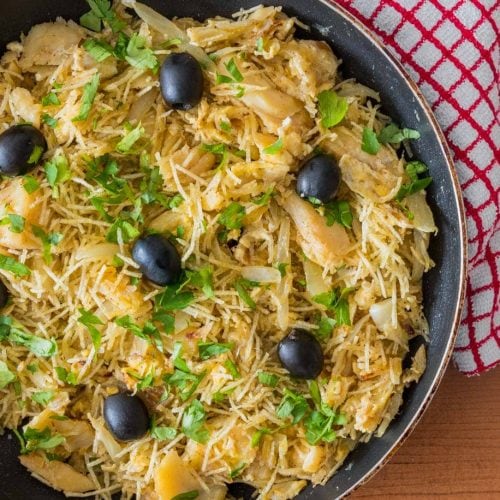 Bacalhau à Brás – Authentic and Easy
Bacalhau à Brás (Cod à Brás) is a simple recipe from the Portuguese cuisine, but it explores all the flavours of its ingredients, resulting in a classic dish full of personality.
Read Recipe
Bacalhau à Transmontana
The common characteristic of recipes for Transmontana is the use of Portuguese Jámon.
In this recipe, the cod fillet is stuffed with Jámon and sautéed with olive oil, covered with a sauce made with olive oil (can be the same used to fry the cod), peeled tomatoes, white wine, onion and garlic.
After adding the sauce, it is common to cover with mashed potatoes and finish in the oven.
Read more: Things to do in Lisbon between your meals!
Bacalhau à Lagareiro
Whenever the term lagareiro is used to describe a Portuguese dish, it is very likely that this dish originated in regions with 'lagares', which are producers of olive oil. However, the origin of Bacalhau à Lagareiro is still a matter of debate and the famous dispute is concentrated between the Lagares da Beira Alta and the ones from the Minho region.
Considered by many to be one of the most popular dishes of Portuguese gastronomy, Bacalhau à Lagareiro takes cod loins, chopped garlic, onion, olive oil (a lot!) and small unpeeled potatoes. After roasting, the potatoes are crushed (called batatas ao murro) and seasoned with pepper. If you like olive oil, this is a perfect choice!
Bacalhau Espiritual
The traditional dish was created in 1947 by Countess Almeida Araújo, inspired by a French recipe called Brandade de Chaude de Morue, also made with cod.
The recipe is a gratin that uses cooked cod, olive oil, onion, garlic and bay leaf, grated carrot, pieces of bread crumbs shelled in milk, Bechamel sauce and egg yolks.
Bacalhau à Zé do Pipo
The dish was created around 1960 by chef José Valentim, nicknamed Zé do Pipo, owner of a restaurant in the city of Porto.
In the recipe, the cod loin is sautéed, covered in a sauce made with onions, garlic, olive oil and bay leaves. Then, a layer of mayonnaise (preferably homemade) is added on top of the loin while the sides are filled with mashed potatoes, everything is gratin in the oven and decorated with black olives. Hard to resist?
Roupa Velha de Bacalhau
Roupa Velha means old clothing, the term is given to dishes that use leftovers from the previous day's meal. This is a typical dish from the Minho region and traditional at Christma lunch, as it is a great way to reuse the cod from Christmas Eve.
In this recipe, the cod is shredded and sautéed with olive oil, boiled eggs, garlic, Portuguese cabbage and pieces of potatoes.
Bolinhos de Bacalhau
The codfish cake has become one of the symbols of Portuguese cuisine. In some regions, mainly in the south of Portugal, the cookie is called Pastel de Bacalhau.
The ingredients for the dumpling are shredded cod, mashed potatoes, eggs, salt and chopped parsley, the dumplings being fried in oil. It can be consumed as a snack or as a side dish.
Pataniscas de Bacalhau
Pataniscas were created in the region of Estremadura (former province of Portugal). The snack is made with shredded cod, flour and milk, in addition to salt, pepper and parsley.
Read more: Portuguese gastronomic experiences to know and taste the country