Going to Portugal and not eating a pastel de nata is like going to Paris and not visiting the Eiffel Tower: no matter how cliché it is, it is one of those experiences that you cannot leave out. Pastel de nata is undoubtedly the most famous sweet in Portugal, a true symbol of local cuisine. But, to understand Portuguese confectionery, it is necessary to go (much) beyond the classic pastel de Belém.
Read also: The Typical Foods of Portugal
Essential ingredients of Portuguese sweets
Three ingredients serve as the basis for most of Portugal's traditional sweets. Eggs, sugar, and almonds form the triad that supports most recipes, in their hundreds of variations, versions, and reinterpretations.
List: 5 typical desserts and sweets from Portugal
Discover five sweets and desserts that you can not miss on your next visit to Portugal.
Ovos moles
To taste the traditional Portuguese ovos moles (transl. soft eggs), you must include the city of Aveiro in your itinerary. There, the preparation of this sweet is a tradition passed down from generation to generation. Inside, the delicacy is filled with a mixture of yolk and sugar. On the outside, it is surrounded by a thin mass, which looks like a communion wafer. What draws attention is its creative presentation: it can be shaped into goldfish, shell shapes…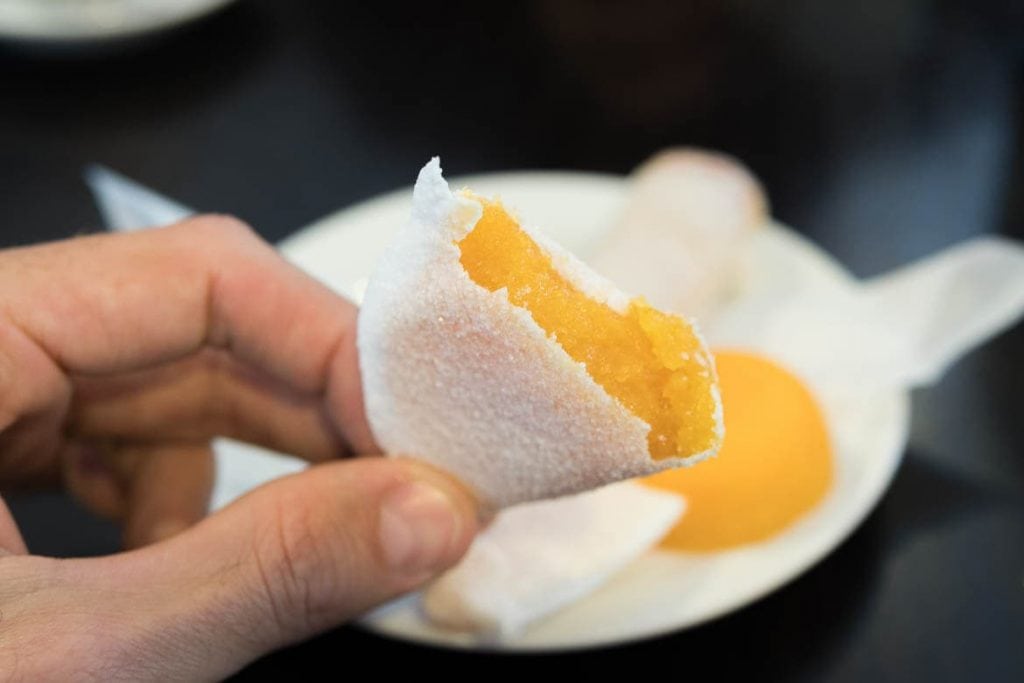 Pudim de Leite & Pudim do Abade de Priscos
Pudim de Leite (transl. milk pudding) is another star in Portuguese pastry shops. In regions like Braga, it appears in a different way and name. The Pudim Abade de Priscos (transl. Abbot of Priscos Pudding) gains a touch of originality thanks to the use of an unconventional ingredient in confectionery: bacon, which serves to "replace" the fat in oil or butter. The result is a smooth and delicate dough, which seems to fall apart in the mouth.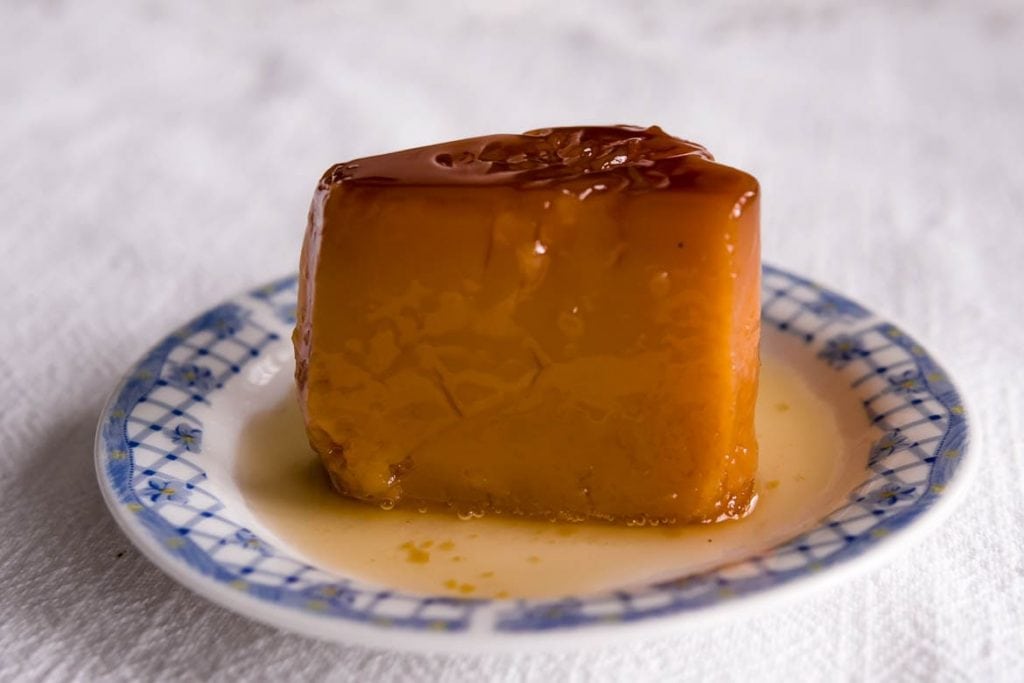 Pão de ló
Portuguese Pão de ló (transl. Portuguese sponge cake) has nothing to do with the dough used to make the typical Brazilian stuffed cakes. It is, in fact, a creamy and wet mass, served in a white paper form. Much like bread, it is made from eggs, sugar, and flour.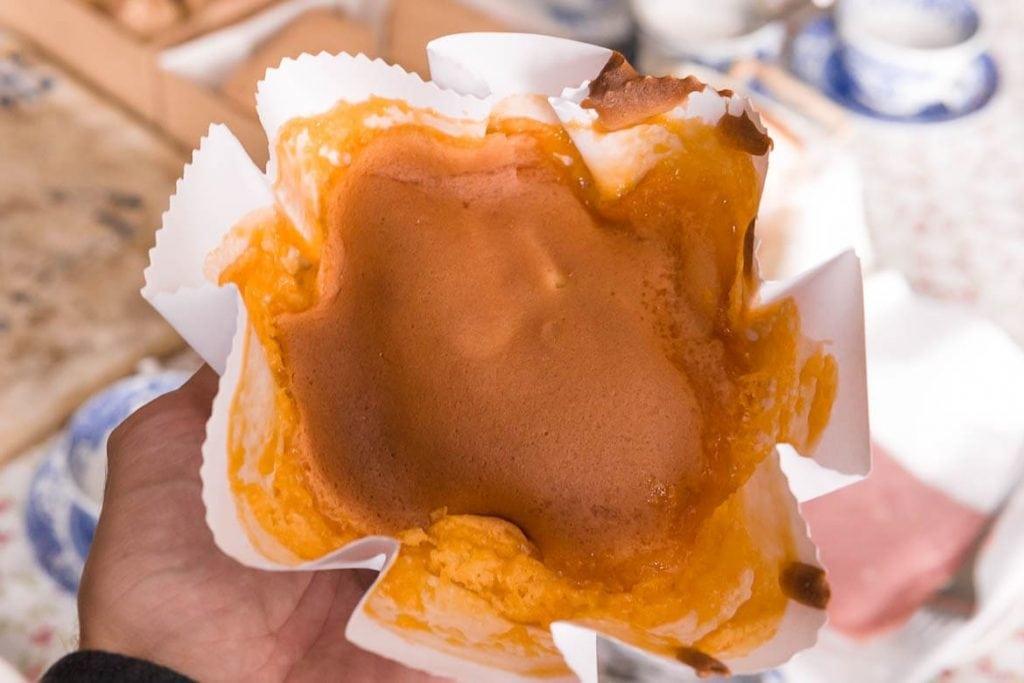 Bola de Berlim
It looks like a doughnut, but it's not: the Portuguese Bola de Berlim (transl. Berlim Ball) is sliced ​​in half and filled with pastry cream, made from eggs. Fluffy on the outside, the dough is fried and sprinkled with sugar to add the finishing touch. It can be easily found in many pastry shops around the country.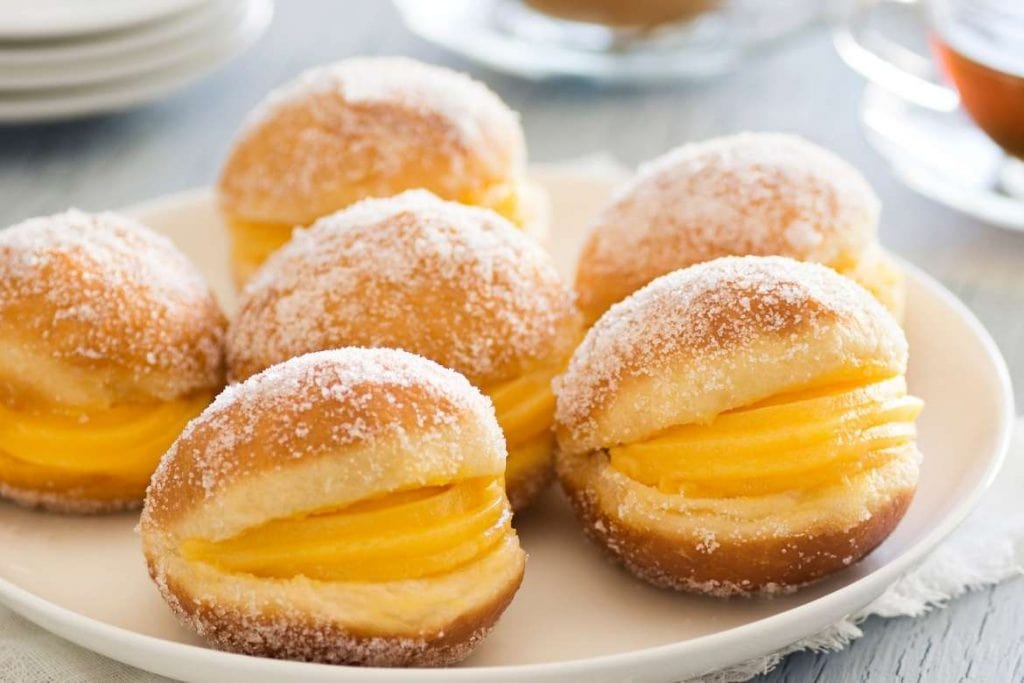 Brisas do Lis
Legend has it that the original version was designed by a group of nuns from the city of Leiria, 145 km from the capital. The appearance is almost the same as a Brazilian quindim. The difference is in the ingredients: while in Brazil the recipe includes eggs, sugar, and coconut; in Portugal, the fruit is replaced by almonds.