Francesinha, a sandwich that will welcome you to Porto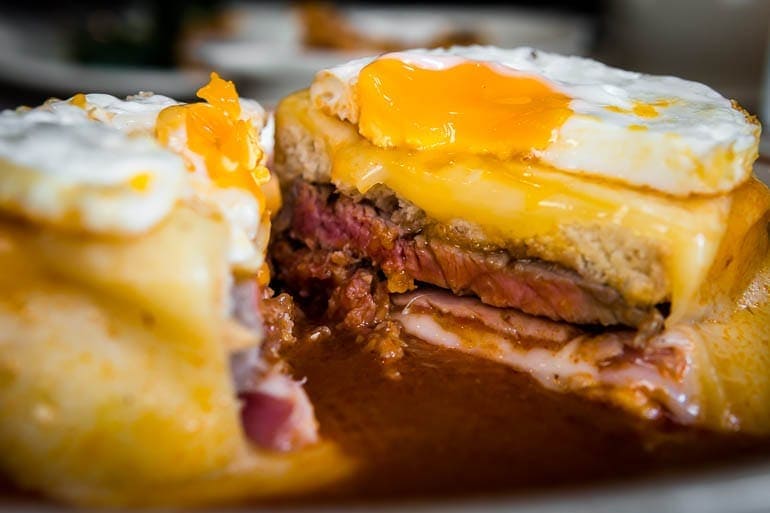 When I arrived in Porto with a list full of typical dishes to try, one of the first questions I was asked was "Have you already tried the Francesinha?"
Despite ancient gastronomic traditions in Porto, Francesinha is a pretty young dish created in the 1950s. It welcomes many first-time visitors and invites many friends and family to the table on weekends.
Learn the language: In Portuguese, Francesinha means little French woman.
What is Francesinha?
Francesinha is a type of sandwich served on the plate. The most popular recipe is made with thick slices of white loaf bread, ham (Portuguese fiambre), sausage, cheese, and steak. The sandwich is then topped with more cheese, usually taken to the oven to melt, and lastly, a slightly spicy sauce is added on top. A sandwich with striking flavours and varied textures that demands quality ingredients and a carnivorous appetite!
The sauce, which takes beer and tomatoes as a base, is the secret of the dish and one of the main components that differentiate one recipe from another.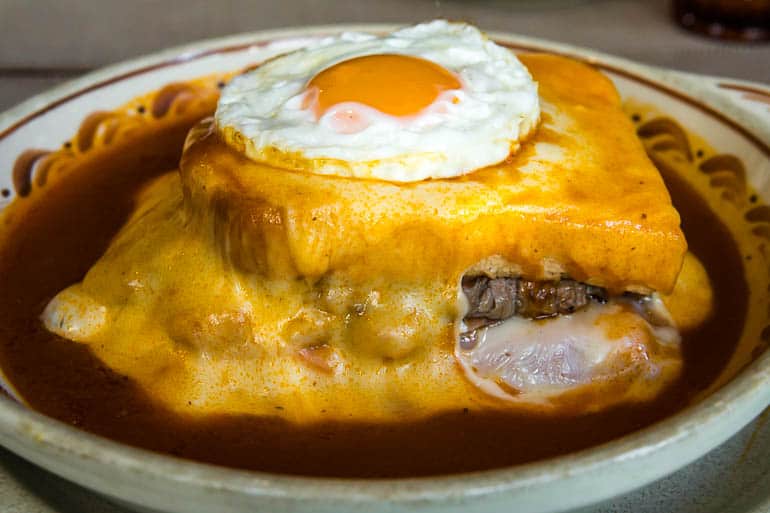 What is the origin of Francesinha?
The most popular and widely believed story in the country is that Francesinha was inspired by the french dish Croque Monsieur in the 1950s by Daniel Silva, a Portuguese emigrant while living in France.
Upon returning to Portugal, Daniel adapted the dish using ingredients and palates from northern Portugal and served it at the Regaleira restaurant in Porto. The original recipe was a bit simpler, it used bijou bread and baked beef. After the delicacy gained fame, it spread throughout the city, went through adaptations and today is one of Porto's most iconic dishes.
Read more: The most popular Portuguese foods
There are many variations of the traditional recipe
Nowadays, there are many variations to the traditional recipe. Many restaurants like to innovate and put their own identity to the plate. So today, from the most traditional to the most eccentric palates can be pleased with different versions of Francesinha, there are even vegetarian versions (the original is pure meat!).
The side dishes can also vary, many people like to eat Francesinha with french fries and a fried egg on top.
The importance and variations of the Francesinha are so great that several cities organize Festivals and Competitions, where they discuss and evaluate the Francesinha recipes and especially the sauce.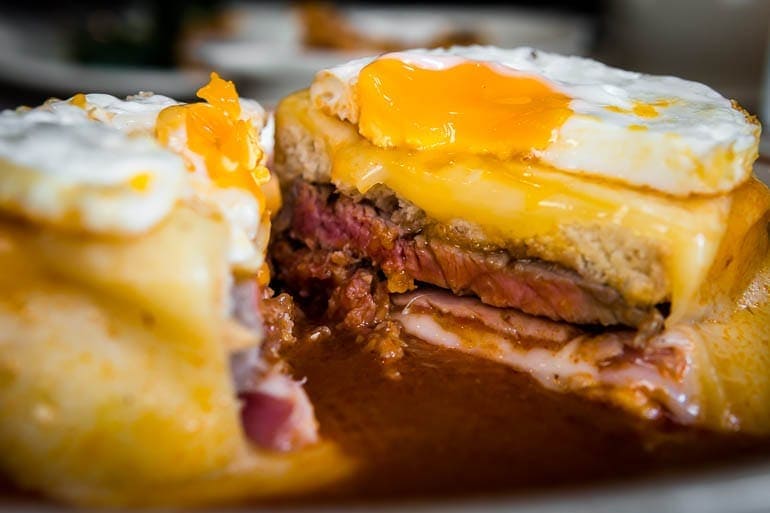 Where to eat
There are several options to try Francesinha. The average price in most restaurants ranges from around €10 and depends largely on the location and reputation of the establishment.
Check out our guide with the best Francesinhas in Porto
Food'n Road Recommends
Have you watched the video that Porto's Official Tourism Portal published about Francesinha?