When we arrived in the city of Porto with a long list of traditional dishes to try, one of the first questions we were asked was, "Have you already tried the Francesinha?"
Despite ancient gastronomic traditions in Porto, Francesinha is a relatively new dish created in the 1950s. It became a popular choice for first-time visitors and a weekend lunch for many residents and families.
Learn the language: In Portuguese, Francesinha means little French woman.
What is Francesinha?
Francesinha refers to a sandwich that is served on a plate. The recipe uses thick slices of white loaf bread with ham (Portuguese Fiambre), sausage, cheese, and steak. The sandwich is then topped with more cheese, usually taken to the oven to melt, and lastly, a slightly spicy sauce on top. The Francesinha sandwich has striking flavors and varied textures that require quality ingredients and a carnivorous appetite!
The sauce, which takes beer and tomatoes as a base, is the secret of each chef and makes the dish unique from place to place.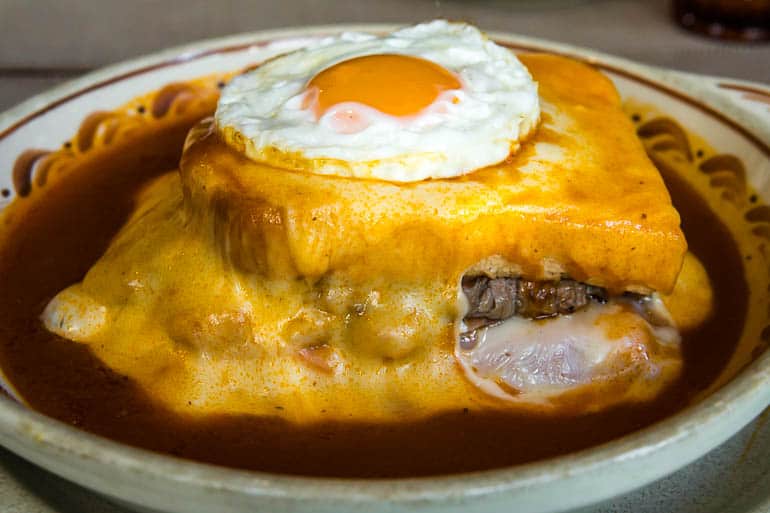 What is the origin of Francesinha?
The Francesinha sandwich was created in the 1950s by the Portuguese Daniel Silva while living in France. According to popular legend, he was inspired by the French dish Croque Monsieur.
Upon his return to Portugal, Daniel modified the dish with ingredients and tastes from northern Portugal and served it at Regaleira restaurant in Porto. The original recipe was a bit simpler, and it used bijou bread and baked beef. The delicacy became famous and spread across the city. It has been adapted many times and is now one of Porto's most beloved dishes.
Read more: The most popular Portuguese foods
Variations of the traditional recipe
Many restaurants like to innovate and put their own identity on the plate. Today, everyone can enjoy Francesinha in various ways, including vegetarian options with tofu, veggie sausages, and vegetables (the original is pure meat!).
Side dishes can vary. Francesinha is often served with french fries and a fried egg on top.
Francesinha has become so well-known that many cities host Festivals and Competitions to award Francesinha recipes and, especially, the sauce.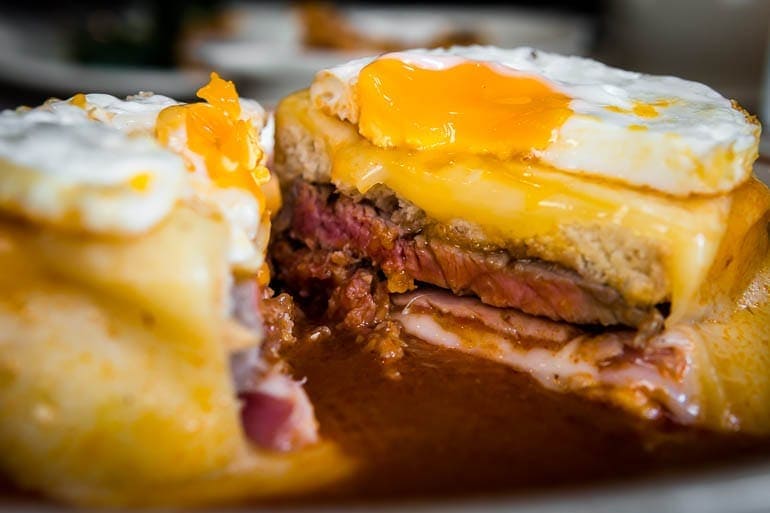 Where to eat
Porto has many options for eating the Francesinha. Most restaurants charge around EUR 10 for the dish, depending on the restaurant location and its reputation.
Check out our guide with the best Francesinhas in Porto
See more on this short video about Francesinha published by Porto's Official Tourism Portal