After months exploring Southeast Asian cuisine, I was very impressed with Malaysian food.
Malaysia is a melting pot of peoples and traditions, and I initially thought that culinary traditions in Malaysia were more segmented and concentrated on their communities: Indian, Chinese, Malay, Indigenous. However, to my surprise (and satisfaction!), Malaysian food turned out to be a fusion of all the cultures there and to me, it reflects the best of Asian cuisine.
I hope you'll enjoy our guide with 15 typical Malaysian dishes we already tried and now recommend to you.
The most famous Malaysian dishes
1. Nasi Lemak
The national dish of Malaysia. Nasi means rice, and Lemak can be translated as rich or tasty. Rice is boiled in water with coconut milk, pandan leaves, and other spices.
Nasi Lemak is traditionally served with sambal (chilli sauce with shrimp paste), fried dried anchovies and roasted peanuts. Side dishes can include egg, tofu, calamari, fried chicken, etc.

Read more: The most famous rice dishes in the world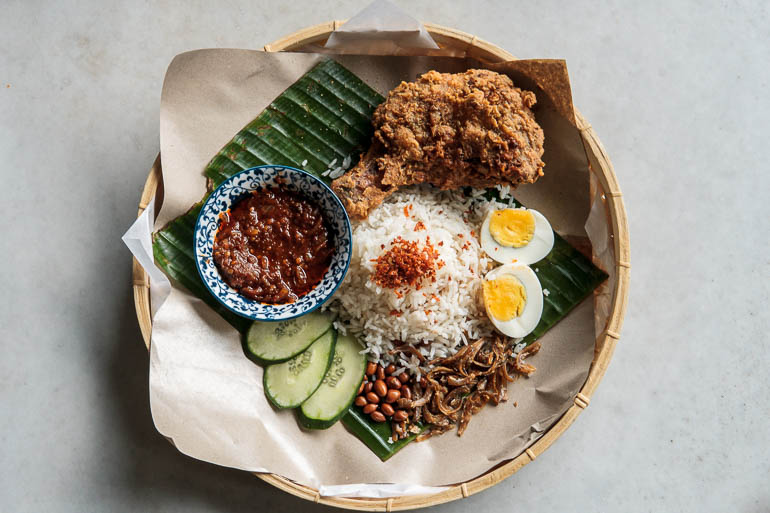 2. Assam Laksa
It resembles something between a very thick noodle soup and a noodle dish with a lot of sauce. It is the Laksa sauce that makes all the difference and is one of the main elements that differentiates one Laksa from another. There are several types of Laksa, but Assam Laksa is one of my favourites. Typical of Penang – thick rice noodles with a sweet, sour fish sauce.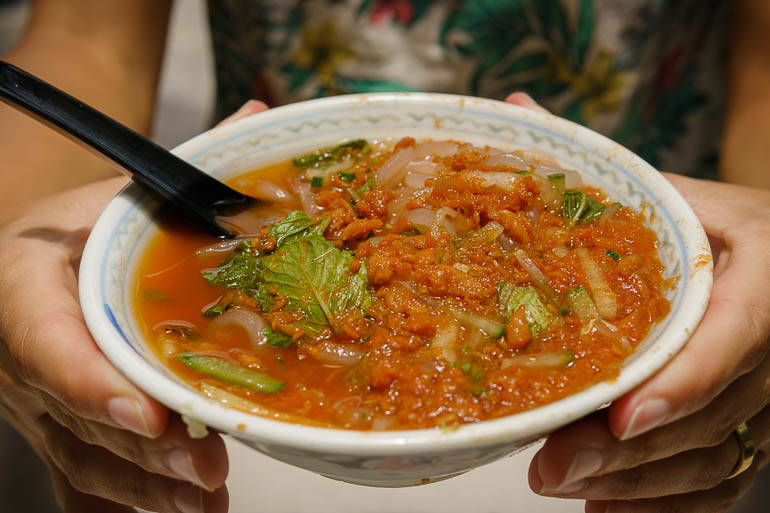 3. Curry Mee
Continuing with the Laksa, another typical Malaysian food is Curry Mee also called Curry Laksa. Think about a mix of Malaysian, Chinese, Thais and Indian. That's what you will get with the Curry Mee. A bowl of noodle soup with everything it is entitled to (ex. bean sprout, coagulated pork blood, shrimp, fish, chicken, etc.) with a taste that only the cultural mix can bring: coconut milk, sambal, mint, curry spices.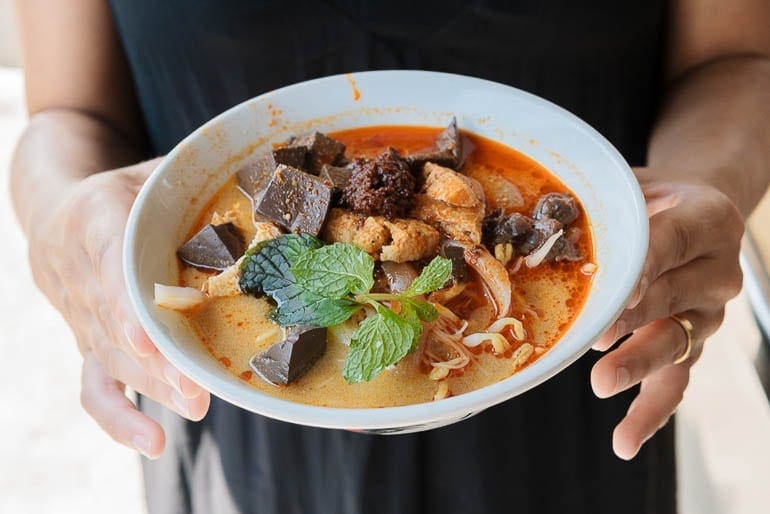 4. Roti Canai
A flatbread that comes with dahl (lentil) and curry. Of Indian influence, Roti Canai is a very popular food in the mornings throughout Malaysia. The best experience is to eat Roti Canai in the street stalls while watching the vendors roll out the dough.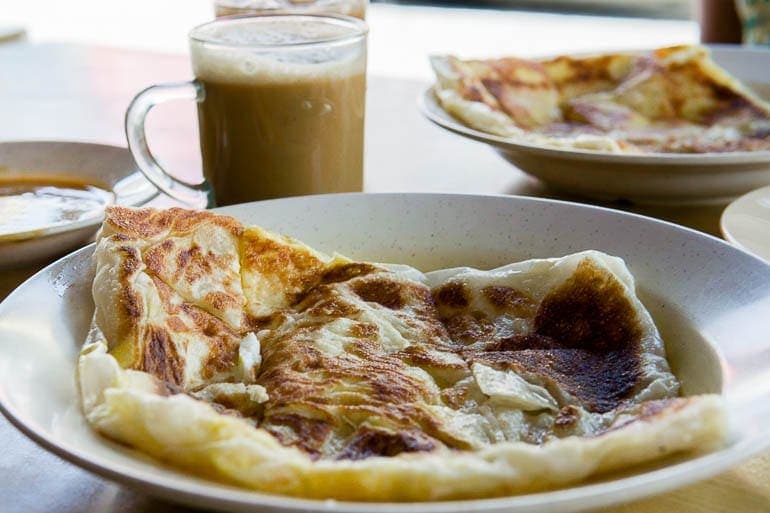 5. Murtabak
A very popular delicacy that arrived in Malaysia through Indian Muslim traders from Tamil Nadu region. Similar to a stuffed pancake, it has egg, onion, spices and ground beef (can be mutton, beef, chicken, etc.). Like Roti, it comes with dahl and curries.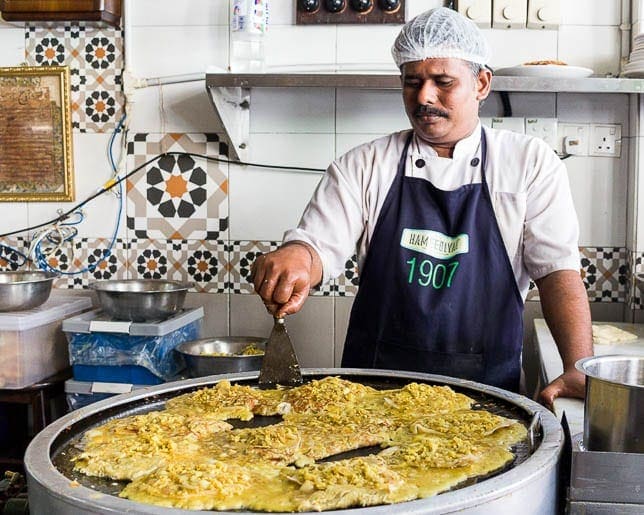 6. Nasi Biryani com Frango Frito
One of my favourite meals in Malaysia! This dish is found in Mamaks restaurants known as Nasi-Kandar. Mamak is the name of the community of Malay Indians.
If you go to a Nasi-Kandar, order biryani rice, fried chicken and other food you may like, in the end, ask to add on top different curry sauces. You will be ready to taste the most delicious flavour burst of Malaysian cuisine.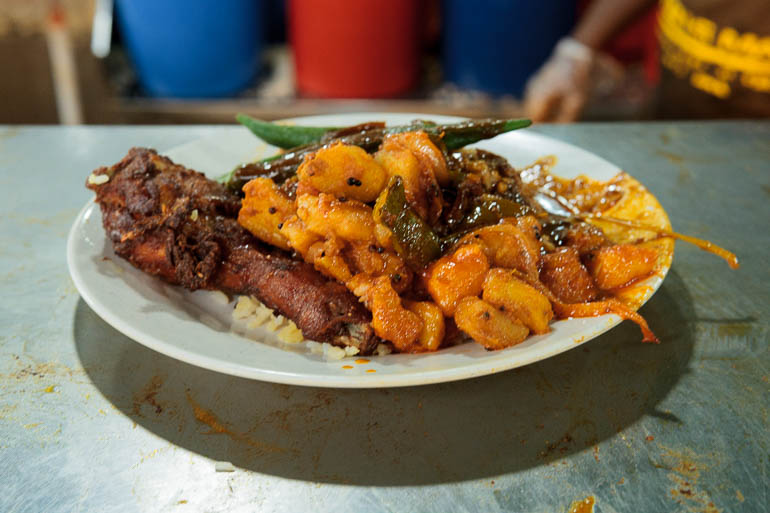 7. Hokkien Mee
Hokkien Mee is a very common dish in Malaysia and Singapore, but it is in Kuala Lumpur that you find a very special version of it. Hokkien Mee is made with very thick noodles in a dark, dense soy sauce. By looking at this amount of soy sauce you may imagine that the dish will be very salty, but it is surprising how well balanced the dish is.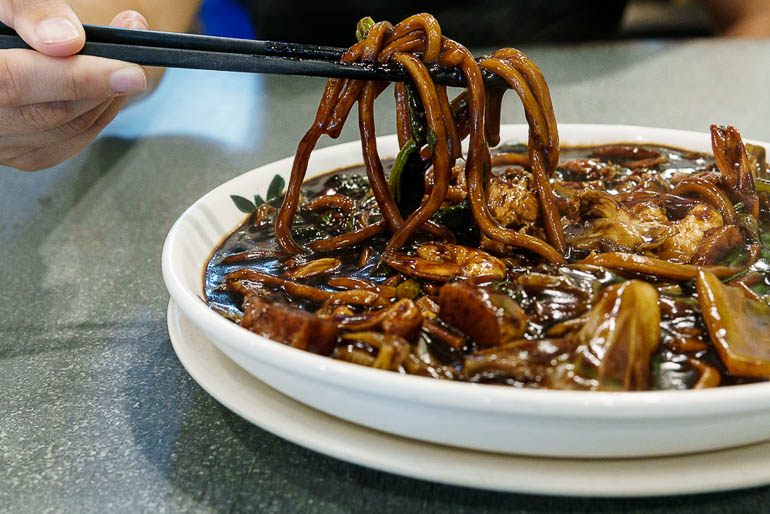 8. Char Koay Teow
Char Koay Teow is one of the main street food in Malaysia. A delight with Chinese influence. It is made with thick rice noodles, sautéed in high-temperature charcoal with fat, soy sauce, oyster sauce, egg, bean sprouts, shrimp, Chinese sausage, etc.
A mix of texture and flavours with a pinch of smoke.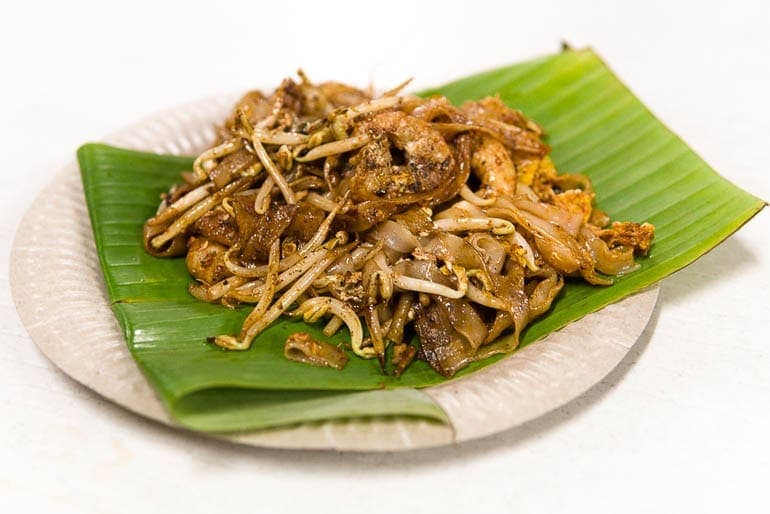 9. Char Koay Kak
If you are interested in Char Koay Teow, you will also like Char Koay Kak. This dish is made with rice cake cubes in place of the noodles. The texture is super interesting!
There is also a version made with radish cake, Chai Tow Kway.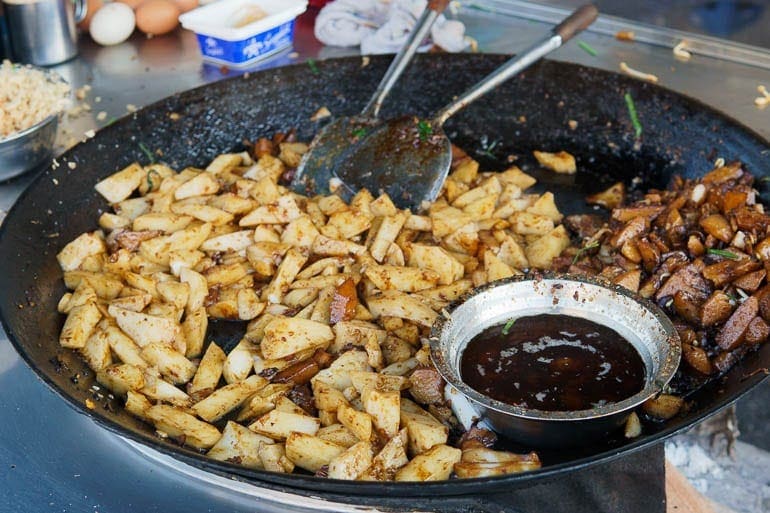 10. Chee Cheong Fun
Typical of Ipoh City, where Cantonese Chinese cuisine has settled in Malaysia. The highlight goes to Chee Cheong Fun. A dish made of rolled rice noodles – the texture is so delicate that it even looks like silk.
Also, the dish preparation is beautiful to see, secure your spot in front of the street stall and enjoy this delicacy.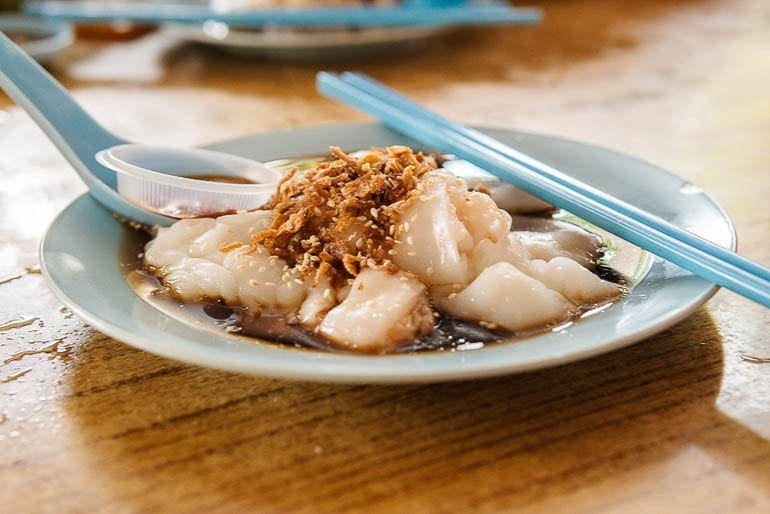 11. Durian Goreng
The first time I found these fried dumplings made with durian was at the street market in Kuala Lumpur and it was love at first bite. I think that even those who don't like Durian will like this one, it tasted like melted cheese inside. It can also be made with cempedak, jackfruit or banana.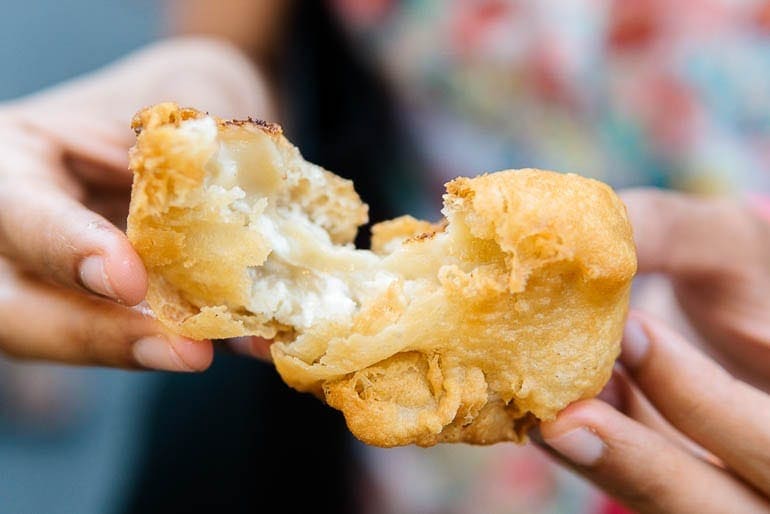 12. Otak Otak
Fish paste wrapped in banana leaf, steamed and grilled. A very tasty snack found in Malaysia, Singapore and Indonesia. There are several versions: yellowish paste or white paste, drier and thin or wet and thick, with cassava starch, coconut milk, cornflour, wrapped in banana leaf or coconut leaf.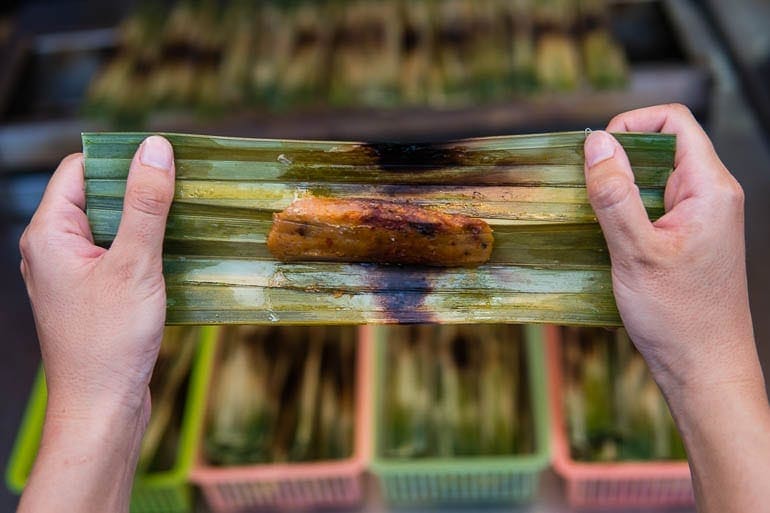 13. Apam Balik
This sweet pancake is very common in Malaysia, Indonesia, Singapore, and Brunei, but the name changes by country and region. We found as Apam Balik, Murtabak Manis, Terang Bulan, Ban Chang Kuih and other names around. Fact is, the name may be different, but the pancake is always tasty (and very sweet!).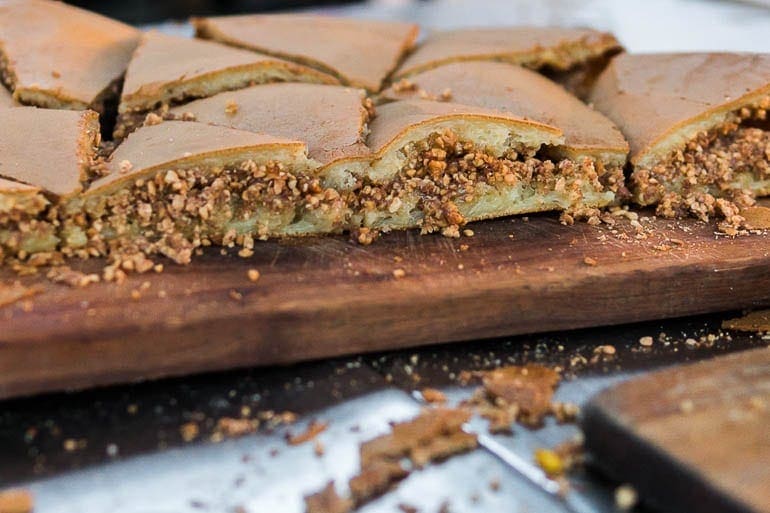 14. Cendol
A popular dessert throughout Southeast Asia, especially Malaysia, Singapore and Indonesia. A mix of coconut milk with palm sugar syrup served with a kind of green noodles made with rice and pandan flour. The topping can be quite unusual, sometimes even with cooked beans. You can serve it cold with or without shaved ice.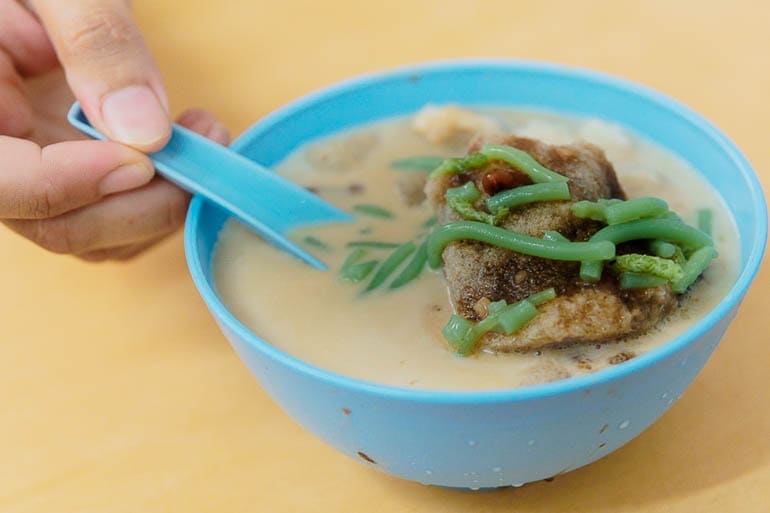 15. Teh Tarik
It looks like masala chai, the preparation even has the same move of chai being passed from the pan to the mug through the air.
But this is Teh Tarik, the version of Indian chai in Southeast Asia, but with one big difference: condensed milk.
How does Malaysian food taste like?
If I have to define what Malaysian food represents to me, I would say it is the perfect harmony between the best cuisines of Southeast Asia. If you are a foodie, Malaysia must be on your list of places to visit.
Read more: How to eat street food without getting sick