It's no surprise that wine tourism in Italy is a huge thing, with several wine routes to choose from. Along these routes, you will find excellent wineries and wine hotels to stay in Tuscany, Piedmont, Sicily, and Veneto, just to mention the most popular destinations.
In Tuscany, the best known is the Strada del Vino Chianti, which draws attention to its small medieval towns. Also worth mentioning are the Rota del Vino Nobile di Montepulciano, with stunning scenery, and the Rota del Vino Costa degli Etruschi, which combines wineries with idyllic beaches.
In Piedmont, northwestern Italy, the landscape takes on the beauty of the Alps. It is also home to no less than the royal family of Italian wines, Barolo and Barbaresco, made from the Nebbiolo grape.
Sicily is another popular destination for wine lovers, highlighting the Nero D'Avola grape and the imposing Mount Etna. And for fans of sparkling wine, we can not miss to mention the Strada del Prosecco and Vini dei Colli Conegliano Valdobbiadene in the Province of Treviso in the Veneto Region.
Wine Hotels in Tuscany
Hotel L'Andana
The hotel is the result of a partnership between renowned chef Alain Ducasse and Italian businessman Vittorio Moretti. Covering 500 hectares, including 30 hectares of vineyards and 50 hectares of olive groves, L'Andana is located in the coastal village of Castiglione della Pescaia and is surrounded by the Maremma Natural Park in Grosseto. The hotel has 33 rooms and has fine cuisine as a highlight, particularly at La Trattoria Enrico Bartolini, which boasts a Michelin star since 2016 and has a wine list with 150 labels. The hotel also offers a spa, golf courses, tennis courts, truffle hunting, culinary experiences, horseback riding, Nordic walking, and yoga, among other activities.
Rosewood Castiglion del Bosco
The Ferragamo family property (the same as the luxury brand) has 42 suites, 11 villas, two restaurants, a spa, a cooking school, and an infinity pool overlooking the Orcia Valley. With over eight centuries of history, the hotel area is home to ruins of an ancient castle, a medieval church, and Italy's only private golf club. The hotel's winery offers tours, pairings, and tastings of the famous Brunello di Montalcino, one of Italy's most iconic wines, as well as horseback riding, biking, picnics in the vineyards, truffle hunting expeditions, painting classes, and even astronomy lessons, including moonlit stargazing among the grapevines.
Castello Banfi Il Borgo
A member of Relais & Chateaux, this wine hotel is located in Montalcino, where the renowned Brunello di Montalcino is produced. The hotel has nine rooms and five suites, a fitness center, and a heated pool overlooking vineyards and olive groves. At the 14th century Castello, guests can enjoy relaxing massages and exclusive areas such as a reading room and a pergola garden. You can also delve deep into local history by visiting the Glass and Bottle Museum and the Balsameria, a kind of miniature wine cellar where the "Balsamico Etruscan Condiment" is produced. In addition, it is possible to schedule bicycle tours, balloon flights, tastings, and pairings with Sangiovese Brunello, Grappa, and vintage labels. Among the restaurants, the starred La Sala Dei Grappoli stands out.
Villa Medicea di Lilliano Wine Estate
A little over 10 kilometers from Florence, the capital of Tuscany, the 11th-century wine estate is home to 60 hectares of organic vineyards as well as olive groves. Converted into a luxurious bed & breakfast, the accommodations are split between La Torre, with five individual villas, and La Corte Villa, overlooking the Duomo. Featuring a private pool surrounded by the Chianti hills, the hotel offers tastings and harmonization experiences, cooking classes, and even the opportunity to become a winemaker for a day. It's a romantic wine destination for couples of all kinds and it has a chapel for wedding ceremonies.
Capannelle Wine Resort
Among vineyards, olive trees, and cypresses, the Capannelle Wine Resort has a more intimate proposal with only four rooms and one suite. We've been there for a tasting and loved it. The garden is beautiful! With a panoramic view of the Chianti hills, the infinity pool is an invitation to a toast with Sangiovese Rosato, one among excellent wines produced there. The heart of this wine hotel is its cellar that was carved into the rock, 3 meters below the surface.
Castello di Gabbiano
Surrounded by 100 hectares of vineyards and olive groves, this historic castle dating back to the 14th century has 11 accommodations and five apartments. It is situated between Florence and Siena, a very prime location for traveling the wine route in Tuscany. The Il Cavaliere restaurant is on a hilltop overlooking the entire property. Among the experiences, wine tours, and tastings.
Wine Hotels in Piedmont
Casa Boffa
In Barbaresco, you'll find Casa Boffa, which we previously stayed at and loved! It's a place full of charm, ideal for those who want to relax and romance during vacations within the countryside. The breakfast is served on the terrace with a privileged view of the Tanaro River Valley and the Langhe hills. There are only four rooms and one studio, with either a balcony or access to a terrace that overlooks the vineyards. Guests can relax in the solarium, go cycling, and learn about the wines produced by the Boffa family through tours around the winery.
Locanda La Raia
The La Raia biodynamic farm is home to a boutique hotel with 12 rooms, each distinct from one another and designed with furniture from the 17th and 19th centuries as well as contemporary pieces. Located in Gavi, in the lower region of Piedmont, the hotel is surrounded by vineyards and woods. It features a spa overlooking the vineyards and offers access to the swimming pool with a whirlpool, waterfall, and other spa facilities. Hiking trails, bike rides, and picnics in the woods are some of the experiences available. Without a doubt, an excellent farm hotel in Piedmont, which in addition to the vineyard, produces cereals, honey, and other products which are all biodynamic.
Casa di Langa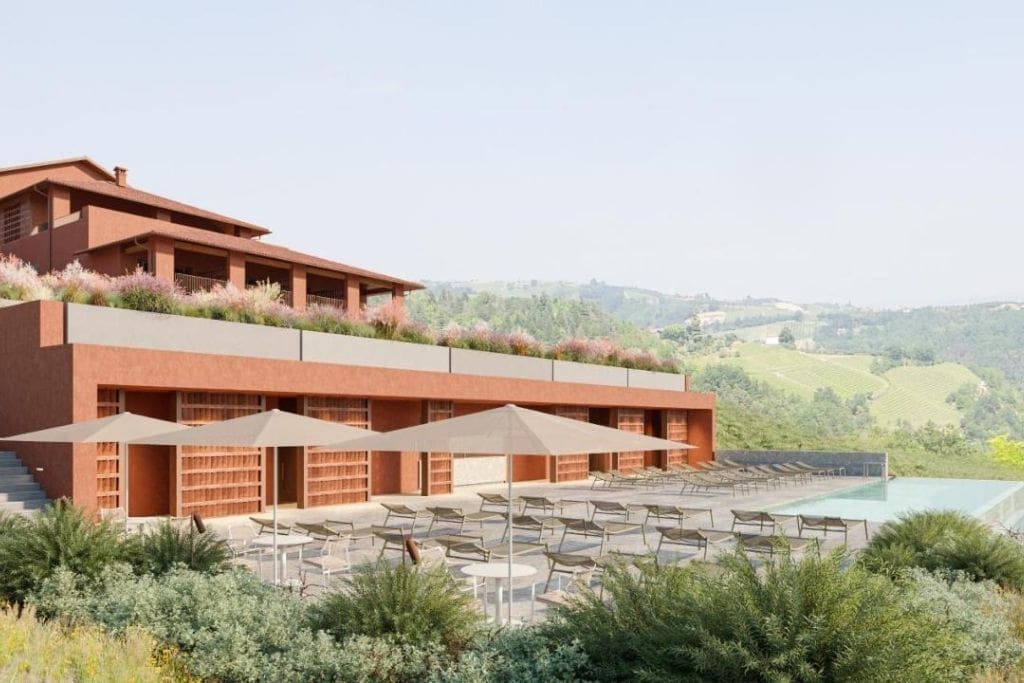 Opened in 2021, the luxury Casa di Langa hotel brings unique experiences, for example, offering guests a professional truffle concierge. This means guests will not just participate in a truffle hunt, but they also have a professional to assist them with other truffle hunting trips within the region and how to participate in the Alba White Truffle Festival. Among the wine experiences, courses, and Vespa rides through the vineyards. Casa di Langa also draws attention for its sustainable practices. Self-sufficient, it recycles rainwater, operates on solar energy, composts all organic waste, prohibits the use of plastic, and has beehives to produce its own honey. There are 39 rooms located in a 42-hectare area among vineyards.
Palas Cerequio
Rural charm and luxury are well blended in this winery hotel located within 2km of Barolo commune. There are nine elegant suites, four with classic décor dating back to the 18th century, and five with contemporary architecture and modern, featuring a more minimalist design. Its cellars hold about 6,000 bottles of 400 different labels, with Barolo wines being the protagonists. The restaurant is run by Michelin-starred chef Damiano Nigro.
Wine Hotels in Veneto
Villa Barberina
Prosecco enthusiasts will be delighted to stay in Villa Barberina, a cinematic 18th-century Venetian village in Valdobbiadene, Veneto. They are the current producers of Nino Franco Spumanti wines. The hotel features five suites, large living rooms, a library, a dining room, lots of greenery, and a swimming pool integrated into the architecture – a great wine hotel for those seeking peace, warmth, privacy, and romance.
Wine Hotels in Sicily
Agrirelais Baglio di Pianetto
High in the hills of Santa Cristina Gela, a small commune just outside Palermo in the Sicily DOC region, you will find tranquility and good wines. The Agrirelais has 13 accommodations and a pool to relax and have fun among the vineyards of the Baglio di Pianetto winery. It offers tastings of its classic and organic wines and pairings in its restaurant specializing in Sicilian cuisine. The hotel is only open during the summer season and is notable for its excellent location.