Thailand's capital, Bangkok, is one of Southeast Asia's most visited cities and is an ideal entry point for this region of the world. There are so many things to do in Bangkok that we have written ten items for you to enjoy the city on a 2 to 3 days itinerary.
Things to do in Bangkok
Visit Buddhist Temples
Together, Wat Pho, Wat Arun and Wat Phra Kaew (located inside the Grand Palace) make up the triad of the capital's most important temples.
Be sure to wear proper attire – covered shoulders, neckline, and knees. Most temples lend or rent a handkerchief at the entrance, in case you need it.
Wat Pho – The Temple of the Reclining Buddha
Wat Pho's great attraction is the 46 meters long and 15 meters high Reclining Buddha statue, completely covered in gold. Wat Pho also has Bangkok's most beautiful and decorated stupas. Beyond that, Wat Pho is also a reference centre for Thai massage, home to the first Thai Traditional Medicine School, which offers massage services and courses in the location.
Wat Arun – The Temple of Dawn
Wat Arun is one of Thailand's oldest Buddhist temples, it was built in the XVII century with Khmer style. The name is a tribute to the Hindu god Aruna, who is often represented by sunbeams. When the sun rises in Bangkok, light is reflected on the temple surface, illuminating the region. It is worth mentioning that the temple is also beautiful during sunset.
Wat Arun is opposite the Chao Phraya River, it was the house of the Emerald Buddha before being transferred across the river to Wat Phra Kaew.
Tip: Visit the Community Learning Center (CLC Wat Arun) and take a free meditation class, CLC Wat Arun sits at the back of the temple and does a beautiful job of supporting and developing girls at risk and in vulnerable situations.
Grand Palace and Wat Phra Kaew – The Temple of the Emerald Buddha
One of the most important and historical places of the Thai capital. The Grand Palace It was once home to the royal family and the Thai nobility, who lived in this palace until 1925. Today, the king lives in the Chitralada Palace, and the Grand Palace has become one of Thailand's top tourist attractions.
Also located in Grand Palace is Wat Phra Kaew, the most sacred temple in Thailand. This is where the Emerald Buddha is located, a statue believed to be the protector of Thai society.
Some curiosities: The Buddha is not made of emerald, but of jade, the name Emerald refers to the colour of the statue. Another interesting information is that the statue has 3 clothes, which are changed by the king according to the season, one of them for cold, one for heat and one for the rainy season.
Explore Chinatown
A vibrant piece of China in Bangkok. During the day, it is full of shops, street vendors, fairs and typically complicated traffic. At the end of the day, the neon lights are turned on while many food stalls start to pop up. The neighbourhood becomes practically an open-air food court.
The tip is to arrive before evening, stroll around Yaowarat Street while it is still sunlight, and watch the food vendors open their stalls during sunset. At this time you will see all the changes that happen in the neighbourhood between day and night, as well as find very fresh food and stalls without queues.
Nearby is also Wat Traimit, the temple where a Buddha statue that is made of 5 tons of solid gold is kept.
Also read: How to eat street food without getting sick
Walk around Bangkok Night Markets
There are many night markets around the city, but two very famous are Asiatique The Riverfront and Rot Fai Ratchada.
Read more: A complete list with the best thai foods you can eat all around Thailand
Rot Fai Ratchada (good for food and shopping)
Rot Fai Ratchada, also known as Train Market, is the coolest night market in Bangkok. You can find a little bit of everything including clothes, vintage items, theme bars, barbershops, and many food stalls.
Asiatique The Riverfront (good for shopping and spending time)
Smaller than Rot Fai Ratchada, Asiatique The Riverfront is a combination of night markets and shopping on the banks of the Chao Phraya River. In addition to the shops, it has a Muay Thai arena, a Ferris wheel, and restaurants. Particularly, I don't think it's worth eating there, but the visit is quite enjoyable.
Learn to cook like a Thai
Don't miss the opportunity to take a cooking class and learn how to cook your own Thai curry. There are several options, from schools in reputable restaurants to local experiences. Classes can be in a group or private.
Try local flavors in a food tour
Food Tour is the best way to safely explore new flavours while learning a lot about Thai food. In Bangkok, food tours come in various designs and sizes. Some examples are tours with expert chefs, with Tuk Tuk, walking through a specific neighbourhood or market, in groups or privately, as desired.
Get lost at Chatuchak Market
If you can, plan to be in Bangkok during the weekend just to visit the Chatuchak Market. Among more than 15,000 tents, it is hard not to choose something to take home or not get lost among the aisles. Our tip is to arrive early so you don't have to face the crowds that flood the market after 11:00.
Apart from coconut ice cream and some snacks, the Chatuchak market is not the best place to eat. A much better food option is the Or Tor Kor Market, which is right next door and has a great food court in addition to the best Durians in Bangkok.
Visit Lhong 1919
Lhong 1919 surged from the revitalization of a set of sheds and a Chinese temple, preserving the characteristics of the original building. Lhong 1919 is an innovative space with design and art shops, coffee shops, lounges, workspaces, workshop and a learning centre on Thai-Chinese culture. There are also food stands, graffiti murals, live music, an art exhibition hall, and restaurants. A delight of atmosphere beside Phraya River.
It's interesting to see how the city is on a constant move, reinventing itself and creating new places to visit.
Stroll around Siam Square
The shopping paradise of Bangkok. Even if you don't like shopping, it is interesting to visit there just to sense the dimension of consumption in Asia. The Siam Square region is a shopping complex featuring Siam Paragon, Siam Absolut, Siam Discovery, Central World and MBK, which is a very large mall that has a bit of everything.
Get to know a Floating Markets
Floating markets are always in the imaginary of things to do on a trip to Bangkok. The region has many floating markets and visiting at least one is a must-see for those seeking what to do in Bangkok.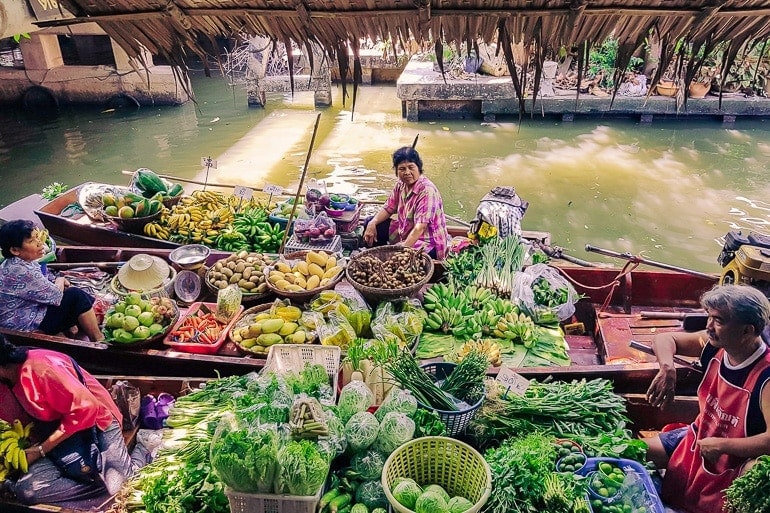 Damnoen Saduak e Amphawa: touristy and outside Bangkok
Most famous among tourists. Both are outside Bangkok, about 2 hours by car. You can plan a day trip to one of these markets along with the Maeklong Train Market, which is in the same region. Book this tour here or with local agencies in Bangkok.
Khlong Lat Mayom: lesser-known and inside Bangkok city
Now, if you are looking for a more authentic experience near the city centre, we recommend Khlong Lat Mayom Floating Market located at Tailing Chan area. (Note: only open on weekends)
Day Trip to Ayutthaya
Ayutthaya was once the capital of Thailand when the name of the country was still the Kingdom of Siam. On a round trip from Bangkok, you can get to know much of Ayutthaya. Having been the capital of Thailand for 417 years, the city is a representation of the golden age of the kingdom, which explains the beautiful structures and shape of the city. Memories and ruined stories.
On your visit to Ayutthaya, be sure to see the temples: Wat Yay Chaya Mongkol, Wat Maha That, and Wat Phra Si Sanphet.
Featured image © Suzukii Xingfu via Pexels