Rome is a city that breathes and inspires history. Beyond the monuments, temples, and churches, a trip to the Eternal City is not complete without a culinary immersion. More than the mouthwatering experience, the city's cuisine is a lesson in Roman history.
A good example is the popular saying "Giovedì gnocchi, Venerdì pesce, Sabato trippa" (Thursday gnocchi, Friday fish, Saturday tripe). It originated in the post-war period of rationing, which required Italians to be creative when eating. Today, many dishes, exquisite and popular worldwide, have their origins in difficult times. Perhaps as a form of historical and cultural preservation, the Romans highly value their local products and ingredients.
Choosing where to eat in Rome
To ensure that your dining experience gets as close as possible to authentic Roman food, we recommend avoiding restaurants near the city's main tourist attractions, such as the Colosseum, the Trevi Fountain, or Piazza Navona. It does not mean that you cannot find great restaurants in these areas, but the chances are that you will eat more standard flavors at tourist prices.
Include the Testaccio district in your itinerary, and you are guaranteed to eat like a Roman. Many of the city's most popular dishes originated in this area. Also, make sure to visit the Trastevere neighborhood, where you'll find many restaurants with authentic dishes and original recipes. Since Trastevere is more popular among tourists, dining in Trastevere tends to be a bit more expensive but with great quality.
Another valuable tip is to eat at Roman times. Breakfast is from 6h00 to 9h00. Then, around 11h00, you can enjoy an aperitif – a drink with snacks. Lunch goes from noon to 14h00 and dinner from 20h00 to 21h30. Between the two meals, another aperitif is common around 18h00.
Read more: Things to do in Rome, tips for your itinerary
Typical Rome Dishes
1. Pizza al taglio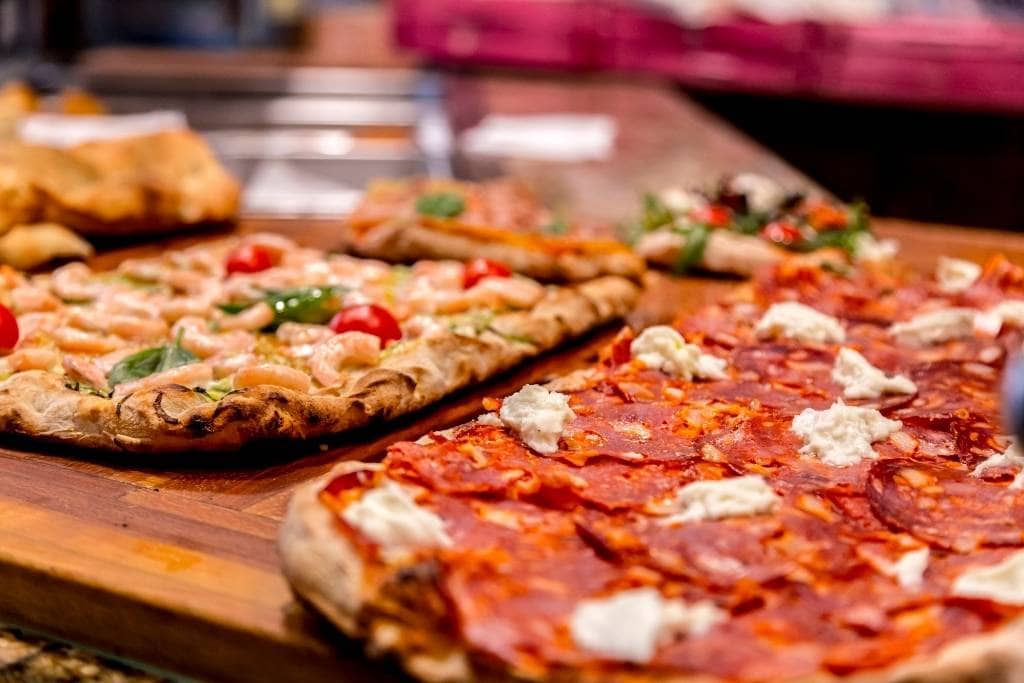 This typical food of Rome is a "different kind" of pizza, rectangular in shape, served in pieces (taglios), sold by weight, and eaten at the counter or walking down the street. The variety of flavors and the affordable price make Pizza al Taglio a popular dish in Rome, and it is easily found throughout the city. Another gastronomic heritage of the Italian capital is Pizza Bianca, also rectangular, sold by the kilo and, most of the time, without toppings, only with olive oil and salt.
2. Trapizzino
A pizza in the shape of a sandwich or a sandwich that looks like a pizza? When in doubt, go for both, or rather the Trapizzino, a snack that is half tramezzino (sandwich in Italian), half pizza. The base is a pizza bianca that can be filled with various traditional preparations, such as pollo alla cacciatora (chicken), polpette al sugo (meatball), and tongue in salsa verde.
3. Carbonara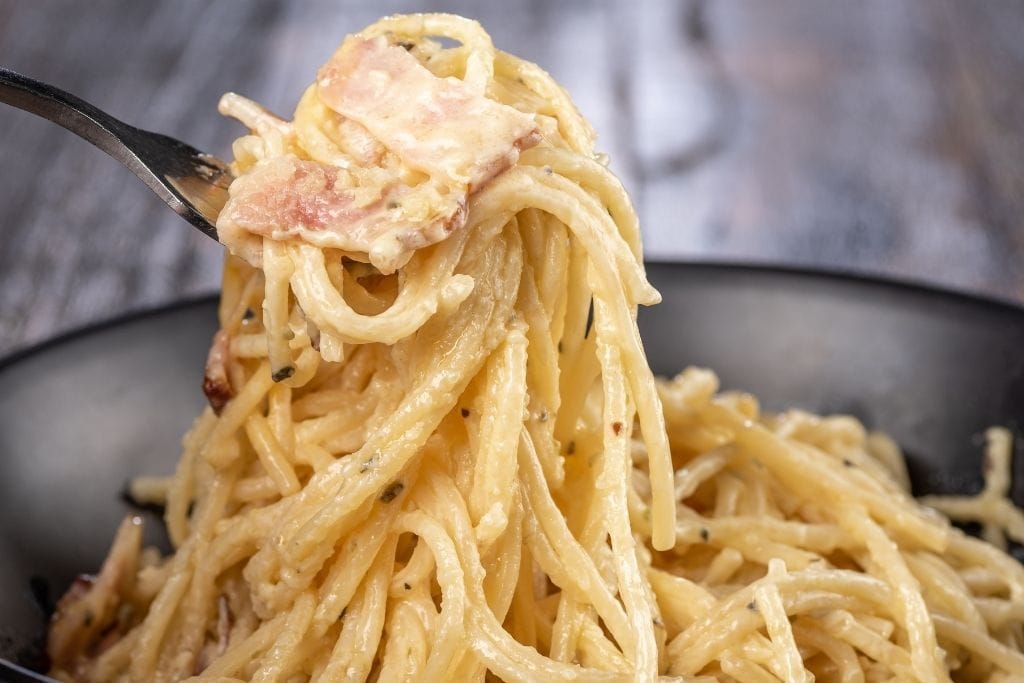 This super typical Roman dish has a day to call its own: April 6, also known as Carbonara Day. On this date, experts debate the origin of the dish – to this day, there is no consensus on the subject – while chefs share their creations. The classic recipe is spaghetti or rigatoni made with guanciale (pork cheek), pecorino cheese, egg yolk, and olive oil.
4. Cacio e pepe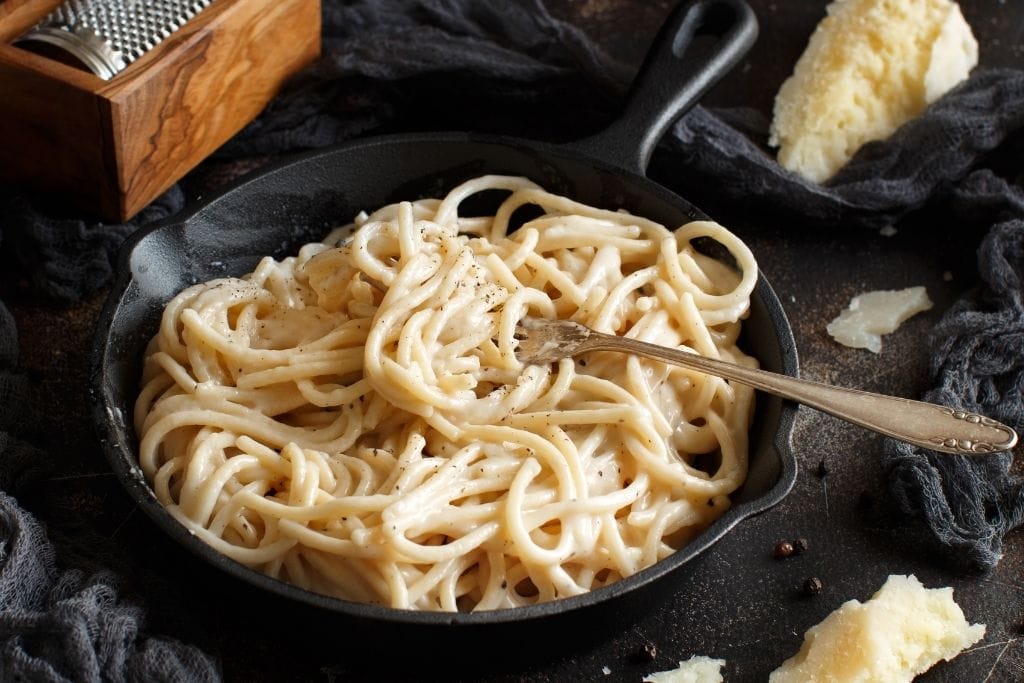 Based on the number of ingredients (pecorino cheese, black pepper, and pasta), it looks like an easy recipe, but it takes a lot of skill to prepare. To achieve the characteristic creaminess of the dish, it is essential to understand the temperature at which the pasta is cooked as well as the proper quantity of cheese, and then grind the pepper right on the spot to let out the aromas. Additionally, to get the ideal texture, long pasta is recommended, such as tonnarelli and spaghetti.
5. Pasta all'Amatriciana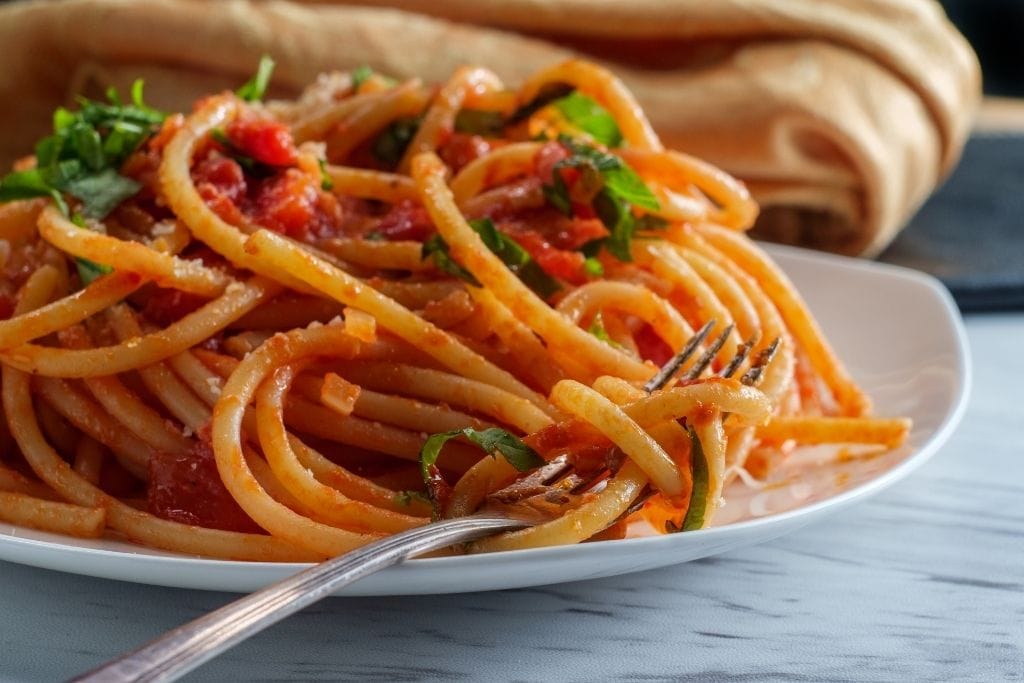 Pasta all'Amatriciana is among the most famous foods of Rome, made from bucatini pasta (resembles a straw), guanciale (pork cheek), tomatoes, pecorino cheese, and fresh pepper. According to experts, this dish derives from the Pasta alla Gricia prepared using the same ingredients except for tomatoes.
6. Coda alla vaccinara
Italian cuisine is not only about pastas and pizzas. Another classic dish of Rome is Coda alla Vaccinara, a stew made of oxtail cooked with vegetables and herbs. The dish's name refers to the tanneries of Regola, a Rome neighborhood that gave birth to the recipe.
7. Gnocchi alla Romana
It is a dish with an affective flavor, like family lunches on Sundays. It is made with semolina, milk, eggs, butter, and parmesan. The preparation is very simple. First, boil the milk and then mix it with the semolina. After forming a thick, uniform dough, make 4-cm diameter discs, place them on a buttered baking sheet, and sprinkle with Parmesan cheese. Then bake them for 15 minutes and serve them still warm.
8. Supplí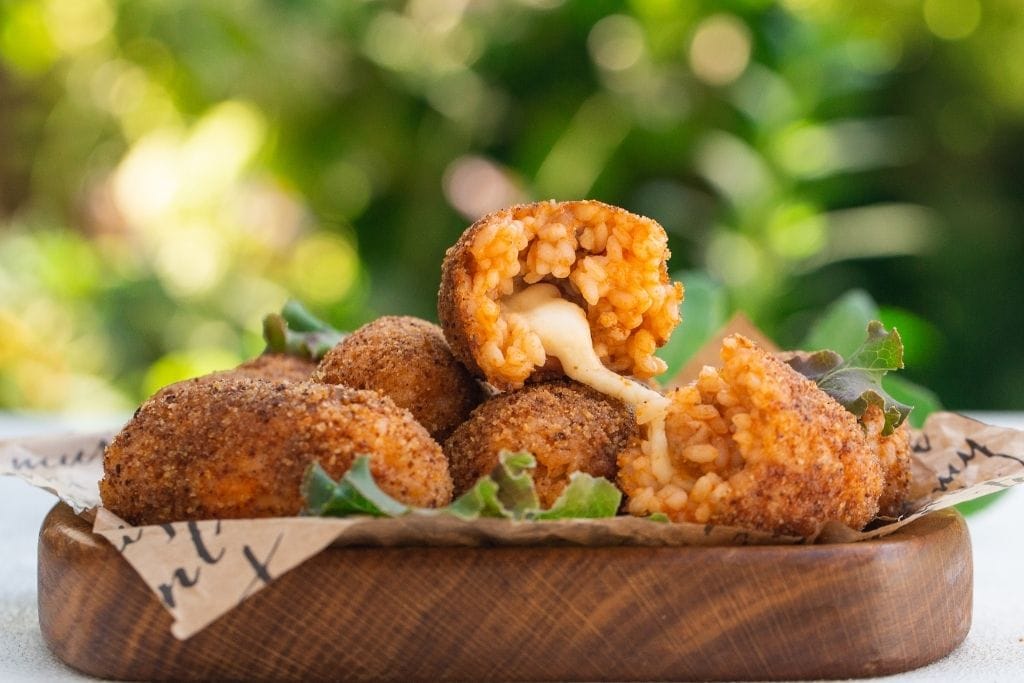 One of Rome's most delicious snacks is a fried risotto dumpling filled with tomato sauce, cheese, or meat. Supplì, which comes from French, means surprise, referring to the delicious and surprising filling. This appetizing snack is also called Supplí al Telefono. The reason is mouth-watering: when broken in half, the melted cheese stretches like a telephone wire.
9. Filetti di baccalà fritti
Traditionally, filetti di baccalà fritti is a typical food of the Christmas period. However, because it is so tasty, it is eaten all year round and is easily found in Rome's bars and restaurants. The secret of this delicacy, which is made from cod filets, is in the dough. Some chefs add beer or yeast to make the dough more consistent and crispy.
10. Trippa alla Romana
It is a typical Roman food, much appreciated at the Saturday lunches in the trattorias of Trastevere and Testaccio. Originally, it was eaten only by poor workers for not being a noble part of the ox. But, as time went by, it conquered the most varied palates, without social distinction. According to the Roman recipe, the tripe is sliced and served with tomato sauce, pecorino cheese, and mint.
11. La Pajata
Like Coda alla Vaccinara and Trippa alla Romana, La Pajata is a typical dish of Rome made from the intestines of unweaned calves, that is, calves that have not yet grazed and have been fed only on their mother's milk. The intestines are cleaned and cut out, but the chyme is kept, forming a curd during preparation. This peculiarity gives creaminess to the sauce, which is served with tomatoes and rigatoni.
12. Carciofi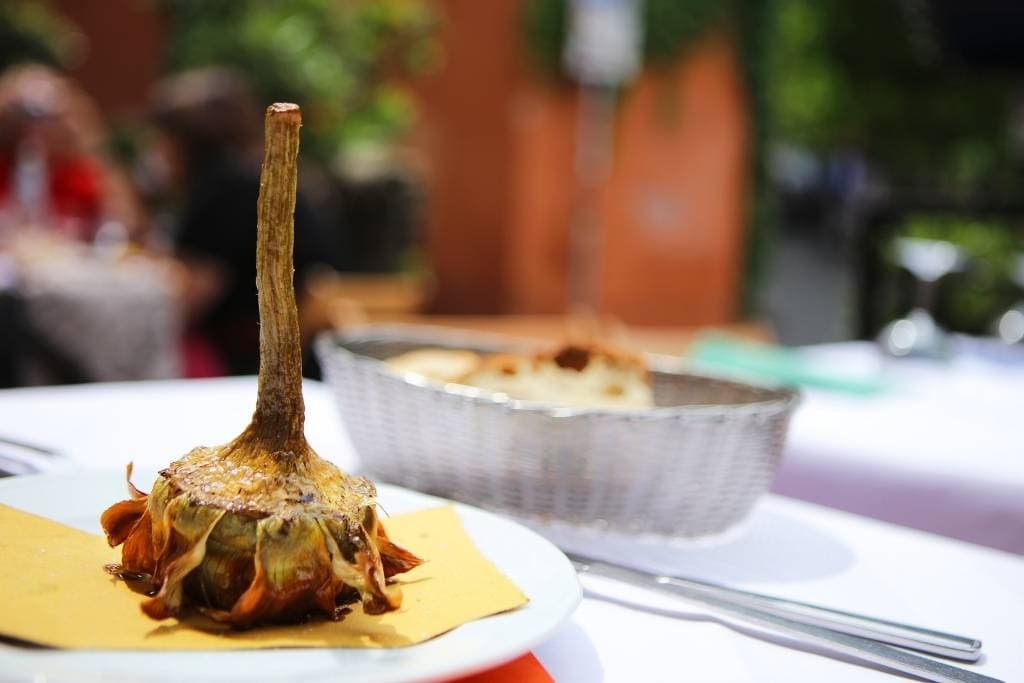 Artichokes, carciofi in Italian, play a prominent role in Roman cuisine, especially in spring, when they are harvested. Among the possible recipes, the most popular are Carciofi alla Giudia and Carciofi alla Romana. The first, which is of Jewish origin, the artichoke is fried, while in the second, it is cooked with olive oil and herbs.
13. Abbacchio a Scottadito
A traditional Easter dish. They are grilled lamb ribs served still hot and eaten with the hands, holding them by the bone. But, by eating this way, don't you risk burning your fingers? Absolutely! And hence the name scottadito, which means burned fingers. So delicious, traditionally, ribs don't usually come with accompaniments, at most, some vegetables and lemon.
14. Saltimbocca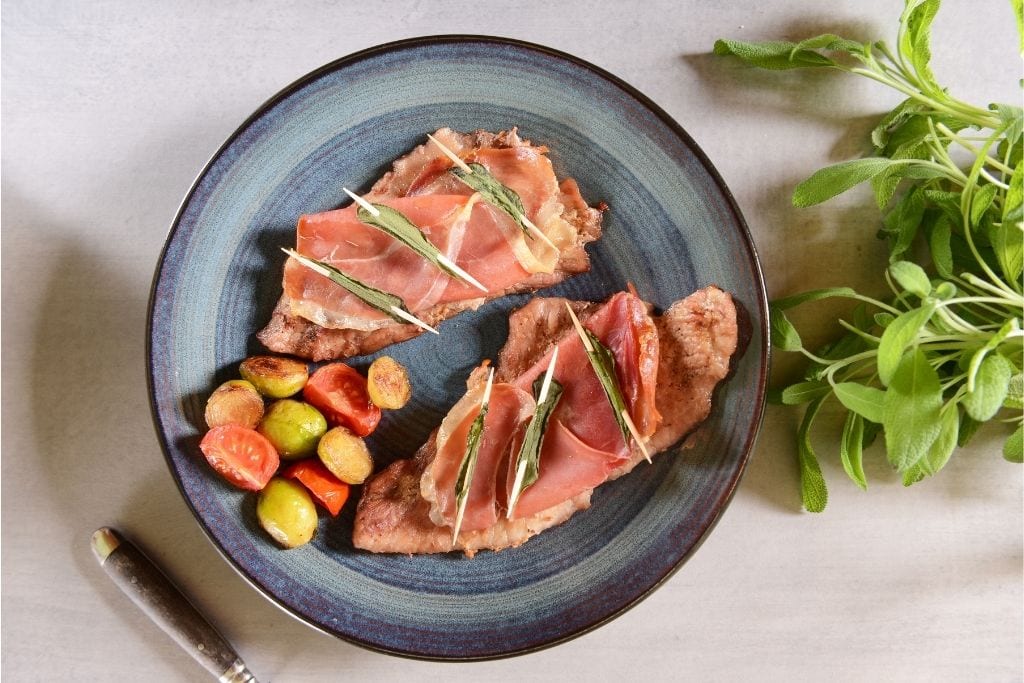 These veal escalopes are simply delicious and very popular food in Rome. Each piece of meat is seasoned with salt and pepper, and then half a sage leaf and a slice of ham are placed on top. Although it is one of the symbols of Roman gastronomy, some believe that it originated in the city of Brescia.
15. Maritozzo com creme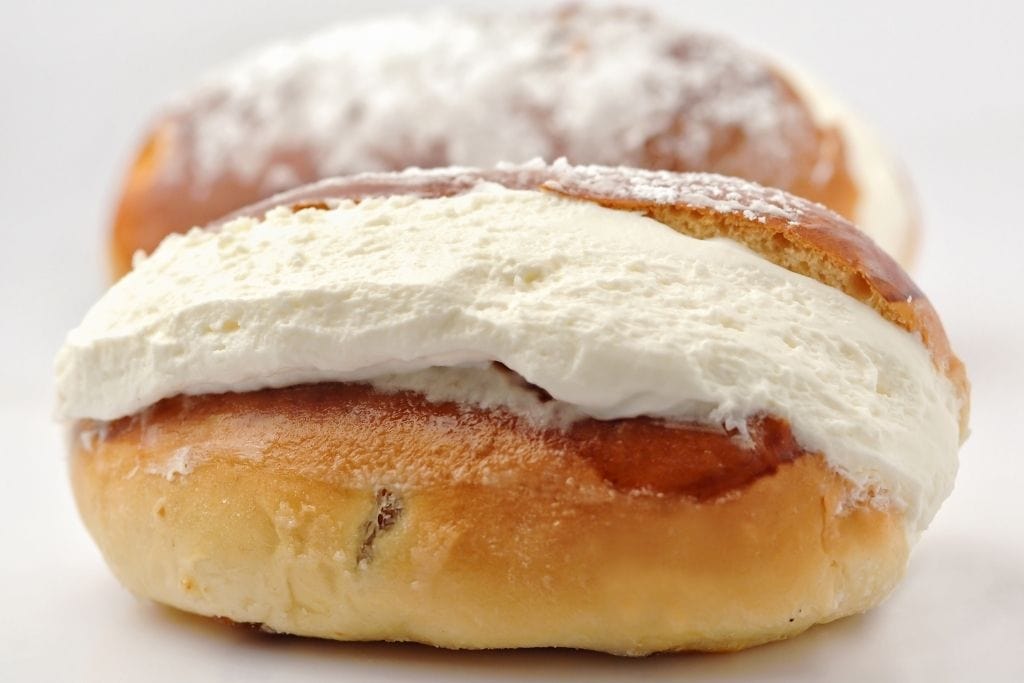 Besides tiramisu, what to eat for dessert in Rome? Our suggestion: a delicious and caloric Maritozzi. A sweet bread filled with whipped cream whose origins date back to the Roman Empire. Initially, it was sweetened with honey, then with candied fruit, and finally with cream. Its name came from a XIX century tradition when grooms presented their brides on Valentine's Day with a sweet "stuffed" with a gold ring or jewel.
Extra: Apperol !
Okay, it's not a pasta dish or a little snack, but no one will deny that it is an icon of Italian gastronomy. The drink was created in 1919 by the Barbieri brothers, who chose this name inspired by the French term for aperitif (apéro). Its recipe is closely guarded, but it is no secret that it is refreshing and has become popular worldwide in recent years. The drink contains orange, gentian, rhubarb, and quinquina, among other ingredients.