With intense aromas and spicy flavours, Thai food is renowned worldwide. The diversity of Thai cuisine is so wide that even a selection of 30 typical Thai dishes makes this list a brief introduction to this very special and particularly Southeast Asian cuisine.
The 30 best typical Thai dishes
1. Som Tam
Som Tam is a green papaya salad. The dish is originally from Isan (Laos and Northeastern Thailand). In Thai, Som Tam means "pound the sour". Crispy, fresh, sweet, spicy, sour, a salad full of flavour. The sauce emphasizes the flavour, its base is made with fish sauce, palm sugar, pepper, garlic, lemon, and tomato. The texture is complemented with raw green beans, toasted peanuts, and dried shrimp. Check out our recipe here.
2. Laab
Laab is a meat salad seasoned with fresh herbs. Typical of Laos and Northern Thailand. It can be made with pork, fish, chicken, duck, buffalo or cow meat. The spices and herbs may vary according to the region and the meat used, however, coriander, scallions and lots of mints can't be out. See the recipe here!
3. Jok
Jok is a rice porridge widely consumed during the morning in the city of Bangkok. The secret of this delicious breakfast is in a good broth, chopping pork, chives, cilantro, fried garlic, ginger and lemon to finish. A nourishing way to start the day.
4. Pad Thai
One of the most known Thai dishes and widely accepted by Western palates. Pad Thai is a stir-fried rice noodle dish with eggs, tofu and seasoned with tamarind juice, fish sauce, dried shrimp, garlic, onion, pepper and palm sugar. It is usually served with bean sprouts, lemon slices and roasted peanuts. There are many variations that add fresh shrimp, chicken or pork. Learn here how to make Pad Thai with our recipe.
5. Pad See Ew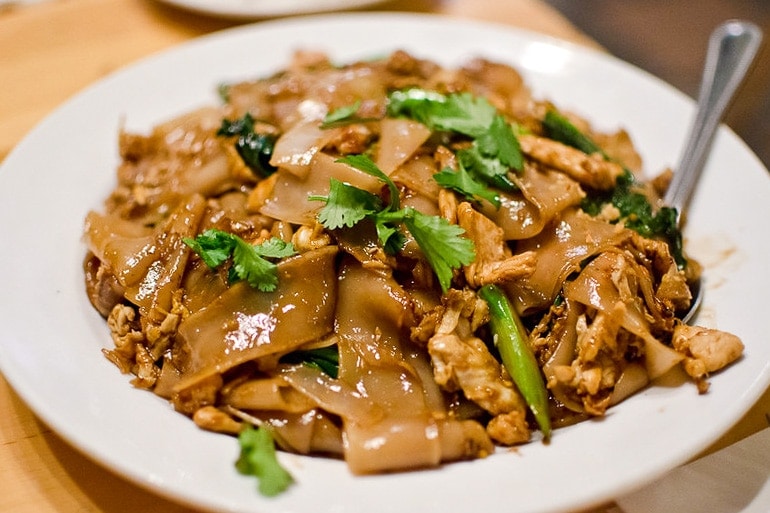 Unlike Pad Thai, Pad See Ew is made with a much larger rice noodle. The noodle is stir-fried with plenty of soy sauce, meat, egg, tofu and Chinese broccoli.
© Ed Kwon via Flickr
6. Kuay Teow Neua
Kuay Teow Neua (Beef Noodle Soup). Although beef is not a common ingredient in Thai cuisine, this beef noodle soup is delicious and the big secret lies in the broth that slowly cooks generous pieces of beef until it becomes very soft. One of our favourites!
7. Ba Mee Kiew
Delicious egg noodles with wonton, usually accompanied by beautiful slices of pork belly. Wonton is a Cantonese dumpling filled with meat and widely consumed throughout Asia. You can choose between Dry Wonton Noodles or Wonton Noodle Soup. In the soup version, the ingredients come immersed in a clear broth, while in the dry version the broth comes in a separate bowl.
8. Khao Niao
Khao Niao (sticky rice or glutinous rice) is the main accompaniment to meals in the Isan region that covers northeastern Thailand and Laos. Glutinous rice has such a strong presence in Thai food that we wrote an entire post to talk about it. Check out in the link below.
Read more: What is glutinous rice and how is it consumed in Thailand and Laos.
9. Gai Yang
Gai Yang is grilled marinated chicken. The always crispy skin, juicy meat and the sauces make it a true delight! To accompany the gai yang, we love to order a portion of sticky rice and green papaya salad.
10. Pla Plao
Pla Plao is a fish covered with coarse salt, stuffed with lemongrass and grilled over hot coals. The appearance is dry, but when you take the first bite you don't believe how juicy this preparation is. As a side dish, fresh noodles, fresh herbs, leaves, and a little special sauce are common.
11. Gai Hor Bai Toey
Fried chicken on pandan leaf. Pandanus is a plant widely used in Asia to add aroma and colour to food. Its aroma reminiscent of vanilla brings a special touch to this dish. The chicken is marinated, then rolled in the pandan leaf and fried in the wok.
12. Sai Oua
Typical of Northern Thailand, Sai Oua (Northern Thai Sausage) is a spicy sausage prepared with ground pork, spices and herbs, for example, the lemongrass which brings a very intense and fresh flavour to this sausage. Excellent snack to have with a beer. If you order as a meal do not forget the sticky rice as an accompaniment.
13. Hor Mok Pla
Pla means fish and Hor Mok is the process of cooking these steamed curry dumplings on the banana leaf. An original Thai dish that has also influenced its neighbours including Cambodia's famous Amok fish. It looks more like a baked fish souffle made with coconut cream, curry paste and kaffir lime.
14. Hoi Tod
Super crispy oyster omelette with a popular price and served on the street. The origin is Chinese, but it is quite famous on the streets of Bangkok. The crispness is due to the rice flour which is added to the omelette dough. There is also a version with mussels instead of oysters.
15. Pad Kra Pao
Pad Kra Pao is a meat stew, usually chicken or pork, with Thai holy basil accompanied by a portion of rice and a fried egg. A quick dish with substance and a delicious aroma of basil.
Read more: How to eat street food and not get sick.
© WordRidden via Flickr
16. Khao Kha Moo
Khao Kha Moo (Pork Leg with Rice) is another Thai dish made with rice, pork, and boiled eggs. The highlight of the dish is the pork leg that is slowly braised in a sweet broth full of spices. The boiled egg, after cooked, goes to the same broth to absorb its flavour and colour. If you like pork cut into an aromatic and sweet broth, this is the one you should order.
17. Khao Kluk Kapi
Khao Kluk Kapi starts with rice, not only cooked but sautéed with shrimp paste. Rice is served with various elements that contrast among themselves: green mango, omelette, red onion, dried shrimp, sweet pork, sweet and sour Chinese sausage, peppers, cucumbers, green beans, coriander, onion, egg. A complete typical Thai dish in texture and flavours.
18. Khao Mok Gai
Known as the Biryani of Thailand (Thai-Style Chicken Biryani). This dish is influenced by Thai Muslims living in the south of the country due to its proximity to Malaysia. Rice with turmeric and various other spices is cooked with the meat resulting in a yellowish and aromatic dish. Served with slices of cucumber and fried onions, the biggest difference with other versions of Biryani is in the combination of Indian spices and local ones.
19. Khao Pad
Who has never heard of fried rice? Cooked Jasmine rice, egg, chicken or pork meat, garlic, onion, pepper, soy sauce, fish sauce and so on. Just throw everything in the wok, with oil over high heat, and hands-on stir-frying. A famous version among Thai food is the Khao Pad Sapparod which is served in a pineapple.
© Alpha via Flickr
Thai Curry Dishes
Curry is a mixture of spices that serve as a basis for the preparation of various Thai dishes and are usually prepared with fresh spices. These spices are pounded with the help of a mortar a pestle until they get the consistency of pastes. Many dishes in Thailand have their own curry paste which is called by the same name as the dish as a way of identifying it. The most common are the ones that we call by their colour, being them, red, yellow and green.
20. Phrik Kaeng Phet – Red Curry
The red curry brings as its main ingredient a base with a lot of red chilli, which makes the curry reddish. The red curry is spicier than the yellow curry that we talk about below.
© Lummmy via Flickr
21. Kaeng Kari – Yellow Curry
There are ingredients that are most common to almost all curry pastes such as galangal, ginger, lemongrass, shrimp paste, garlic, etc. In the yellow curry, the big difference is the use of turmeric and in the preparation of dishes which is very common to add coconut milk and potatoes.
© Takeaway via Wikimedia Commons
22. Kaeng Khiao Wan – Green Curry
In my opinion, the curry with the most intense flavour. Its base has coriander, lemongrass, galangal, kaffir lime leaves and zest, and among others the great highlight, the green chillies. It results in more pungent and intense curry. The green chilli stands out and pleases the more resistant palates to astringent spicy which comes along with a lot of aroma and freshness.
© Shou-Hui Wang via Flickr
23. Khao Soi
Khao Soi is a very tasty chicken or beef soup made with egg noodles in two textures: cooked in the broth and another portion fried and served on top of the soup. Accompanies pickled cabbage, red onion and lemon. It is believed to have influence from the Hui / Chin Haw people, that is, it came with the Chinese-Muslims who migrated to Myanmar, Laos and Northern Thailand. If you go to Chiang Mai, be sure to try it!
24. Tom Yum
Tom Yum is a sour and spicy Thai soup. The best known is the one made with shrimps, called Tom Yum Goong. Tom Yum's main base is nam prik pao, a paste of herbs and spices made with chilli, shallots and garlic. The soup also takes mushrooms, coriander, tomatoes, lemon juice, sugar, and fish sauce.
25. Tom Kha Gai
Tom Kha Gai is another delicious soup typical from Thailand (and Laos), made with chicken and coconut milk. Aromatic, creamy and slightly sour. The main ingredients are coconut milk, mushroom, galangal, kaffir lime leaves, lemongrass, chilli, fish sauce, lemon juice and chicken.
26. Kaeng Som
Kaeng Som is known as Sour Curry. This dish is very traditional in southern Thailand where sour tastes satisfy most of the local palate. A hot soup with fish, fresh tamarind and shrimp paste as main ingredients. In some regions, turmeric is also used, in this case, it is called Kaeng Lueang that means Yellow Sour Curry. Pungent, but balanced.
© Q.uiet StIll via Flickr
27. Massaman Curry
Considered by many to be one of the best curries in Thailand. Massaman Curry deviates from the standard Thai curries due to Muslim influence on its spices, coming from Malaysian neighbours. The difference is in the curry paste that in addition to the traditional ingredients, such as coriander seed, lemongrass, galangal, chillies and shrimp paste, it also takes dried spices, like, cinnamon, cumin, cardamom, cloves, anise, nutmeg. The harmony of this curry paste along with potatoes, chicken and coconut milk makes this one of the must-have Thai dishes.
28. Panang Curry
The interaction of southern Thailand with northern Malaysia influenced the creation of another dish that we brought to our list on what to eat in Thailand. This curry uses peanuts in the recipe which thickens the sauce and makes it so unique when compared to other Thai curries. It also takes coconut milk, chillies, coriander, galangal, lemongrass, etc.
© Vee Satayamas via Flickr
Thai Desserts
29. Khao Niao Mamuang
Khao Niao Mamuang, known as Mango Sticky Rice, is nothing more than steamed glutinous rice (sticky rice) mixed with coconut milk, sugar and served with sweet slices of mango. Then, an extra portion of coconut cream and sesame or mung beans on top. It is usually served with white glutinous rice, but it can also be with green glutinous rice coloured with pandan leaf, or with black glutinous rice.
© Dennis Wong via Flickr
30. Kluai Buat Chi
Banana cooked in coconut milk. A very popular dessert in Thailand and neighbouring countries, easy to make, light and healthy. You only need ripe bananas, sugar, salt, and coconut milk.
Influences on Thai food and its typical dishes
Although Thai cuisine is very original, many typical Thai dishes and preparation techniques have had a Chinese influence such as the use of wok and frying preparations. Among other countries that had an influence on Thai cuisine, Portugal and Spain were of great importance, the most prominent being the introduction of chillies, which is today, one of the main characteristics of Thai food.
---
PLAN YOUR NEXT TRIP!
Note: Some links might be affiliate links. If you purchase products through these links, we will get a small commission that will support the maintenance of Food'n Road website without any additional cost to you.