Porto, Portugal's second-most populous city, is well-known for its variety of tourist attractions, such as the Douro River's elegant landscapes and regional wineries, the artistic and cultural scene, and the balance between urban development and preserved historical heritage.
The city of Porto is highly regarded for its cuisine, many leisure and cultural options, and the unique spirit of northern Portugal. For many years, it has been voted the best European destination.
Check out the main tips for what to do in Porto during a short stay.
Things to do in Porto
Serralves
Established in 1989, the Serralves Foundation is a cultural project that combines art and nature in a multi-purpose space that appeals to any audience. The place was once home to Carlos Alberto Cabral, a successful businessman, and an art lover. It is located slightly further away from the main tourist attractions of Porto. We recommend that you visit the Foundation early in the day to see all the highlights.
The Serralves Foundation is divided into 5 main structures:
Museum of Contemporary Art (the most important in the country in this category);
Park Serralves: 18-hectare park known for its beautiful gardens and the diversity of flora and fauna;
TreeTop Walk: an elevated walkway at the height of the trees to enjoy the local biodiversity from above;
Serralves Villa, an example of Art Deco architecture;
Casa do Cinema Manoel de Oliveira has a fixed exhibition about the famous Portuguese filmmaker and an auditorium for events.
There are several types of tickets to access the Foundation. It is possible to purchase tickets with access to all areas or each area separately. Admission is free for children under 12.
Casa da Música
Casa da Musica (House of Music), inaugurated in 2005, is the main venue for musical concerts in Porto. It is also a famous tourist spot due to its architecture designed by the prestigious Dutch architect Rem Koolhaas. Casa da Musica has a coffee place with many options for foods and drinks and is an excellent place to study and do online work.
Some events are free, and you can also take guided tours. You can check everything on the official website.
Crystal Palace Gardens
Emile David, a German landscaper, designed the Crystal Palace gardens in the 1860s. They are divided into various themes like the Garden of Aromatic Plants, Medicinal Plants, Rose Garden, Twinned Towns, and Feelings. You can also enjoy a spectacular view of the Douro River from this spot.
If you are looking for a romantic stroll or an ideal location for photographs, you must visit the Crystal Palace gardens.
Its old name was Palácio de Cristal (Crystal Palace) because it housed an iron-glass structure built in the 19th century for exhibitions. Later, the Rosa Mota Pavilion, a venue for sporting events, was constructed to replace the old structure.
Museums
The many museums in the city are one of the reasons why Invicta, another Porto nickname, was once nominated the European Capital of Culture. Get to know some of them:
Quinta da Macieirinha Romantic Museum: The museum recreates a 19th-century bourgeois residence with furniture and objects from that period. It is near the Gardens of the Palacio de Cristal and has free access on weekends. We recommend that you visit the entire area in one day. You can take the paths bordering the Douro in a beautiful and pleasant walk;
National Museum Soares dos Reis: It was founded in 1833 and is Portugal's oldest museum. It has art, decorative arts, and archaeology exhibitions;
Porto Puppet Museum: you can see the puppets used in the Puppet Theater of Porto, a theatre created in 1988. A fun program, different from conventional attractions, and has free entrance on weekends. If you have time, take the opportunity to watch a puppet show.
Porto Regional Wines
Port wine is the most well-known wine in the region. It is a liqueur wine that has a high alcohol content, also known as fortified wine. Its alcohol content can range between 19%-22% due to the addition of spirit into the wine. Its origins lie in the idea of English sailors who mixed brandy into Douro wines to preserve them till they reached their destination.
The region's terroir (set of environmental conditions for wine production) provides unique characteristics such as the schistous soil that influences the grape's properties. Only the Douro Demarcated Region can officially produce Port Wine, which takes a Controlled Denomination of Origin label.
But Port wine is not the only wine produced in the region. Two other types are also worth trying:
Vinho Verde (Green Wine): Portugal's largest wine area. It produces light, fresh wines with lower than 11.5% alcohol content and slightly higher acidity. The term 'Green Wine' could be due to two factors. One is the high acidity and freshness of the grapes as if they were not ripe. The second is the lush landscape in which the grapes are grown;
DOC Douro: These are Douro traditional wines, which aren't fortified with spirit, such as Port Wine. Although DOC Douro wines are relatively new in this region, wine lovers have been surprised by the high quality and variety of red and white wines.
With so much variety and wine culture, wine tourism experiences in Porto and North are great options for any itinerary and list of what to do in Porto.
Tasting Sessions – The Wines of North Portugal
Tasting packages are a great way to learn more about regional wines and taste them. These packages offer tasting sessions and snacks with a variety of wines for a fixed cost. For those who don't drink much, glass tasting is available, which you pay per glass of wine consumed.
In addition to wines, there are other types of tastings with Portuguese cheeses, Portuguese olive oils, and other traditional products.
There are several specialty wine stores in the city offering a variety of labels, some of which can be sampled. There, experienced salespeople can help you choose the right wine for your tastes and budget. At most shops, it is possible to request that bottles be packed for air transportation.
Port Wine Cellars (Caves)
Cave, a Portuguese term meaning "underground," is what they call the cellars in which Port wines age and mature. The Port wine cellars are located in Vila Nova de Gaia. You can reach it by crossing the Dom Luis I bridge to Ribeira do Cais. There are many tours that take you through the cellars. In addition to tasting it, you can learn how Port wine is made, its history, how to harmonize it with food, and more.
Recommendations of Port Wine cellars:
Calém
Graham's
Taylor's
Ferreira
Sandeman
Adriano Ramos Pinto
Real Companhia Velha
For more information about locations and opening hours, visit the website Association of Porto Wine Companies (AEVP).
Douro Wine Region – Boat Trip and Visit to Wineries
Porto is located approximately 100 kilometers from the Douro wineries, where Port Wine is produced. These vineyards are located on steep slopes and provide a beautiful landscape, designated by UNESCO as a World Heritage Site in 2001 under the Cultural Landscape category.
Also read: The UNESCO Creative Cities of Gastronomy
The Portuguese wineries are called Quintas. You can visit the wineries, take part in guided tours with tasting sessions, participate in harvesting, see the wine production process, and more. Many offer accommodation for guests who wish to stay at the winery.
See more: The best wine hotels in Portugal
You can also visit wineries by boat on the Douro River. It allows you to admire the beautiful mountain scenery of the region. The boats depart from Porto, Peso da Regua, and Pinhao. There are many types of tours available, including olive oil tastings and visits to multiple wineries.
Go beyond with our Travel Guide to The Douro Wine Region
Wine tourism experiences in Porto and North
The Port Wine Museum
The Port Wine Museum is found in the city's historic area, on the banks of the Douro River. The museum, which has been around since 2004 in a different location, was redesigned and reopened in 2019. The exhibitions highlight the importance of the wine industry to the city's growth, including the history of wine, grape production, and the transport of wine along the Douro River. After the visit, you can taste Port wines (at an extra cost).
Ribeira do Cais
A stroll through the Cais da Ribeira area, located in the Historical Centre along the banks of Douro River, is a must-do experience in Porto. The area is known for its narrow streets and colorful buildings. There are many restaurants, bars, and cafes, where you can enjoy traditional foods and wine while looking out over the Douro River, Dom Luis I Bridge, and Vila Nova de Gaia waterfront. You can also take boat trips and purchase souvenirs.
Take the time to walk and explore the surrounding sights and attractions like Casa do Infante, Palácio da Bolsa, and São Francisco Church. Take a break and walk through Praca da Ribeira to find many restaurants and local shops.
Explore more: Travel Guide to Porto
Viewpoints
The viewpoints in Portugal are called miradouros. They offer a great view of the surrounding landscape and a unique perspective on many tourist spots.
There are viewpoints with public access, and others are private establishments with privileged views. Our favorites:
Viewpoints in Porto
Miradouro da Vitória: one of the most well-known, offering a panoramic view of both Porto's historic area and Vila Nova De Gaia;
Miradouro das Virtudes: located in Jardim das Virtudes, very popular among residents during the summer;
Torreão do Jardim do Palácio: on one side are the Crystal Palace Gardens; on the other, Gaia with the Douro River cutting the horizon. Climb the medieval-style Tower and catch a glimpse of the view;
Bar Guindalense: the bar is located in the Sé district and has a beautiful view of the Douro River and the D. Luis I bridge;
Bar Miradouro Ignez: the bar opened in 2009, provides a stunning view of the Douro River and good appetizers for a happy hour.
Viewpoints in Vila Nova de Gaia
Jardim do Morro: this is an excellent viewpoint. Cross the Dom Luis I bridge to reach Jardim Do Morro or take the metro. You will experience a magical moment if you're in summer. Enjoy the sunset and view of the Ribeira and Douro River with a bottle of wine;
Serra do Pilar Monastery: when crossing the Dom Luis I Bridge, Jardim do Morro is on your right and the Monastery de Serra do Pilar on your left. It's impossible to miss it, and you can enjoy a beautiful view of Porto by going up to the Monastery.
Eat like a 'Tripeiro'
One of the city's typical dishes is the Porto-style Tripas (Tripas à moda do Porto), made with veal tripe, sausages, pork belly, and white beans. A legend around the dish is that in the Age of Discovery, Infante D. Henrique requested meat from the local population to supply his caravels; the residents gave all the meat they had, leaving only the guts, thus creating the recipe. You can find a good one in the traditional restaurant A Cozinha do Manel.
Porto is also well-known for its sandwiches: hot dogs, ham sandwiches, bifanas (filled with seasoned pork steaks), prego (stuffed with beef), and the famous local creation Francesinha.
Tips for sandwiches in Porto: Bifanas at Conga – A Casa das Bifanas, Cachorrinho (hot dog) at Gazela – Cachorrinhos, and the roast pork sandwich at Casa Guedes.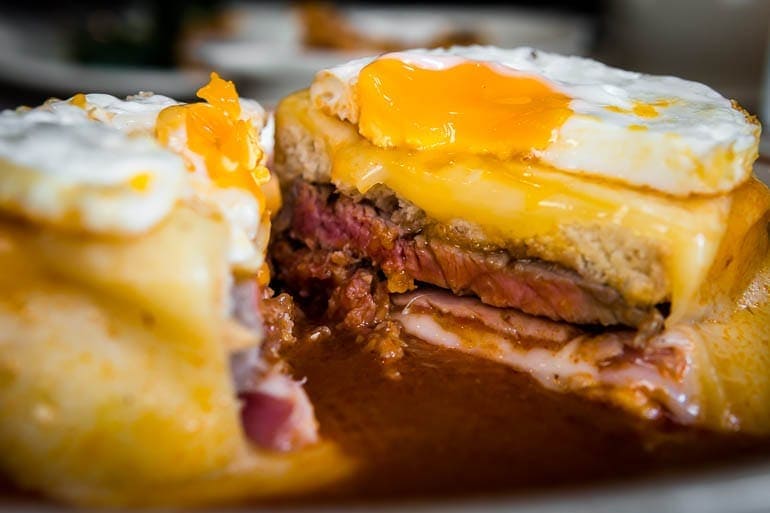 If you're looking for traditional and simpler meals, go to Tascas, which are family establishments around the city that offer good and affordable food.
If you like seafood, we recommend the restaurant Marisqueira de Matosinhos, founded in 1978 (Marisqueiras are restaurants specialized in seafood).
Learn more: Discover the Typical Dishes of Portugal
Local Markets
Visit the local markets to learn more about the products and gastronomy of the area, as well as find souvenirs.
Bolhão Market: opened in 1839, it is one of the most famous markets in Porto and a Monument of Public Interest. The market has been under renovation since 2018, but you can still shop and stroll at the temporary Bolhão Market, located just 2 minutes away from the original building. In addition to traditional fruit and flower stalls, the market also has bars, cafes, restaurants, and craft shops;
Bom Sucesso Market: the market is found in the Massarelos/Boa Vista region, near Casa de Musica. The Bom Sucesso Market was opened in 1952, and it has been extensively renovated, including newsstands, food stalls, shops, and cafes.
Looking for a souvenir? How about a nice Portuguese canned fish?
Street Fairs
Porto hosts several fairs that allow you to buy unique items such as decorative articles, books, coins, records, clothes, and paintings. Some recommendations:
Antique fairs
Vandoma Fair: Saturdays morning in the avenue 25 de Abril;
Porto Belo Market: Saturdays from 10h às 19h at Carlos Alberto Square;
Antiques Fair: third Saturday of each month at Francisco Sá Carneiro Square.
Craft Fairs
Porto Handicraft Market: Thursday to Sunday at Parada Leitão Square, next to the University of Porto building from 10 to 18h (winter time) and from 9 to 20h (summer);
Mercadinho da Ribeira: Thursday to Sunday from 10 to 20h at Cais da Ribeira;
Batalha Handicrafts Fair: every day from 9 to 20h at Batalha Square.
Art Galleries
Porto is well-known for its numerous art galleries. Some galleries exhibit paintings, sculptures, photography, and more. See below some recommendations:
Fernando Santos Gallery: the gallery was founded in 1993 and is located at Street Miguel Bombarda, the main street for Arts Gallery;
Pedro Oliveira Gallery: founded in 1990, its exhibitions feature works by renowned Portuguese and foreign artists (the place also offers a great view of the Douro River);
Quadrado Azul Gallery: opened in 1986, the gallery's name comes from the work K4, the Quadrado Azul (english: Blue Square), a futuristic style work published in 1917 by the writer and artist Almada Negreiros.
Day Trips from Porto
It is also possible to take day trips from Porto to nearby cities:
Matosinhos: located in the Porto metropolitan area, the city is famous for its beaches and seafood restaurants. You can enjoy a walk by the water, visit the Municipal Market and Bom Jesus de Matosinhos Church.
Guimarães: the municipality is known as the birthplace of Portugal. The Castle of Guimaraes, a famous sight in the area, was built in the 10th century to protect against attacks from Moors and Vikings.
Braga: the oldest city in Portugal with more than 2,000 years old, famous for its gardens, churches, and palaces.
Aveiro: it is also known as "Portuguese Veneza" because of its river channels. You can try the local sweets with ovos moles – an egg cream made with egg yolks and sugar.
Costa Nova: it is a great place to spend a sunny afternoon, whether you are walking along the coast or on the beach. This area is well-known for its traditional striped houses, but it is also known for excellent seafood restaurants and water sports.