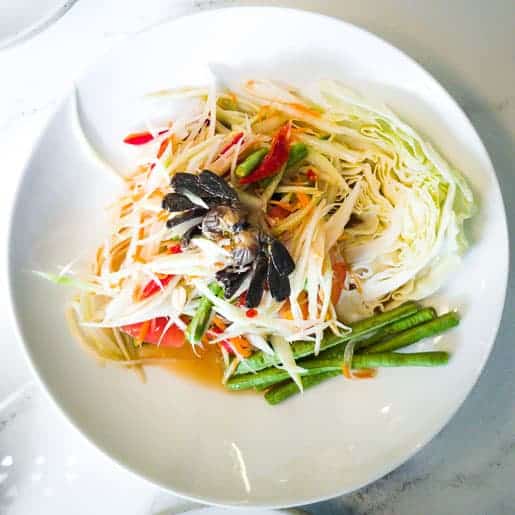 Description
If you go to Southeast Asia, you will certainly taste some variation of this green papaya salad recipe. The dish is originally from the region of Isan (Laos and Northeastern Thailand).
In Thai, it is called Som Tam, which means to "pound the sour". Crispy, fresh, sweet, spicy, sour and umami (natural, please!), a flavourful Thai dish.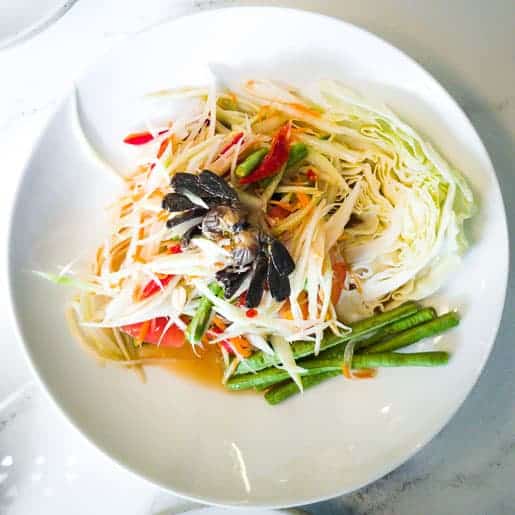 Thai Green Papaya Salad (Som Tam)
In Thai, Green Papaya Salada is called Som Tam, which means to "pound the sour". Crispy, fresh, sweet, spicy, sour and umami (natural, please!), check the recipe for this flavourful Thai dish.
Ingredients
1

cup of

green papaya

(shredded)

2

cloves of

garlic

½

tomato

1

long bean

(or 3 regular green beans)

1

tbsp

dried shrimp

1

tbsp

roasted peanut

1-3

fresh red chillies

(or green chillies (small))

1

lime

1

tbsp of

fish sauce

1

tbsp of

palm sugar
Instructions
Cut the long beans in 2 cm pieces and put in the mortar with garlic and chillies.

Pound gently to break the ingredients.

Add the sugar, fish sauce, and lime juice.

Cut the tomato into 4 pieces and add into the mortar.

Add the shredded green papaya.

Pound it gently with one hand while you mix with the spoon in the other hand by turning from the bottom to top. Keep doing this move until well mixed.

Taste and adjust the ingredients, if necessary.

Lastly, add dried shrimp and roasted peanuts, mix all together.
Notes
It's better to prepare this papaya salad in a big and deep mortar; if not you can improvise with a big bowl and a pestle.
The amount of chilli depends on the tolerance of each person. Give preference to fresh red or green chilis.
You can replace the green papaya with cucumber, zucchini, green mango or even green apple.
In Laos and some regions of Thailand, the fermented fish sauce called Padaek is used in the papaya salad instead of the Thai sauce (Nam Pla).
Nam pla can be found at any Asian product store. If not, use soy sauce instead, but the result will be quite different.
Try to replace the palm sugar with brown sugar or raw sugar cane. The important thing is to be an unrefined sugar to get flavours beyond sweet.
You can add one small crab in the mortar and pound it together with the other ingredients.
Menu Suggestion
Serve with cabbage leaves and long beans.