Larb or Laab is a type of meat salad seasoned with fresh herbs typical from Laos and Northern Thailand.
Other names: Laap, Larp, LAHP, LAHB, Laab, Laarb, ลาบ, ລາບ
What is Larb
Larb or laab is a meat salad seasoned with fresh herbs. It is believed that the dish is originally from Laos, but it is also popular in the Northeastern and Northern regions of Thailand, as well as being present in the menus of Thai restaurants around the world.
As it is very easy to adapt, there are many variations of Larb. It can be made with pork, fish, chicken, duck, buffalo or cow. Nowadays you can even find vegetarian versions with mushrooms or tofu. The spices and herbs may vary according to the region and the meat used, however, coriander, scallions and lots of mints can't be out.
The preparation process is quite simple. It is made basically with minced meat (cooked or raw -like tartar) mixed with spices and herbs. Traditionally, the dish is served with sticky rice (glutinous rice: Khao Niao) and green leaves. It's a mixture of surprising and refreshing flavours worth to try it out!
Read more: Sticky rice, how glutinous rice is consumed in Thailand and Laos

The main different versions of the dish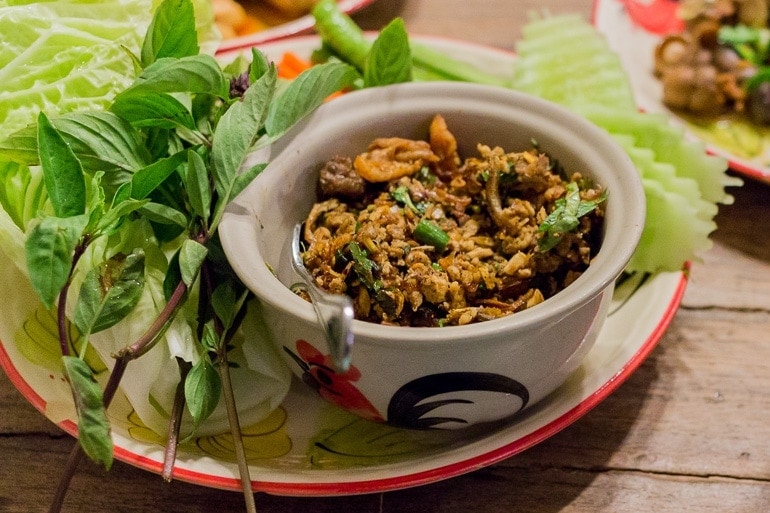 Larb Isaan – found in Laos and northeastern Thailand.
The meat is seasoned with padaek (fresh fermented fish sauce) and lemon. Also, it is added toasted rice powder (Khao Khoua) which gives texture, besides fresh herbs and chillies to balance the flavour.
Larb Lana – found in Chiang Mai and surrounding areas.
It does not take fish sauce Padaek (it uses the refined fish sauce Nam Pla), nor lemon or any other sour ingredient. On the other hand, the dish is seasoned with several dried spices: Cumin, cloves, cinnamon, star anise, and dried chilli. This mixture of spices is called Naam Phrik Larb. The usage of dried spices it this dish can be traced back to Chinese influence, as the Northern region of Thailand was part of the Chinese spices route.
The most eccentric version of Larb – raw meat with blood
In both regions, there are traditional versions of Laab with very strong flavours. For example, in Laos, there is a version with raw buffalo meat, blood, guts and bile juice. Over there, the bitter flavour is highly appreciated and ingredients that bring this taste are added whenever is possible. The bile juice per example, adds bitterness to the dish and softens the meat.
By the way, the locals always eat the raw versions with shots of Whisky Lao Lao, it is said that alcohol kills bacterias and possible parasites. In popular tradition, the mixture of bitter food and alcohol is medicinal, brings vitality and strength.
Don't worry, most restaurants, especially the touristic ones, only serve Laab with cooked meat, which is the safest way to experience it.
A popular dish in celebrations:
Larb is a dish that represents more than a meal, symbolizes cultural traditions and the interaction between people and nature. In the local language, Laab means good luck. Therefore, it is a mandatory dish in the main ceremonies.
It is present on the table of poor and rich people, and the difference is the type of meat. In the past, large animals, such as buffalo, were not bred for consumption, but rather to support agriculture. As a result, buffalo meat was eaten only on special occasions where all the community gathered together to prepare and consume Laab in a big party.
If you are travelling to Laos and Thailand, be sure to include this dish in your list, but first take a look at this recipe, it's super easy to prepare at home!
Check out the recipe and learn how to make Larb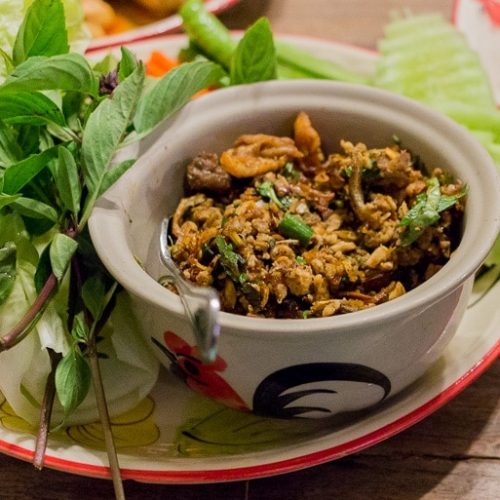 Larb (Laab) Gai – Southeast Asian Chicken Salad
Larb or Laab is a type of meat salad seasoned with fresh herbs typical from Laos and Northern Thailand.
Adjust servings
Ingredients
150

g

chicken meat

-

ground or finely chopped (like a tartare)

1

clove

garlic

-

minced

1

tbsp

fish sauce

-

can be substituted by soy sauce

2-3

green onions

-

chopped

1

stalk

lemongrass

-

only the white part – finely chopped

½

purple onion

-

thin slices

1

tbsp

cilantro

-

stalks and leaves – chopped

1

tbsp

saw coriender

-

chopped

1

tbsp

basil

-

preference to Thai basil

½

cup

mint leaves

-

chopped

1

tbsp

ginger

-

grated

1

tbsp

fresh red chilli

-

chopped

1

tbsp

lemon juice

1

tsp

red chilli flakes

1

tbsp

glutinous rice / sticky rice

-

see details and substitutes in tips session (below)

1

tbsp

oil

2

cups

bean sprouts

-

optional

salt
Instructions
Roasted and ground glutinous rice (Khao kua) preparation

Heat a skillet over medium heat, add the sticky rice grains in the pan. Note: no oil is required.

Toast the rice until it turns into golden brown. (Note: stir the rice in the pan all the time to avoid burning it).

With the help of a mortar and pestle (or a food processor), mash the rice into powder.

Note: You can make a larger amount and store it in a pot for future preparations. It can be used as a thickener for soups and curries, it also goes very well with sour fruits.
Bean sprouts preparation

Put water to boil in a saucepan.

When boil, add the bean sprout and cook it for 1 min.

Remove, drain and set aside.
Laab Gai preparation
Medium heat a wok. When it gets warm, drizzle the oil and saute the grounded chicken along with garlic, salt and a little bit of the fish sauce.

When cooked, transfer it to a bowl.

In the bowl, combine the sautéed chicken with all the other ingredients in the respective order. First the dry ingredients: roasted rice powder, herbs, lemon grass, purple onion, ginger, chilli, and bean sprout.

Then, add the rest of the fish sauce and finally the lemon juice.

Mix well and serve it on a plate with green leaves.
Notes
This dish has two secrets – the first one is to finely cut everything, from chicken meat to herbs.
The second secret is the roasted rice powder (Khao Kua), it brings texture and a nutty and complex aroma to the salad.
You can find glutinous rice/sticky rice in Asian food stores.
If not, you can substitute for another type of rice rich in starch, such as arborio (risotto rice) or bomba (paella rice). In the last case, you can replace it by nut or almond, following the same preparation steps: toast and grind.
Other versions: Laab Moo is made with pork. The vegetarian version that is made with mushrooms (Laab Hed) is also delicious.